Imagine retiring to a four-poster bed, falling asleep under the endless African sky to the sound of nature's chorus, that is what awaits you in a safari tree house or star bed. Sleeping in an African safari treehouse or star bed is an incomparable experience. A mix of luxury yet feeling at one with nature, adrenaline fulled yet intense calm. There are few experiences left that capture the romance of the untamed and untainted earth quite like a safari treehouse or star bed. It is a fabulous addition to your bucket-list.
Different destinations and properties offer unique safari treehouse and star bed experiences. Some are on the roof of your room, where you can retire back inside if you want, while others are a short drive from camp, wonderfully isolated with only lamps for light. Some feature bathrooms, some plunge pools and others a private dining area. You will never tire of a star bed experience as no two are the same. We've chosen our 6 best African safari treehouses and star bed experiences:
Chalkleys Safari Treehouse
The original treehouse at Lion Sands, Chalkleys treehouse has been built on the site where the camps ancestor, Guy Aubrey Chalkley, made camp in a centuries-old leadwood tree. Since, it has been taken to an altogether different level of comfort and indulgence. With the absence of Wi-Fi and light by the soft glow of lanterns, this treehouse enhances a very real experience of Africa.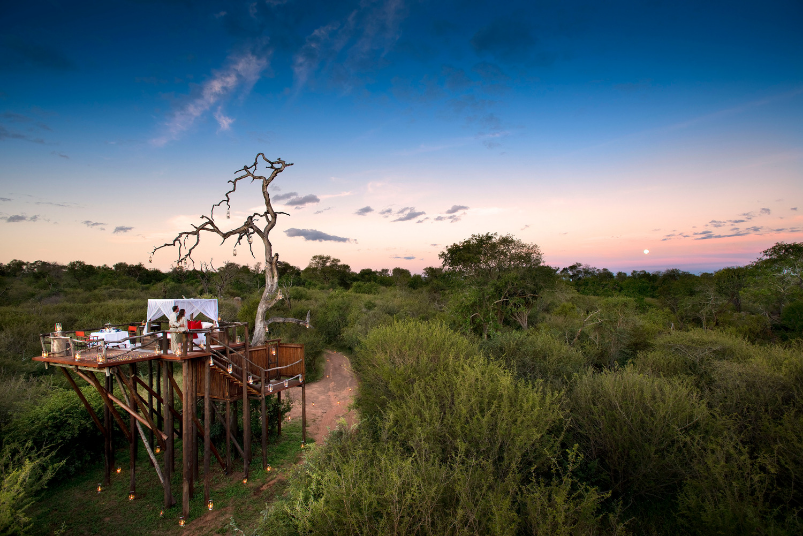 The Doves Nest Safari Treehouse
The Doves Nest is located just 10 minutes away from the main lodge and you will arrive here after enjoying dinner at The Hide by guided night drive. This treehouse provides the perfect elevated space from which to survey Hwange in total privacy. Overlooking the open tree-lined vlei and pan where giraffe and elephants come down to drink, this platform offers the perfect vantage point to view wildlife from. The Doves Nest is built to accommodate two people and the spacious and comfortable bedroom is reached by a wooden stairway which has a closeable door and is protected by large canvas gauze windows to keep out mosquito.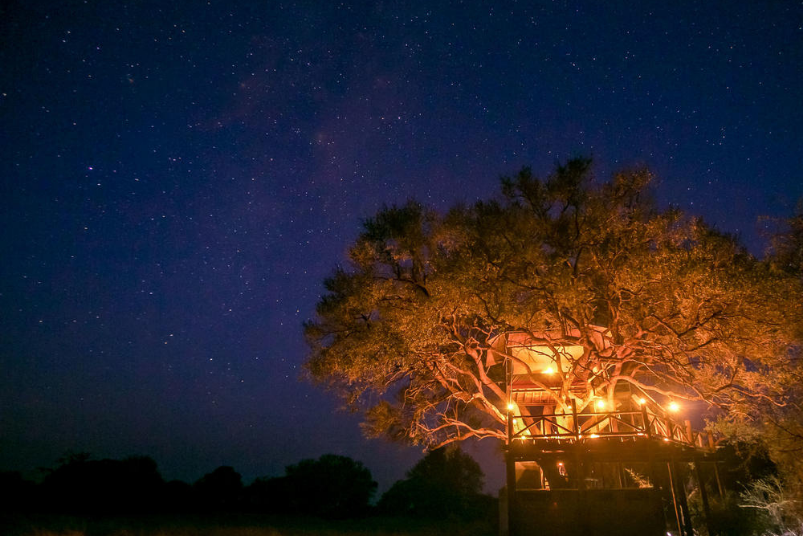 Safari Star bed Treehouse at Victoria Falls River Lodge
These magnificent, double storey Starbed Treehouses appear to be suspended above the iconic Zambezi River close to Victoria Falls on the private Kandahar Island. With a luxury suite below and an upper-storey deck featuring a star bed, private plunge pool and sitting area, the Star bed Treehouse at Victoria Falls River Lodge offers the best of both worlds with the freedom to chose between sleeping under the stars or in a air-conditioned interior suite. Whether you are taking a bath, lying in bed (or your star bed), sitting on the deck or taking a dip in your private plunge pool... you are treated to glorious views over the Zambezi River.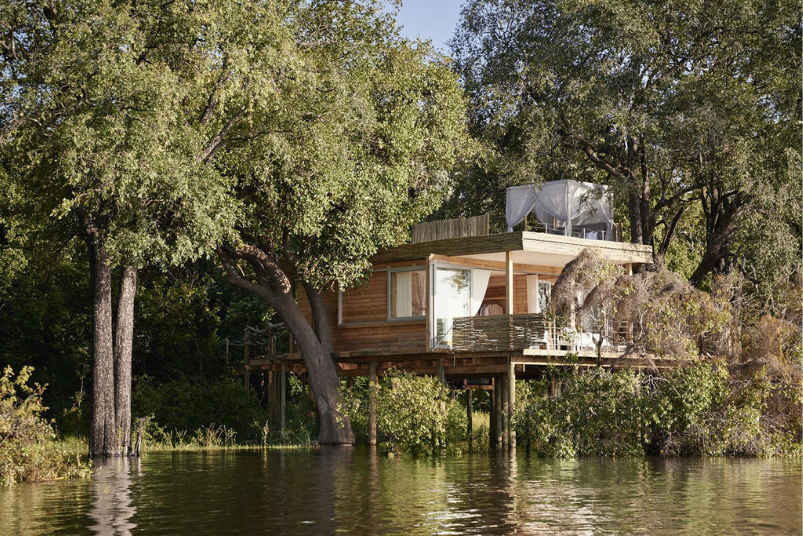 Tinyeleti Safari Treehouse
Tinyeleti (meaning 'many stars) is a dreamy escape between the heavens and earth for couples and families, alike. Where the treehouse is located you will see the passage of many animals, drawn to the water in the coolness of early evening and morning. Watch on from your bed, shower or breakfast table as your new wildlife neighbours roam the land. Tinyeleti is available guests of Lion Sands Tinga and Narnia Lodges.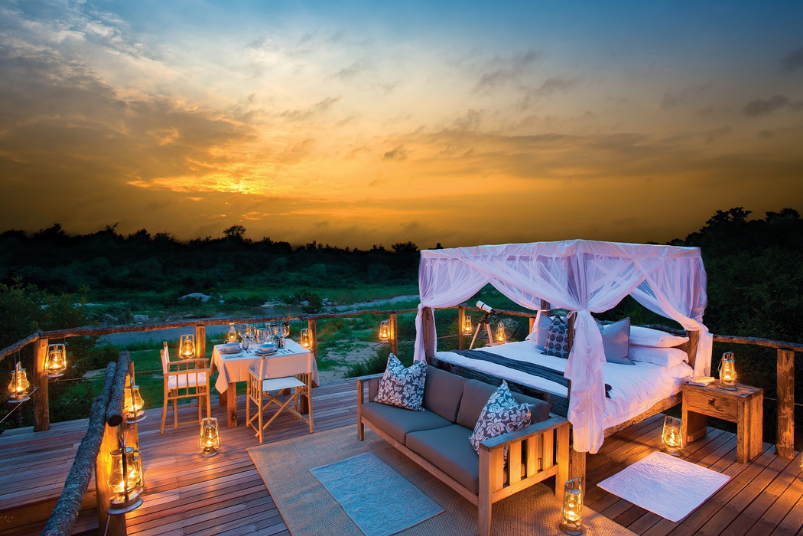 Loisaba Safari Star bed
These handcrafted four-poster wooden beds sit on raised wooden platforms jutting out from a thatched-roof accommodation and are rolled out each night for guests to enjoy the most memorable sleep under the endless African sky. Rustically designed to complement the surrounding environment, each star bed is individually built in harmony with the natural rocky features, incorporating a sitting area, and open plan bathroom with a view. Our favourite part of a star bed experience at Loisaba is waking up early to watch sunrise from your star bed with a comforting hot beverage.... you just know the day ahead promises adventure.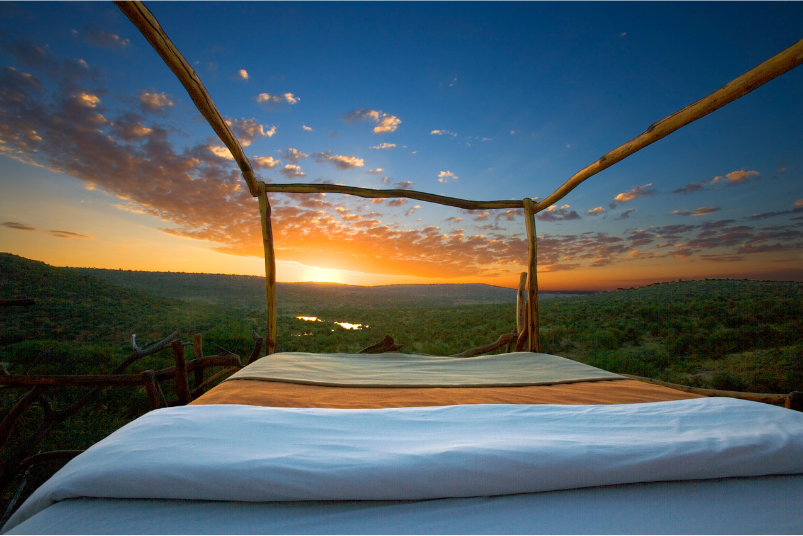 Star bed at Nkwichi
Set on a deserted, virgin beach in Mozambique surrounded by breathtaking baobabs, or on a private rock island close to the shore with Fish Eagles soaring overhead, this is the perfect way to see the wonders of an African night-sky. With no light pollution to be seen for miles, Nkwichis beach is perfect for stargazing. Not quite a safari star bed, but definitely worthy of being mentioned!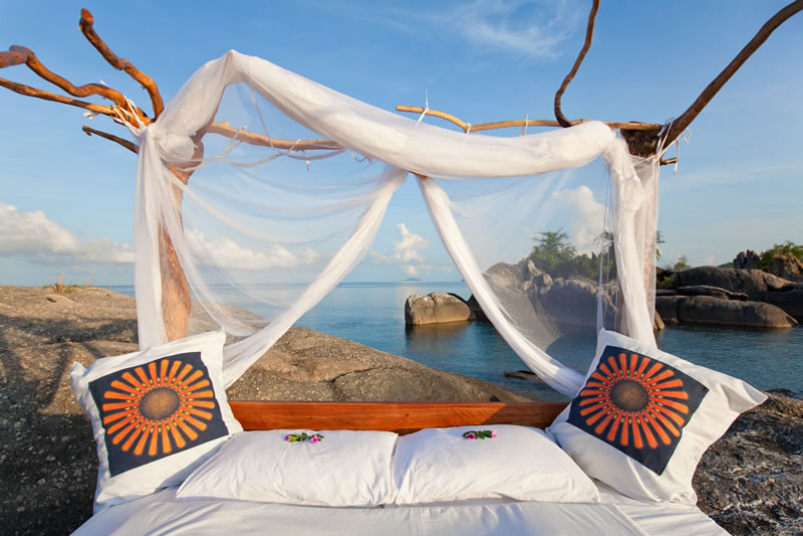 If a safari treehouse or star bed has made its way onto your bucketlist, get in touch with our Travel Experts to start planning your night under the stars.