When many of us hear the term 'safari' it evokes images of a bygone era where decadence, exploration and adventure were the spirit of the day. Over 100 years ago safaris began with European naturalists and explorers on exploratory travels throughout Africa identifying and cataloguing new animals and charting 'undiscovered' territories. Thereafter safari became synonymous with hunting trips with many enthusiastic hunters travelling to Africa in the hopes of bagging the most impressive trophies.
Safari soon became popularised in literature and film through idealistic tales of adventure, thrills and romance. As the trophy hunt became an icon of high society, everyone from Ernest Hemingway to British nobility and Hollywood stars were clamouring for a piece of the action.
Many of these great hunters kept great records of their time in Africa and their stories, writings, drawings and paintings have created a greater awareness of Africa igniting the idea of conserving it for generations to come.
Todays safaris are no less adventurous although the 'hunt' is normally one where participants are armed with cameras and binoculars. Many safari lodges, hotels and camps across Africa have styled themselves with this legacy in mind and offer elegant, colonial-style accommodation which transports you back to a bygone era. We have composed a list of some of our favourites.
Situated in a private concession in the Masai Mara of Kenya the Cottar Safari tradition began in 1919 and nearly 90 years later its owners continue to ensure that guests are returned to the original spirit and essence of 'safari'. The camp accommodates guests in authentic white canvas tents, which are spacious and luxuriously furnished with original safari antiques from the 1920s, many of which are original family pieces.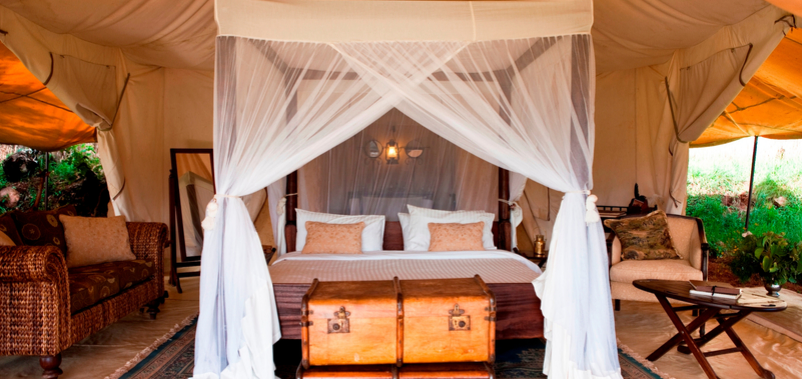 Situated in the Makgadikgadi Pans,Botswana this camp is styled in a traditional East African 1940's safari style. Ten green roomy and stylish canvas tents have been fashioned to include Persian rugs underfoot and cool cotton sheets, all forming a striking contrast with the rugged wilderness viewed from the comfort of ones own verandah.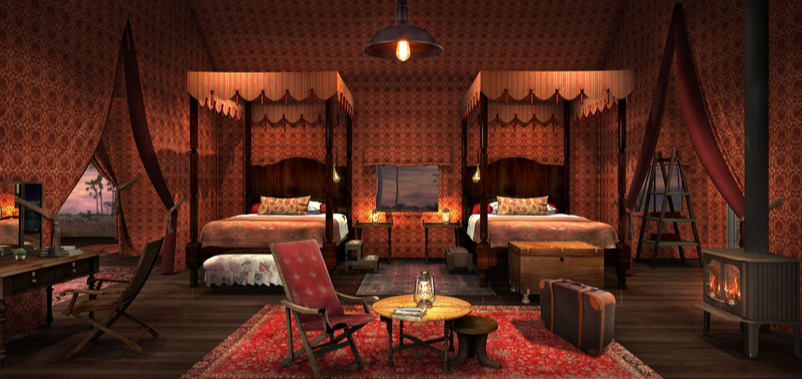 Situated in the Sabi Sands Game Reserve (Greater Kruger), South Africa this early Transvaal homestead is described as a place where history comes alive and the tales of the past are re-told and experienced in this rich wilderness area. The ambience is distinctly 1920s as if time has almost stood still.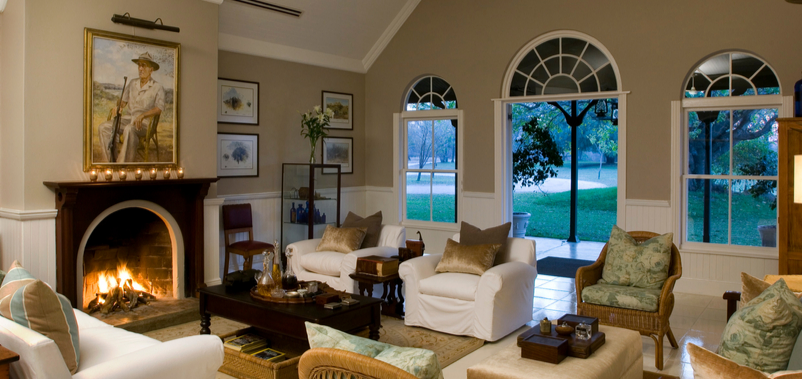 Situated in the Grumeti Reserves, Tanzania this camp, together with its sister camps, has been voted by the readers of Travel and Leisure Magazine as the best hotel in the world in 2011. Reminiscent of a bygone era, Sabora Tented Camp offers lavish tents where each canvas cocoon offers opulent luxury complete with antique mahogany travel chests, Persian rugs and silk curtains.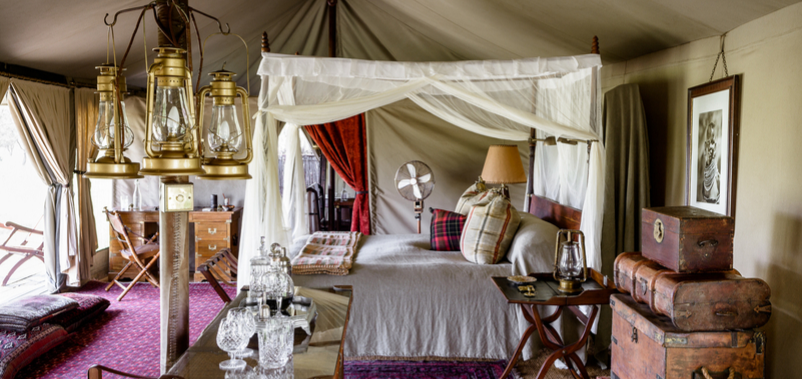 Situated in Victoria Falls, Zimbabwe is popularly known as "the grand old lady of the Falls". The 5-star hotel was built in 1904 and the ambience is steeped in history with all suites decorated in the gracious Edwardian style of Zimbabwe's colonial era. Stanley's Terrace (named after Stanley Livingstone), with its clear view of the Victoria Falls Bridge, connecting Zimbabwe and Zambia, is renowned for its cocktails and afternoon teas. The corridors reflect and tell the history of this unique part of Africa, with particular reference to the building of the railway from Cape Town to what is now Zambia. It is very much part of the unrealised "Cape to Cairo" dream of Cecil John Rhodes. Should you wish to stay on the Zambian side of the Victoria Falls a similar experience can be found at the Royal Livingstone Hotel.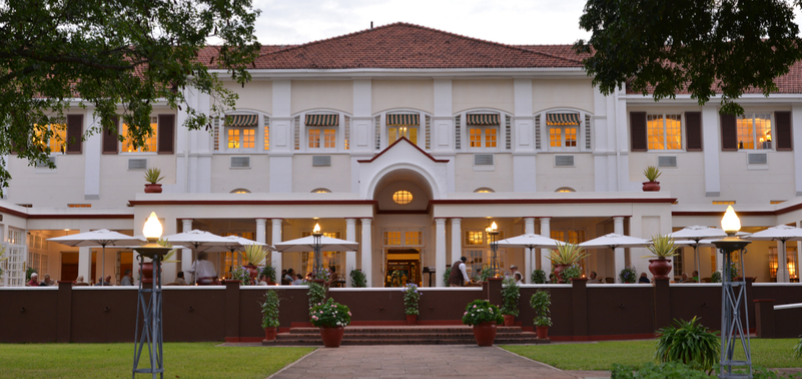 Situated in Cape Town, South Africa has a history spanning more than a hundred years. The 'Nellie opened in 1899 to provide luxurious accommodation for Union and Castle liner passengers but it soon found itself in the midst of the Boer War. Kitchener, Buller, Roberts and the young war correspondent Winston Churchill, favoured Cape Town's Mount Nelson Hotel as their base. In the years that followed the hotel has been an institution in Cape Town and its walls have sheltered the rich, the famous and the royal, and anybody who wishes to stay in colonial style and grandeur. The famous tradition of Afternoon Tea continues to this day. Take your pick of cucumber sandwiches, savoury tarts and all manner of sweet treat all washed down with Earl Grey, China, Indian, Herbal or whatever pot of tea takes your fancy.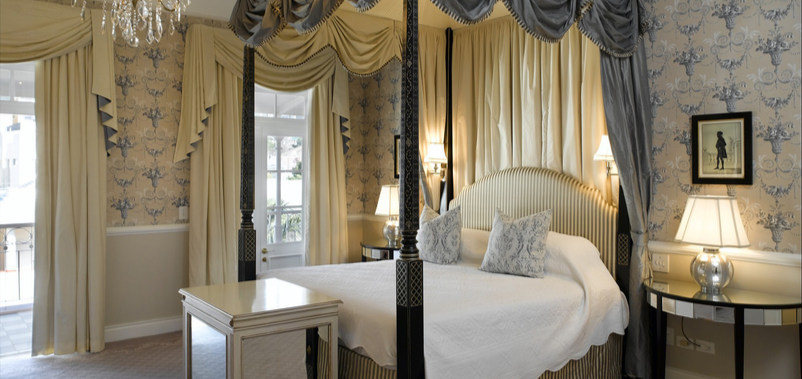 Rovos Rail is a luxury train which captures the romance and atmosphere of a by-gone era when privileged travellers experienced the magic and mystery of Africa in a relaxed and elegant fashion. The remodelled and refurbished wood panelled coaches offer luxurious suites. Passengers choose from a series of train journeys lasting from 24 hours to a fortnight taking in the magnificent scenery of Southern Africa. For Rovos Rail passengers, a highlight of their journey is often a visit to the private station at Capital Park, Pretoria. This gracious colonial-style station was once the bustling hub of steam locomotion in the old Transvaal and to this day preserves this history in the small railway museum on the property.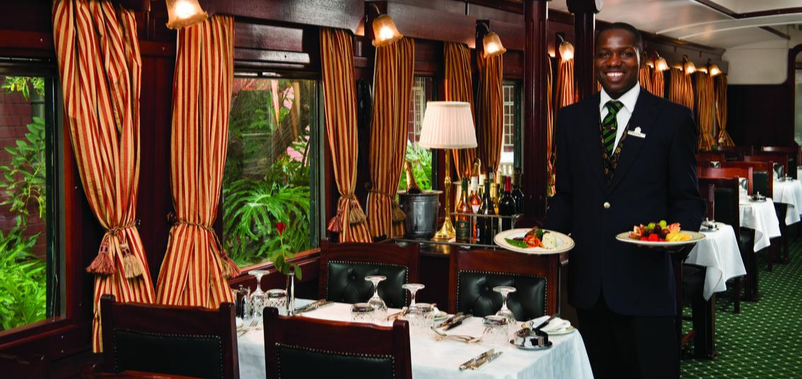 There are many more properties across Africa commemorating this interesting history and to experience a 'bygone era safari does not always have to put a dent in your pocket. The above are simply our favourites in this style category and our Mahlatini consultants would be happy to provide more information on these and other choices, just fill out the form below.