Most people hear the word honeymoon and think of beginning married life with relaxing beach days and romantic dinners. However, when your husband has an avid sense of adventure and you cant say no to a challenge, you may find that your once in a lifetime trip takes a different turn.
Mount Kilimanjaro stands at 5985m (19341ft). It is Africa's highest point and the worlds tallest free-standing mountain and sits on the northern border of Tanzania overlooking Kenya.
Arriving into Tanzania and getting your first glimpse of the mountain instills a sense of excitement, but also apprehension. It stands alone, not as part as a mountain range like the highest peaks in the world, which only enhances its enormity. Realizing that in just over a week you will be standing in the same spot hopefully having conquered it, makes you question if you have trained enough, packed enough, mentally prepared enough. But there is only one way to find out…
There are seven routes to climb Kilimanjaro, each with their own benefits and drawbacks. We opted for the Machame route. It is considered the most scenic and so is one of the most popular. This means the trail and campsites can be very busy, but we enjoyed the sense of community that this brought. The minimum recommended time is 6 days, but to improve our chances of successfully reaching the summit we chose to complete it over seven day with an extra day for acclimatization.
Finally, after hours, weeks and months of anticipation it was time to get going.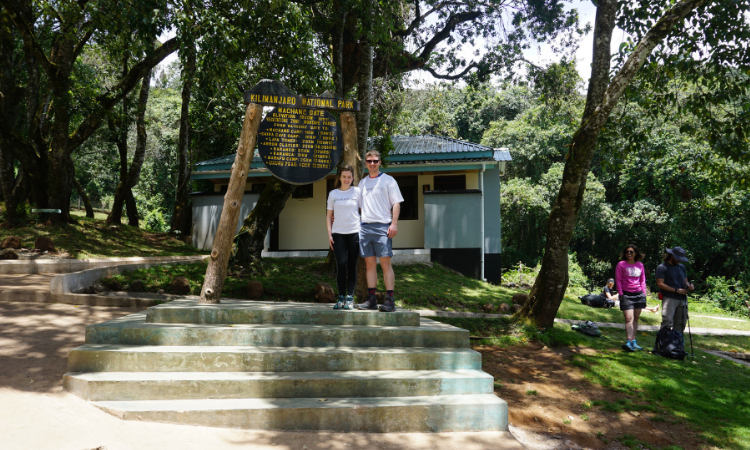 We soon realized why our route was described as scenic. We were surround by lush, green rainforest and the path was easy to navigate. Our guide quickly taught us the two most important words that would get us through the next week 'Pole, pole! – translated to slowly, slowly. Its tempting to want to race on ahead at the lower altitude levels when you're feeling strong and full of energy, but it is always best to let your guide set the pace.
We arrived at Machame Camp just as the sun was starting to set. We were blown away by how well we were treated by our crew. Our tent was pitched, we had hot water to freshen up and dinner was only a short wait. We knew eating would become more and more difficult over the next few days as the altitude began to take effect, so we took full advantage then settled into our tent for a much-needed sleep.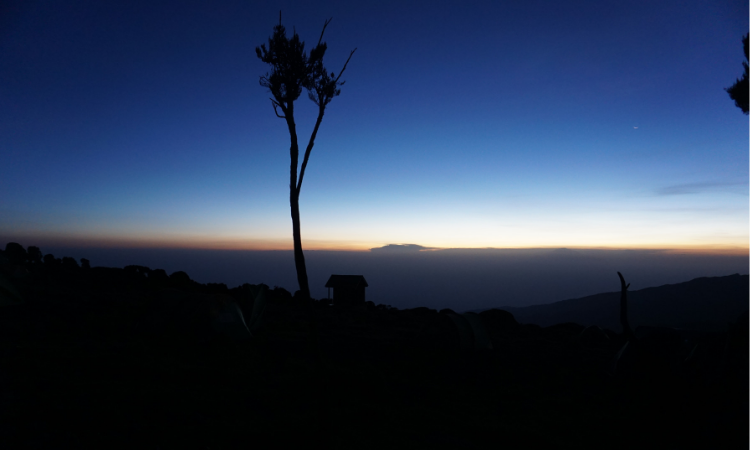 Your day on Kilimanjaro usually begins between 6 and 7am. As the sun rises you hear the porters prepare breakfast, and the more lively groups motivate their team for the day with a round of what is commonly referred to as The Kilimanjaro Song. The only words we managed to learn from this was the unmistakable Hakuna Matata!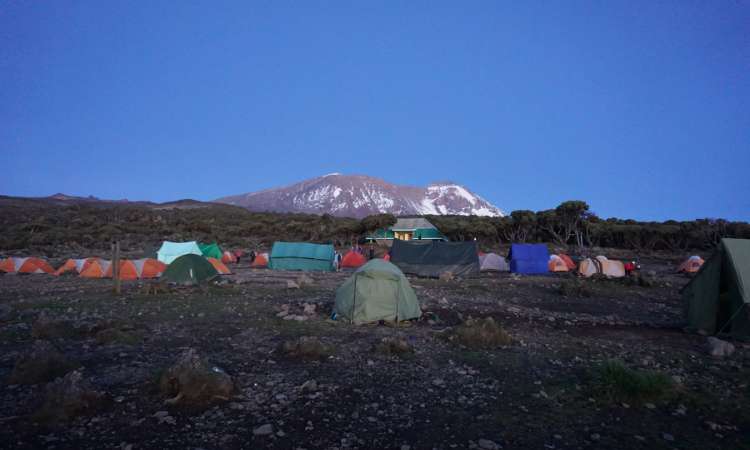 The next few days were physically challenging. A steep climb to Shira camp took us into the lower alpine zone and treated us to our first views of Kibo and Mount Meru, and of course the ever-imposing summit of Kilimanjaro. The first time our motivation was really tested however was on the climb to Lava Tower. At 4,600m the risk of altitude became a reality. Headaches coupled with nausea made eating lunch practically impossible, but Guadence, our main guide, kept reminding us the importance of keeping our bodies fuelled and healthy. Arriving at our camp a few hours later having descended 700m felt somewhat counter-intuitive, but this would prove to be one of the most important days for acclimatization. This is one of the benefits of the Machame routs; climb high, sleep low.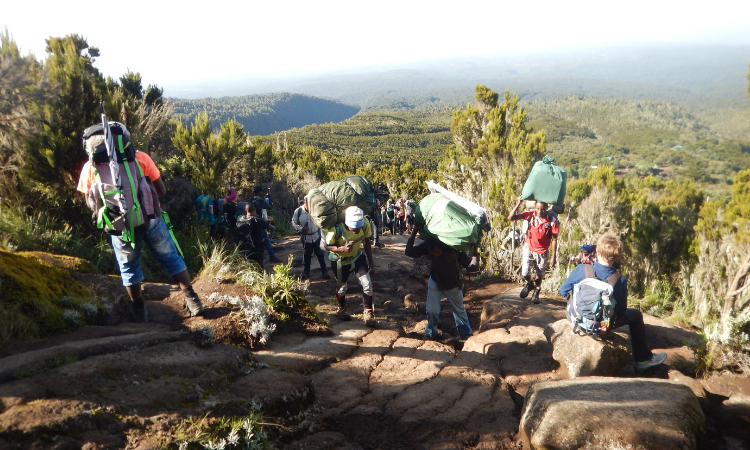 The Barranco Wall is one part of the trek that you hear a lot about. Although you don't need any technical skills to conquer it, it does involve basic scrambling. The infamous 'Kissing Rock is one of the most challenging parts; the clue is in the name here! A narrow section of the trail means you need to keep close to the rock face, but Guadence was always on hand to ensure we were safe. Looking up at the wall makes it seem daunting, but it was part of the route that I really enjoyed.
Fortunately, the following day is short and easy. Its at this point though that you realize that you must have altitude sickness because a 3 hour, 700m climb should never be described as short and easy. The mountain felt more hostile here; the landscape was rocky and the gravel paths seemed to lead to nowhere. The weather was changeable with clouds moving out just as quickly as they rushed in and adding and removing layers of clothing became an important part of our day. What kept us going was the view of the top and knowing that in mere hours we would be standing at the summit, gazing down at the world below.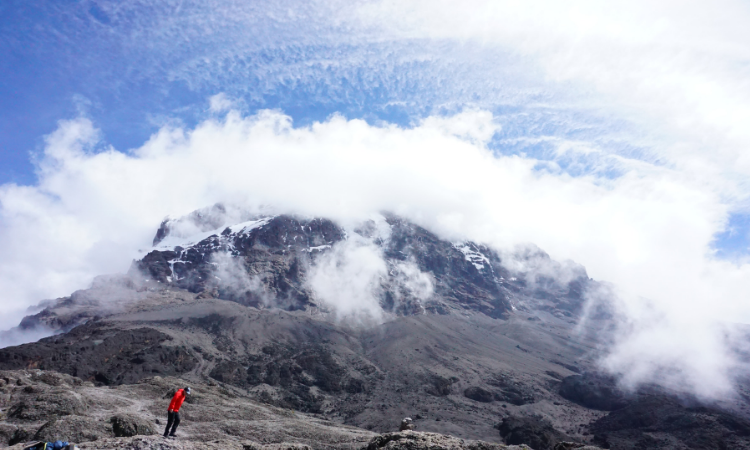 The summit night was undoubtedly the most challenging thing I have ever faced in my life. The physical side was one thing, dealing with lack of sleep, altitude sickness and exhaustion, but perhaps what's even worse is the mental challenge of walking in the dark. With headtorches shining light on just a few metres in front of you, its impossible to know how much progress you have made and how far you have to go. At one point I struggled to tell the difference in the torches of the climbers ahead of us and the stars in the sky.
Pole, pole took on a whole new meaning for us. Although we were overtaken by several other groups, Guadence assured us that our best chances of success were by taking things at our own pace. This became apparent as we were met with people who had to turn back before reaching the summit, the altitude having been too much for them. The thought of being so close and not reaching the end was heartbreaking, so we dug deep, gave words of encouragement and kept going.
We took a break to watch the sun rise over the horizon, and I will never forget the feeling I had at that moment. Suddenly everything fell into perspective and knowing how far we had come proved our strength, and that we would finish this challenge.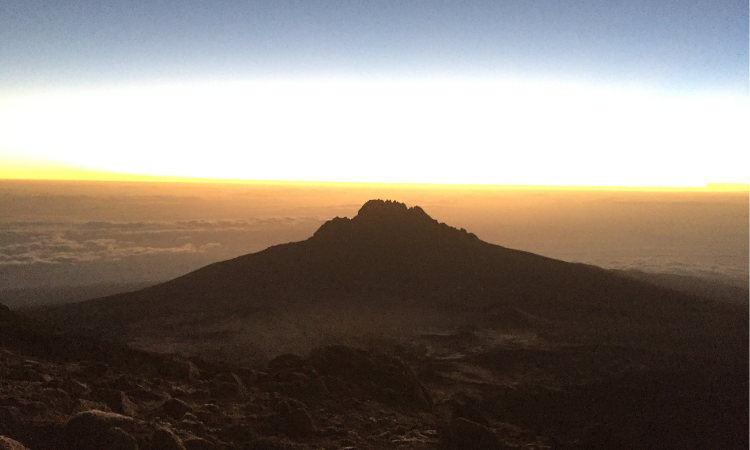 The daylight brought with it warmth, which helped to defrost not only our water but our feet and hands which hands which had been feeling the effects of the sub zero temperatures despite 2 pairs of gloves and three pairs of socks. After what seemed like a lifetime, we reached Stella Point. Although not the actual summit, we knew that if we made it this far it would only take us about 30 minutes to Uhru Peak. The enormity of what we had achieved hit me, and the walk to Uhru was tearful to say the least.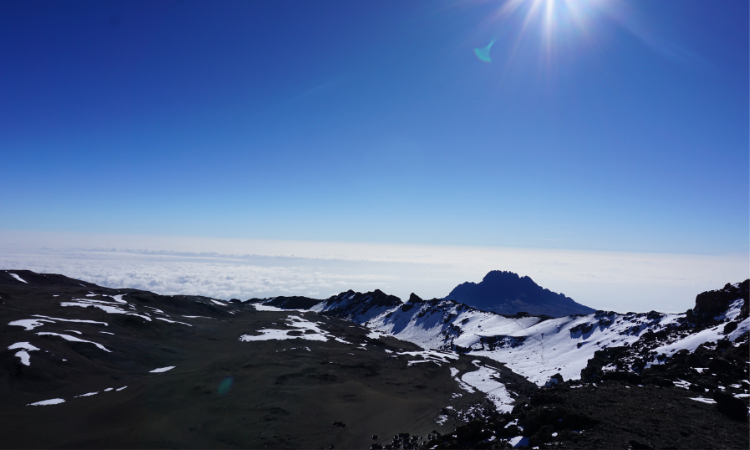 Words cannot describe the feeling of being at the Roof of Africa. You are flying high above the clouds and are surrounded by the breath-taking scenery of the ice caps. Falling behind the other groups turned out to work in our benefit, as there were less crowds as normal meaning we could take our time to take everything in and of course take our photographs! However, Guadence was keen to get us moving again, to ensure we didn't suffer too severely from the lack of oxygen in the air. Staring at a handful of Jelly Babies wondering how I was possibly going to manage to eat them was a sure sign that my body was not in its normal state.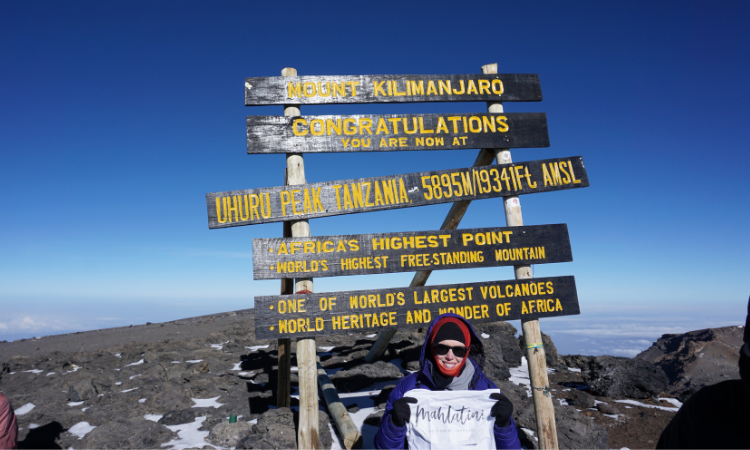 The decent was fast moving, and the following day as we neared the Mweka gate and could hear the singing and cheering draw closer, we knew it would soon be our turn to celebrate. We had conquered Kilimanjaro.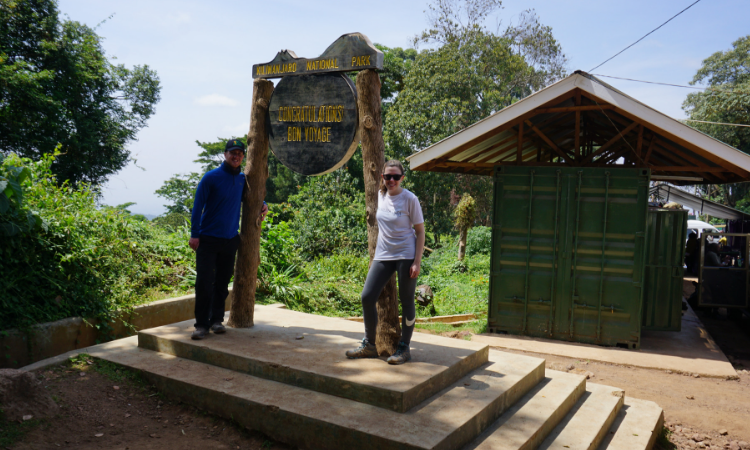 Don't panic – this was not the end of our Honeymoon. There was no way that I was going to travel to Tanzania without visit the places I had heard so much about, and we fully indulged during our week-long safari in Arusha, Tarangire, Ngorongoro Crater, Lake Ndutu and of course the Serengeti.
We were treated to viewings of the big five and a vast array of other wildlife, and the luxury of our accommodation was a welcome change after sleeping bags and tents. What made it even more special was the reaction of the staff when they heard we had climbed Kilimanjaro. Despite the fact they had undoubtedly met many other who had done the same, they congratulated us with huge enthusiasm and made us feel really special.
It was the ideal antidote after what had been such a challenging week, and really made our trip the perfect one for us.
For anyone consider climbing Kilimanjaro, my advice is to go for it! However, do not under-estimate the mountain. It takes weeks and months of hard work and dedication to ensure you are in good physical condition for this, but the memories and sense of achievement will make it all worthwhile.