As I stepped out of the light aircraft at Mara North airstrip last week and onto the whitewashed landscape of the Masai Mara a tear, I'm not afraid to admit, welled in my eye. This arrival was the fulfilment of a lifelong dream to see Africa's famous predators on their home turf. Dazzled by the midday sunshimmer, and the broad welcoming smile of my Masai guide I headed to a waiting vehicle to begin my adventure.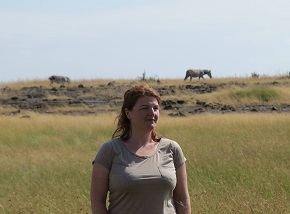 From start to finish my trip to Mara North was a whirlwind of highlights. Accompanied by Greg Monson, Director of Kicheche Camps and inspirational founder of the Mara North conservancy, I quickly learned the advantage of game viewing within the conservancy as opposed to the National parks or private Mara game reserves. En route to my quarters at Kicheche Mara Camp I was excited to see huge herds of game in the form of antelope, zebra and wildebeest, as well as elephant, giraffe and hyena and a multitude of fascinating birdlife. After a warm welcome and induction to camp life by the friendly and enthusiastic team, and a whistle-stop tour of my luxury tented accommodation, it was back on the wildlife trail once more.
My week with Kicheche passed in a blur of thrilling morning and evening game drives, bouncing across the untamed terrain in sturdy, comfortable Land Cruisers, travelling through the three conservancies where Kicheche have camps in the Masai Mara. I visited Kicheche Mara Camp on the Mara North conservancy, Kicheche Bush Camp in the Olare Motorogi conservancy, and Valley Camp in the Naibosho conservancy. At every location, sightings were made all the more special by the absence of huge clusters of vehicles, sometimes experienced by visitors to the Mara during busy times, as bed numbers in the conservancies are strictly controlled.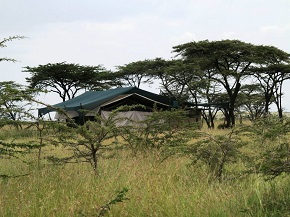 My hunger for predator sightings was satisfied by the abundance of lion on all three of the conservancies. Watching a large group of females and year old cubs feeding on an unfortunate wildebeest was mesmerising and their play was delightful to watch. Even the elusive leopard made an appearance for us; while on an afternoon game drive from Kicheche Bush Camp, our group was privileged to watch a beautiful mother and cub frolic in the long grass, alternately feeding on their kill, which was carefully concealed in the branches above.
Sightings of huge troops of baboon and thrilling cheetah hunts were interspersed with more unusual discoveries such as that of a brown snake eagle feasting on an enormous cobra, a kill so large that the greedy eagle couldn't carry it all and was forced to abandon some of its prize. A night drive at Valley Camp revealed wildlife treasures in the form of bat eared foxes, bush babies, jackals and a men's club of impressive male lions, roaring late into the night; a bone-watering sound, inducing awe and terror in equal measure.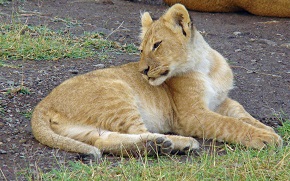 During my time as a guest with Kicheche I was supremely impressed by the depth and range of the guides knowledge and of the hospitability and professionalism of the camp management and staff. Our every need was anticipated and met and one delicious meal followed another, with surprise bush breakfasts and sundowners, held in carefully chosen locations for maximum enjoyment of the varied and breath taking landscape.
Ill never forget my week in the Mara, I can only hope there will be many more to follow. Every now and again I imagine I get a whiff of that smell that is uniquely Mara, the smell of hot red earth, savannah grasses and acacia; heady and potent, and I marvel at how privileged I have been to enjoy the beautiful people and wildlife of the unspoilt wilderness of the Masai Mara.