In June this year the well-known safari operator Wilderness Safaris is set to open one of their most exciting projects in years, a camp in the Congo for gorilla trekking. Not to be confused with the volatile Democratic Republic of Congo to the East, The Congo is peaceful and democratic and is home to the Odzala National Park, one of Africa's oldest national parks proclaimed in 1935 and Africa's densest population of Western lowland gorillas.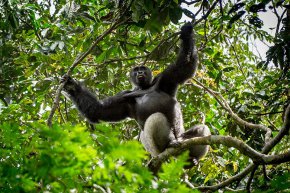 The Congo is a former French colony with a population of 4 million people, most of which live in southwest urban centres leaving the northern rainforest sparsely populated and pristine. The Odzala National Park is 13, 600 sq km (1,360 mill hectares) and part of the worlds second largest expanse of tropical rainforest.
For the tourist what is particularly appealing about this park is the fact that 6 habituated groups of Western lowland gorilla (approx.16 animals in each) live in a 5km by 5km area making them much easier to find in such a large area. The park also hosts Central Africa's highest density of chimpanzees and has significant populations of forest elephant. The altitude is low and the terrain isn't mountainous making for easy access gorilla trekking. For those looking for something really off the beaten track you don't get much better than this with only 50 tourist visits recorded last year! Best of all, unlike Rwanda and Uganda there are no gorilla permits to pay (usually $750 per person).
The park isn't all about gorillas; there are plenty of other primate species present and around 100 mammal species including forest buffalo, sitatunga, the rare Golden Cat, spotted hyena, leopard in high densities and even rumours of lion in the savannah. Bird watchers will also be awed by the recorded 430 bird species present.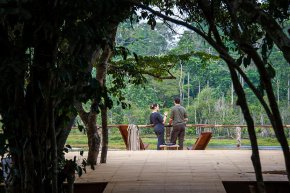 The camp itself has two locations, the first, Lango Camp (6 rooms) is situated at the edge of the savannah overlooking the Bai with visits to the savannah and saline / Bai (swampy, grassy area in the rainforest). From the camp you can also enjoy river trips on the Lekoli and Mambili rivers. The second is called Ngaga Camp and is based in the heart of a Marantaceae forest. It is here where you can experience the gorillas first-hand accompanied by researchers. The camps are raised 4 m above ground and are creatively designed, using naturally sourced materials and taking inspiration from the local BAka Pygmy groups.
The camps are reached by an approximately 2.5 hour light aircraft flight from Brazzaville. On arrival it is then a further 40 min to Lango Camp or a 2.5 hour drive to Ngaga Camp. International access is either Air France from Paris, Inter Air from Johannesburg or Kenya Airways from Nairobi.
Activities on offer from the camps include informative talks, guided forest walks, day and night game drives, boat trips, fishing, gorilla tracking, bird walks, night walks and game viewing from hides.
Arguably the best time to visit would be in the 'dry seasons, either Jun – Aug or Dec – Jan. That said being a rainforest one can expect rain year round and don't necessarily be put off travelling at other times of the year, simply ask your Mahlatini travel consultant for advice.
Sound exciting? Start dusting off those boots and get planning this very unique holiday experience. You could be one of the first visitors to the camp and one of very few to see the unique Odzala National Park.
Photo credits: Dana Allen, Andrew Johnson and Mike & Marion Myers