Experience timeless elegance with luxury train travel in Africa. Rediscover the elegance of a classic era of exploration as you travel across Southern Africa on board Rovos Rail or The Blue Train. Both Rovos Rail and The Blue Train pride themselves on offering travellers the height of comfort with wood-panelled carriages; plush, sophisticated furnishings; sumptuous cuisine; as well as attentive friendly staff.
Rovos Rail
Recognised as one of the most luxurious trains in the world, Rovos Rail has pampered guests from around the world for over three decades. Without doubt, the attention to period décor and traditional furnishings will make you feel like you have stepped back in time.
The Blue Train
Take a luxury train journey on South Africa's 'Blue Jewel' into a timeless world of grace and elegance. On-board The Blue Train guests are taken through some of the most breathtaking countryside in the world. With the finest bed linen, marble tiles and gold fittings in the bathrooms, guests are treated like royalty.
Dress code on-board a luxury train
There is a dress code for Rovos Rail and The Blue Train which you are expected to adhere to. During the day, guests should be dressed in smart-casual wear. Evening attire should be more formal. For men, a jacket and a tie is a minimum requirement and ladies should wear cocktail/evening dresses or suits. It's worth noting that on longer Rovos Rail journeys there are themed evenings where guests can choose to dress accordingly or opt for smart-casual wear.
Luxury train travel routes in Africa
Rovos Rail and The Blue Train link you to Africa's most iconic destinations via a selection of scheduled routes.
Rovos Rail routes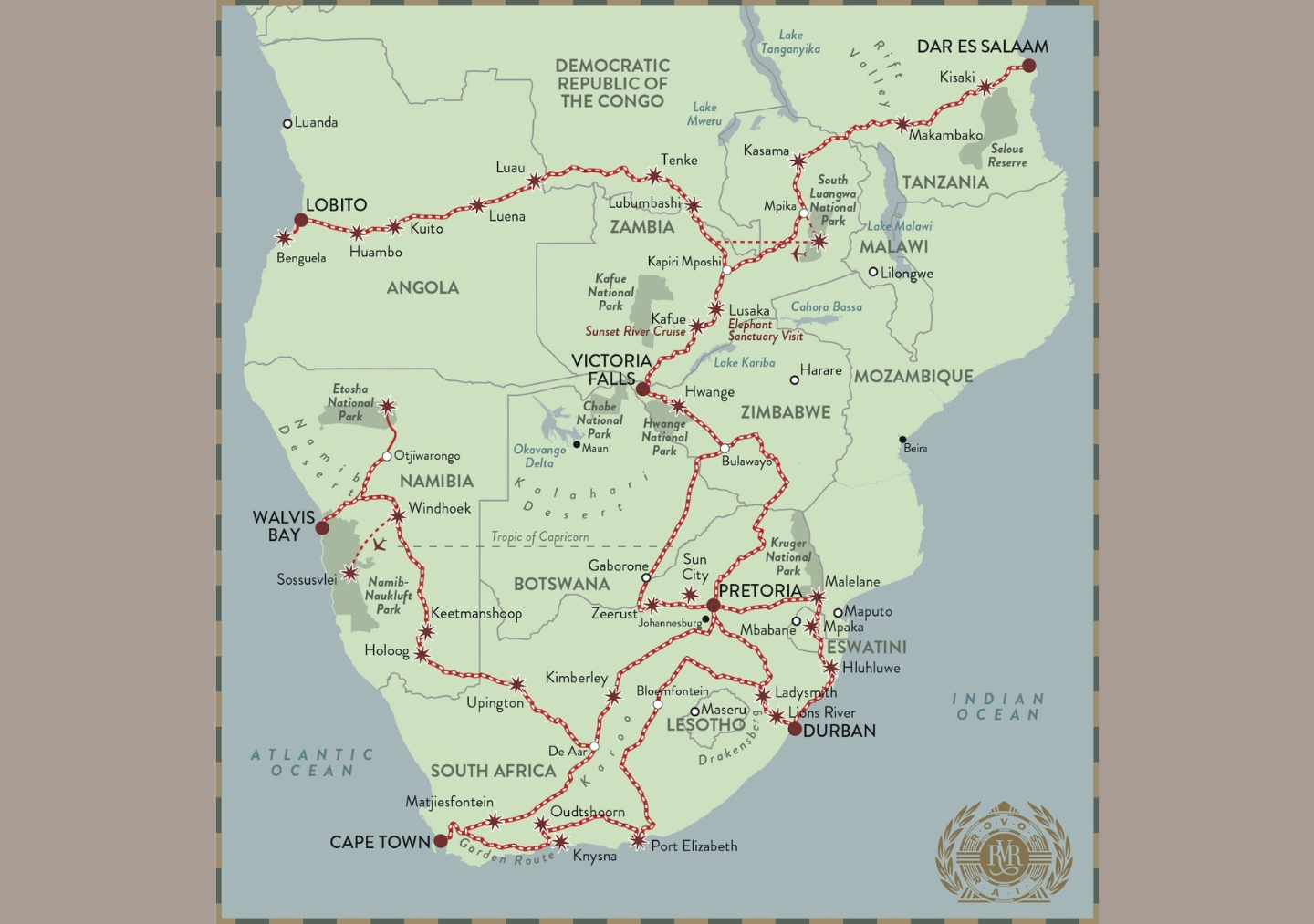 There are a number of itineraries and routes to choose from, and many routes available in reverse. Rovos Rail can also be chartered for those who want the ultimate exclusive, luxury rail journey. A number of Rovos Rail's routes include exclusive off-train excursions and game drives led by experienced guides and historians, and other routes are designed especially for golf enthusiasts. Rovos Rail journeys depart from Pretoria and Cape Town in South Africa to various destinations across Africa:
The Blue Train routes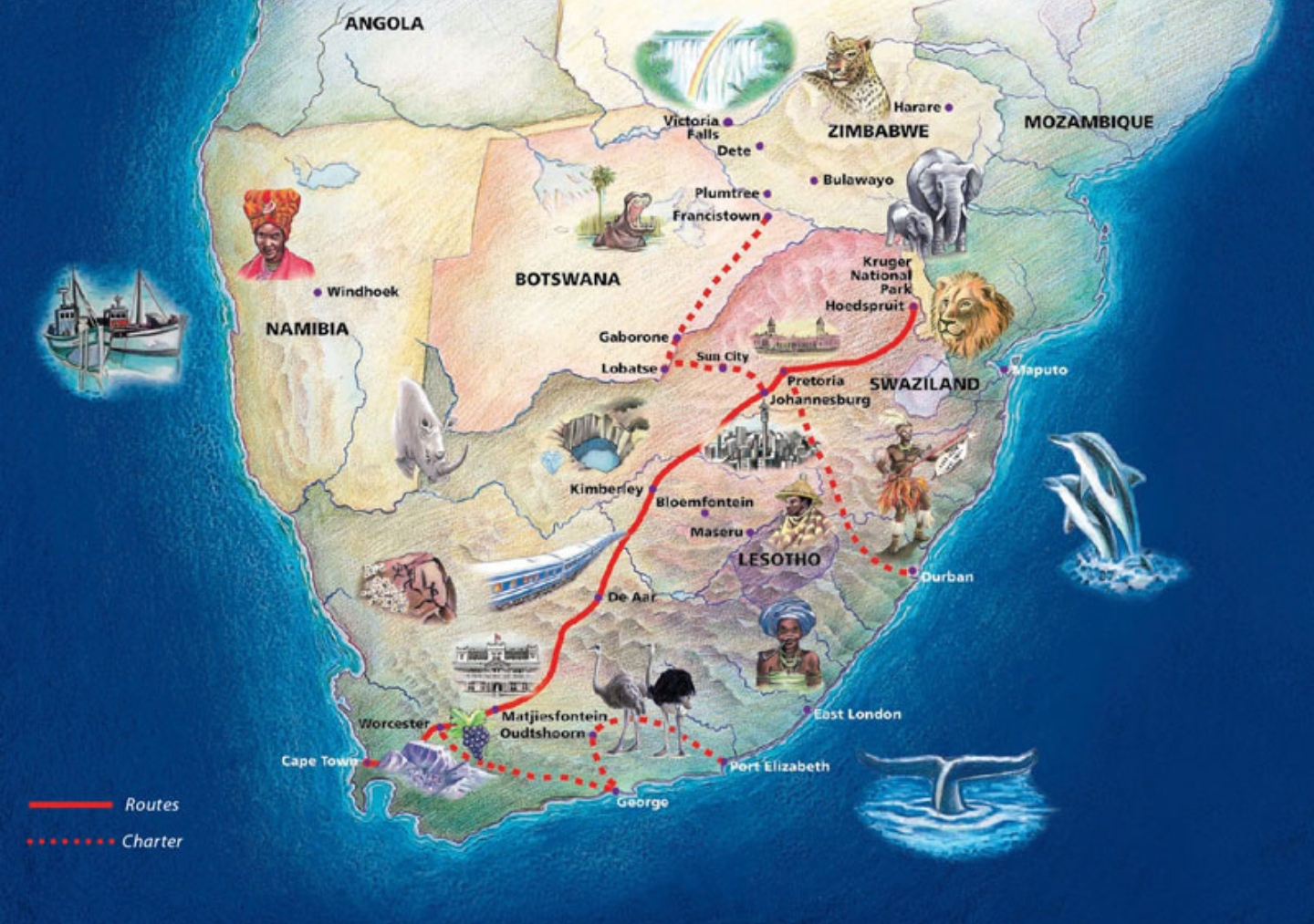 The Blue Train runs a scheduled service from Cape Town to Pretoria as well as Cape Town to Durban. Also, The Blue Train can be chartered for special occasions allowing you to have a totally tailor-made luxury rail journey experience.
Pretoria to Cape Town (available in reverse) - 2 night rail journey through some of the most diverse and breathtaking scenery Africa has to offer.
Pretoria to Kruger National Park - one way 19 hour rail journey to South Africa's Limpopo Province, home to the Kruger National Park.
Rovos Rail vs The Blue Train
When it comes to luxury train travel in Africa, Rovos Rail and The Blue Train are the top choices. Here are some of the main differences:
Route Options: Rovos Rail can take you on extensive journeys across South Africa and even to neighbouring countries like Namibia, Zimbabwe, and Tanzania. On the other hand, The Blue Train has a more limited selection of routes, with its classic journey between Pretoria and Cape Town.
Itinerary Length: Rovos Rail offers longer trips that can range from a few days to several weeks, perfect for those seeking an immersive train travel experience. The Blue Train offers shorter journeys lasting one or two nights, ideal for those with limited time.
Train Decor and Style: Rovos Rail's vintage trains have been meticulously restored and exude an old-world ambience with wood-paneled suites, antique furnishings, and Victorian-inspired decor. The Blue Train boasts a contemporary and elegant style with modern furnishings, plush upholstery, and striking blue exteriors.
How to extend your luxury train holiday in Africa
Each of the final stations on Rovos Rail and The Blue Train are ideal hubs from which to extend your luxury train travel journey.