The start of December brought two leopard sightings on a drive around Marula Island, both a male and female were spotted in the same area on two different occasions. The morning drive caught the relaxed male at the beginning of an unproductive hunt, whilst the afternoon provided sightings of a female walking in the same area, so its possible she was interested in mating. Many leopard sightings occurred throughout the rest of December which included a cub being fed by its mother on an impala.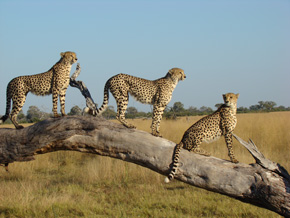 The
Kwara Concession
has been abundant with predator sightings with Lions topping the wish list by appearing most days. There were amazing observations near Wild Dog pan of social interaction amongst a cheetah and her 3 cubs as they played under the shade, one of the best in the cat family to observe when it comes to behavioural studies. A trio of males were often spotted in the Tsum Tsum area, unfortunately they were difficult to follow into the Mopane woodland in order to observe them further. An amazing sighting of wild dogs on the 14
th
raised the excitement on the concession near Tsum Tsum, and to top off this sighting the dogs were feasting on a zebra... Due to the recent and plentiful rains the game around camp has increased with impalas foraging between tents in the early mornings. Giving guests a fantastic opportunity to witness these antelopes in large groups, with the baby impala still quite skittish, always staying close to their mothers. However we have not had many elephant sightings in the camp since the rainfall as these majestic animals are mostly feeding out in the marshes and plains. Fortunately on the 11th 21 elephants were spotted during a boat cruise, as they crossed the Kwara channel. We watched intently as they swam, fed and enjoyed their playful time in the water.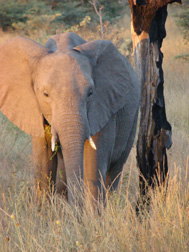 Antelopes have been plentiful with sightings of tsessebes, wildebeest, reedbuck and buffalos. Not to mention the herds of zebras glimpsed while dust bathing and grazing at four rivers. One of our rare sightings in the last month has included a bush pig normally they are typically shy and difficult to make out it looked more like an over-furry warthog. Peter and Pauls crossings provided us with a grunting playful pack of 8 hippos and an enormous crocodile, hungrily hunting for fish, respectively. The black eyed bul bul, crested barbet and starlings are just a few of the birds which can be spotted on camp during this amazing Birding season. Guests can sit in front of their tents with a pair of binoculars and easily pick out some of the amazing creatures on the camps trees.