The Seychelles is made up of a diverse collection of islands, tiny dots on a map spread over some 800 miles of the Indian Ocean, a mix of mountainous granite islands and smaller low-lying coral atolls. All are incredibly photogenic and have amazing nature and wildlife, but there is one particular island that offers an incredible mix of all the 'best bits that Seychelles has to offer – Six Senses Zil Pasyon on Felicite island.
While staying on one island cannot possibly replace the unique experience of island-hopping in the Seychelles and witnessing its nature and diversity, its a fulfilling option if you have limited time and is sure to provide many memorable moments. Here's our Top 10 reasons to visit Seychelles Felicite Island;
1. Location, location, location!
Six Senses Zil Pasyon is the only resort on beautiful Felicite island, occupying a third of the area with the rest embracing nature and environmental conservation. Within the 'inner islands of Seychelles, surrounded by an insane palate of shades of ocean blue, its superb location is only a short speedboat ride from neighbouring Praslin and La Digue islands – perfect for day excursions, as well as an easy transfer from the main international airport on Mahe – just 20minutes by helicopter. In short, you'll feel as though youre on an island paradise and yet close enough to surrounding islands for trips and other activities. A stay at Six Senses Zil Pasyon is very much about releasing the stresses of everyday life and 'letting go – whether you plan to be as active, or inactive, as you want!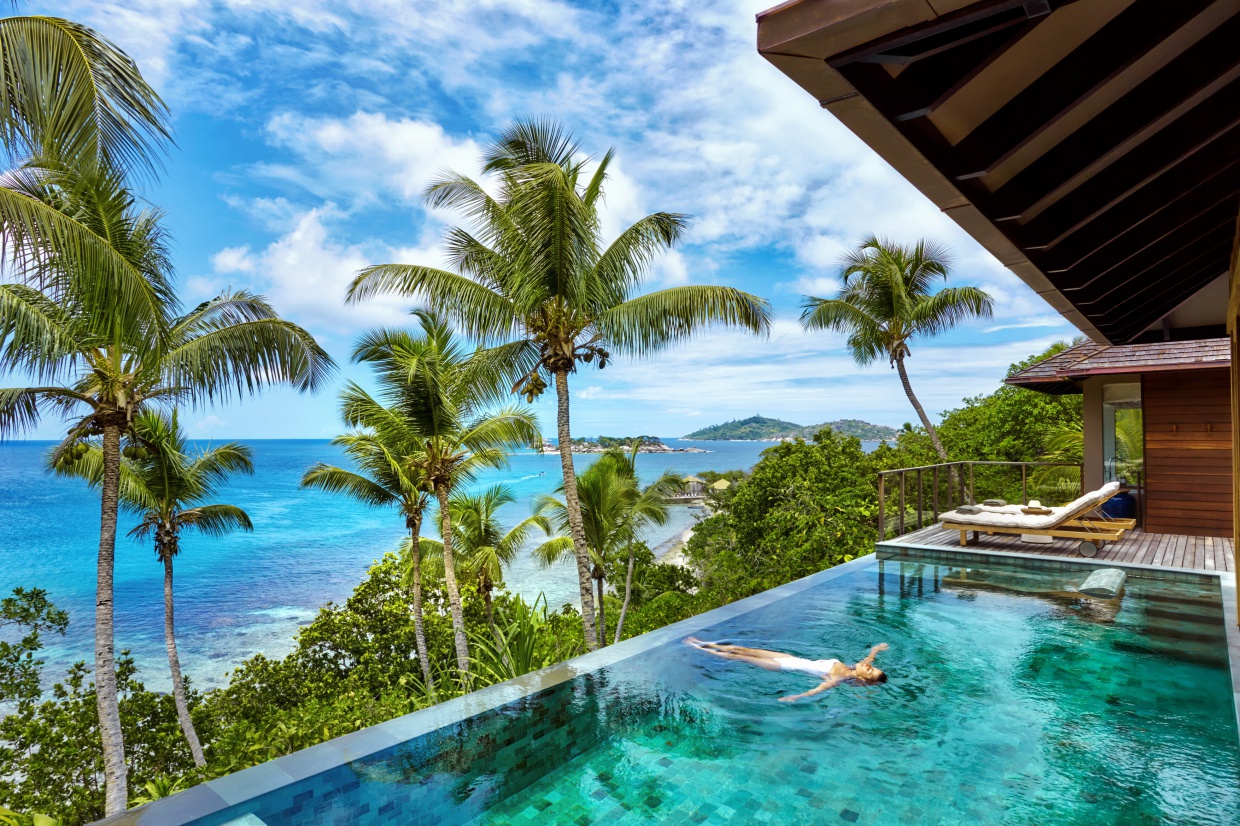 2. Luxury Villas with Pools
This is an all-villa resort with a selection of well-appointed villa types of various sizes – all with private pool – dotted around the hillsides and along winding paths. There are three amazing 3 & 4-bedroom Residences for rental too. As well as sublime ocean views, all offer excellent levels of privacy and seclusion, embraced by tropical vegetation. Extremely spacious, the interiors beautifully compliment the island environment and benefit from all modern amenities. Some villas face west, while others are east-facing, so if your preference is for sunset vistas, be sure to mention this to your Mahlatini expert when you book and well do our very best to request a west-facing villa, although obviously not guaranteed.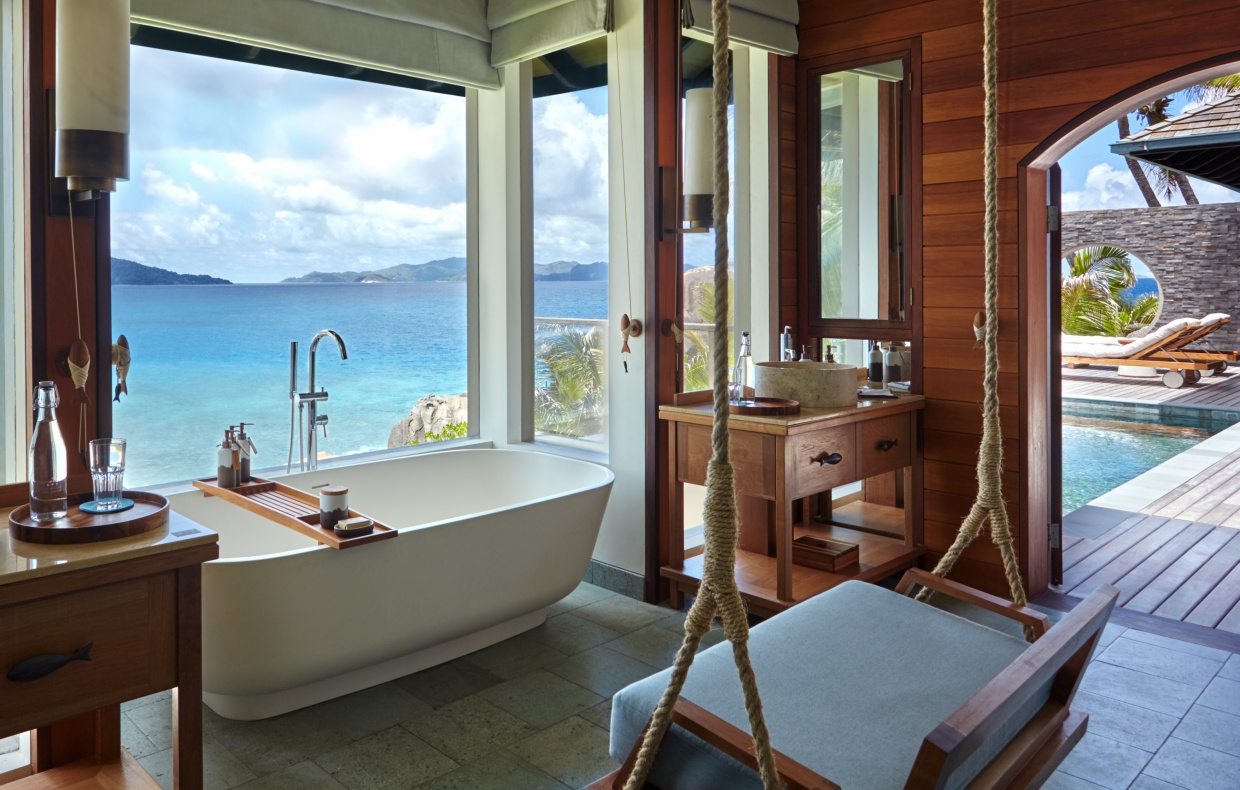 3. Stunning Spa – one of the best in the Indian Ocean
A major highlight, and one not to be missed, is a visit (or perhaps two!) to the resorts amazing spa; this really has the full wow factor. In a spectacular setting immediately above the crashing ocean waves, treatment pavilions are built into, and around, giant iconic Seychelles granite boulders helping to accentuate the natural geography of the island; there's even a rope bridge! Enjoy an array of rejuvenating treatments integrally linked to the islands ecosystem, or indulge in a yoga session. After your treatment, chill in the infinity pool atop a huge granite boulder with panoramic vistas over the ocean to distant islands – simply breathtaking.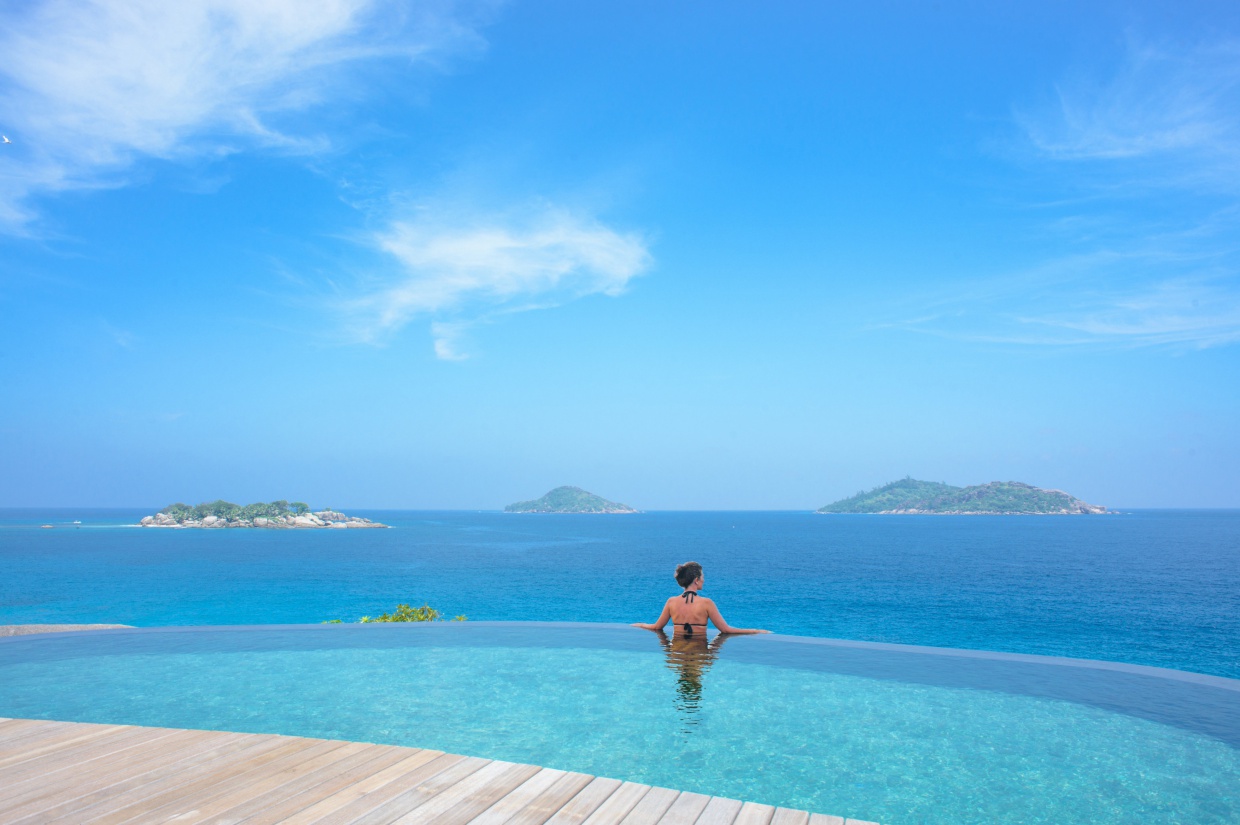 4. Eco-luxury resort
As with all Six Senses properties, there's a huge emphasis on environmental sustainability at Zil Pasyon; guests are positively encouraged to get involved. No exotic flowers have been imported to Felicite and the landscaping of the resort includes only Seychelles indigenous species to help nurture the delicate habitat found on the island and encourage the re-introduction of endemic bird species. The resort has a 'total commitment to waste management and recycling, including the ongoing elimination of all unnecessary packaging, particularly plastics. When we last visited in August 2018, the only remaining plastic packaging to be removed was that on the sugar cubes! Plastic straws went two years ago. Be sure to see the resorts huge organic garden as well as its own water-bottling plant in action! There's also turtle conservation and a coral reef restoration project off the shore at Anse Peniche.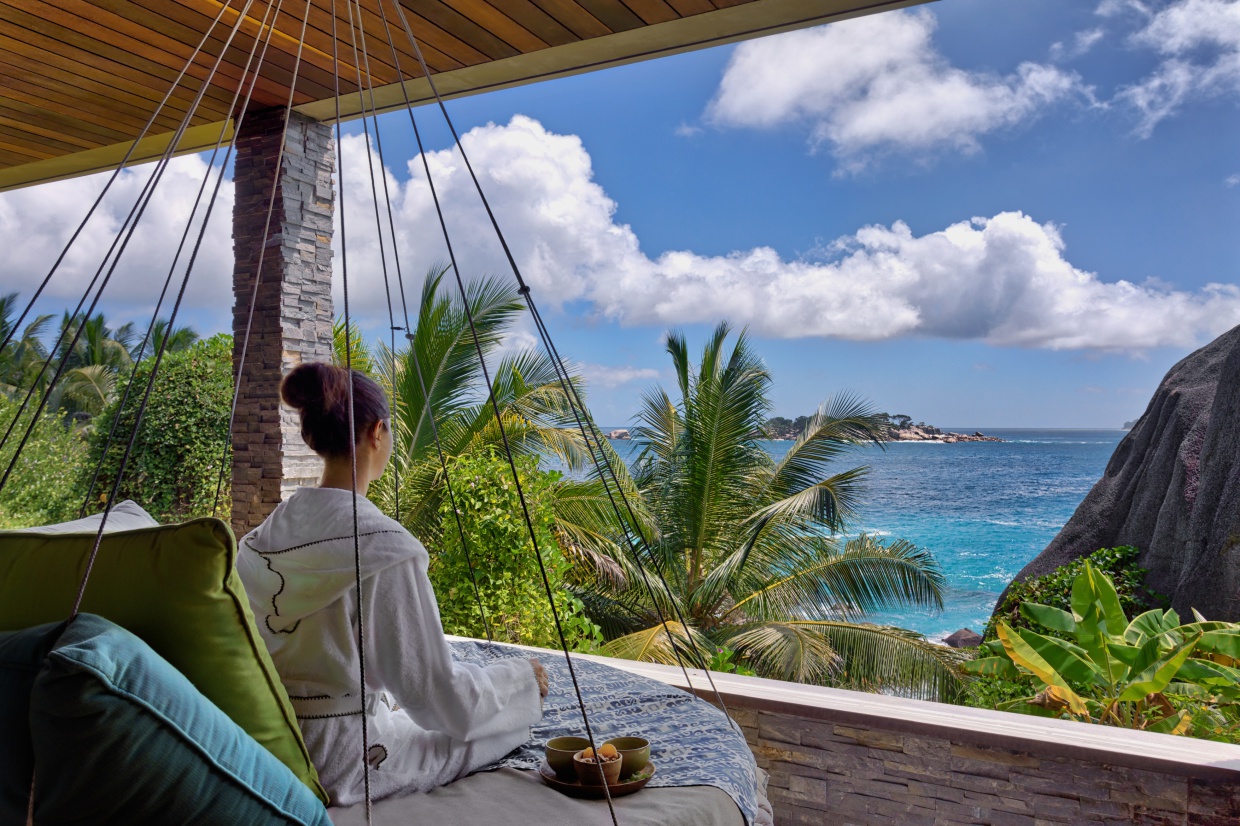 5. Outstanding facilities, relaxed friendly service
As well as the sumptuous villas, what really helps to make a stay at Six Senses Zil Pasyon so special is the wonderfully relaxed, friendly service. All villas have a Guest Experience Maker to tailor activities to your personal preference – whether its sorting out a kayaking trip or arranging a trek with the islands ecologist to discover Felicite's unique nature. At the resorts main 'hub, staff at the Chefs Kitchen and Island Café are on hand to create fascinating culinary delights using the freshest ingredients from the organic garden; they'll help fashion memorable moments especially if its your birthday or celebrating an anniversary, while bar staff will craft your perfect sundowner cocktail.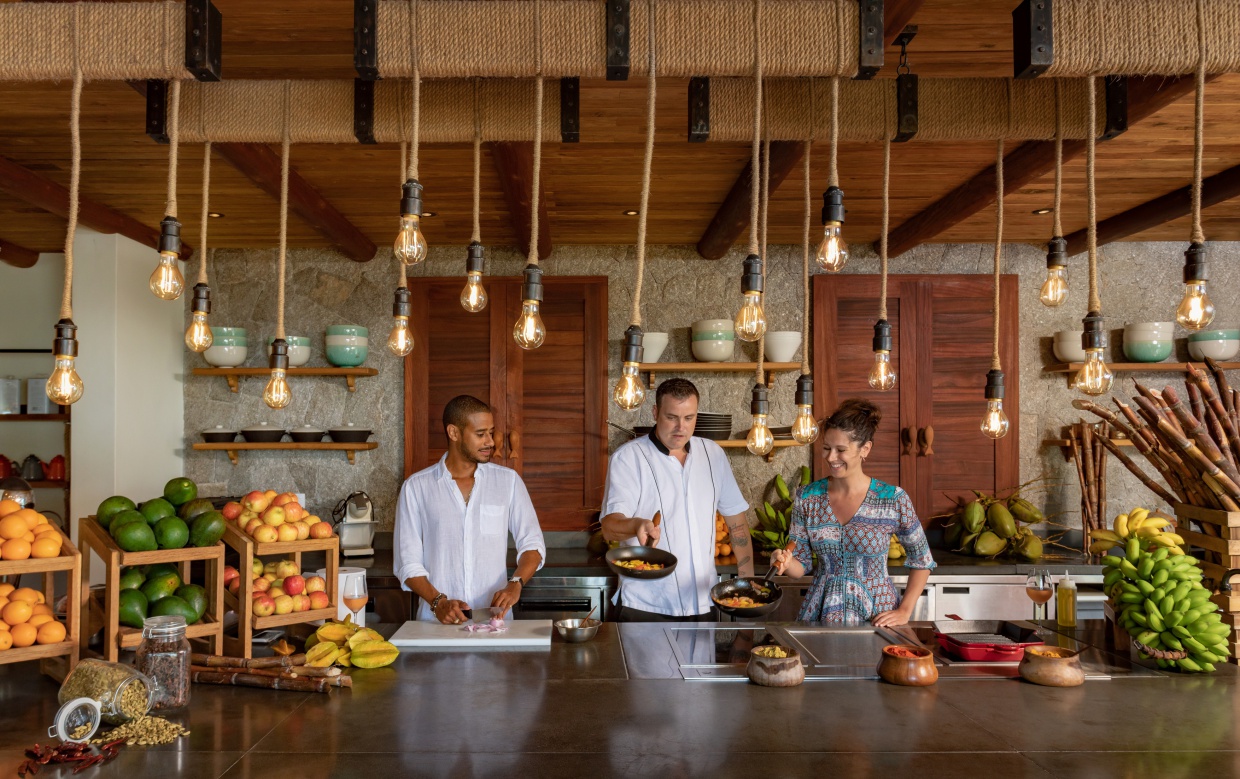 6. Unique memorable moments & experiences
If you can pull yourself away from your sumptuous villa, there's a seemingly endless array of experiences to enjoy. A real highlight is to witness a magical sunset from the mountain top, relaxing on a beanbag with your favourite drink! Don't worry, the friendly staff effortlessly make it all happen – you just need to arrive and sit back! Perhaps you'll want to surprise your partner with this most romantic of experiences – ideal as part of a honeymoon or anniversary stay? You can learn to paddle board, catch a movie under the stars, enjoy some of the best snorkelling in Seychelles at nearby Coco and Sister islands, take a day-trip to neighbouring La Digue island, indulge in a spot of rum tasting, learn the art of local Creole cuisine with the islands chefs, or simply be tempted by the daily changing ice cream flavour down by the main pool!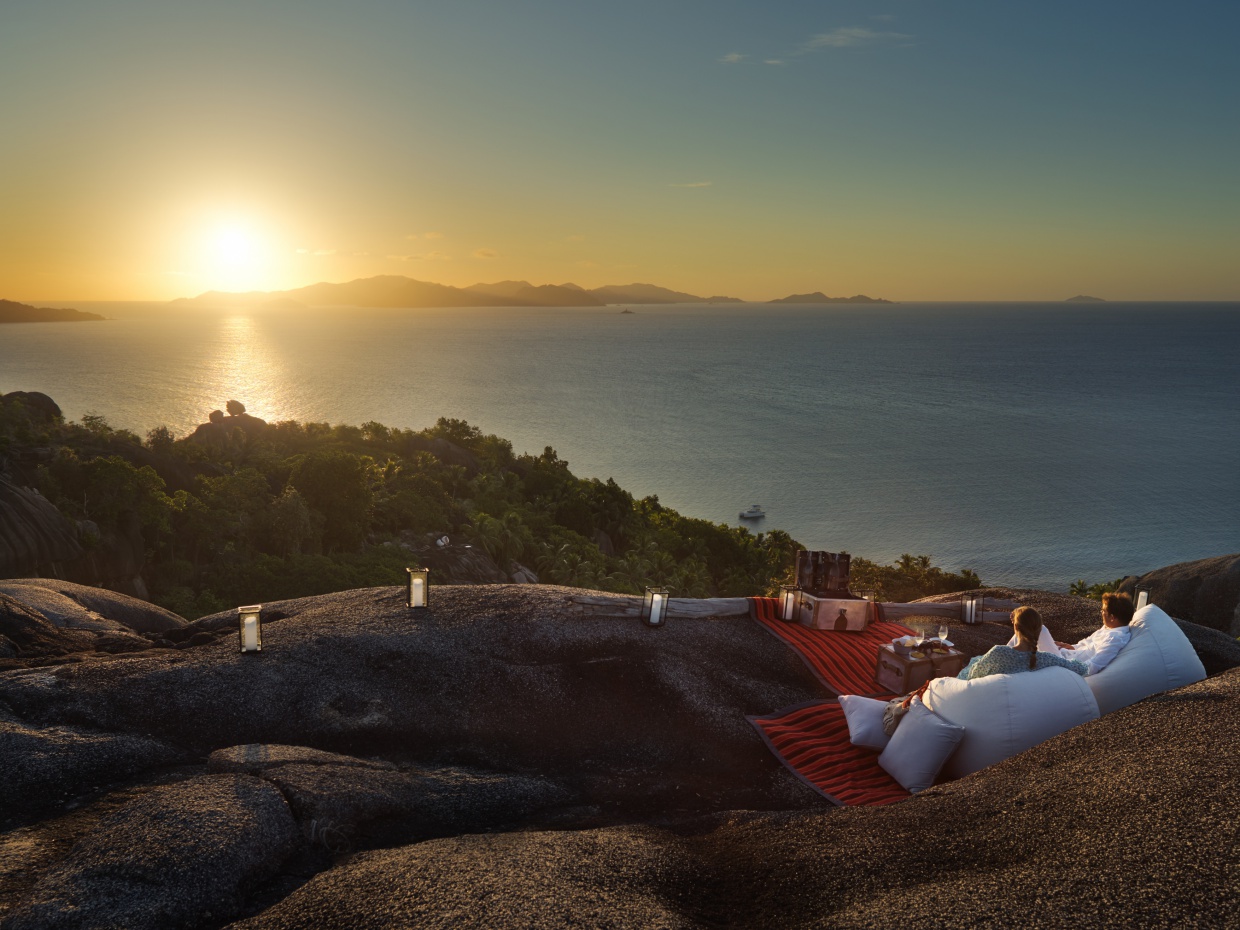 7. Nature & wildlife
Take time to discover the islands ecology as well as learning about Six Senses highly-regarded sustainability ethos. Guided walking trails of 2 to 4 miles provide a fascinating insight into the diverse nature prevalent on Felicite together with the various ongoing ecology projects; you may also see some of the islands endemic bird species as well as some of the unique Coco de Mer Palms for which Seychelles is famous. If you're really lucky (depending on the time of year) you may have the privilege of witnessing turtle hatchlings – a truly memorable experience.
8. Superb water sports
Water sports are plentiful at Six Senses Zil Pasyon with many offered on a complimentary basis for guests, such as snorkelling, kayaking, sailing and paddle-boarding. Fishing trips as well as diving using an experienced local PADI dive centre can both be arranged and payable locally in resort according to the specific itinerary. Another highlight is that some of Seychelles finest snorkelling is close by. Less than a 10min boat ride from Felicite, in the stunning turquoise waters around Coco Island and the Sister Islands, youll witness a vast array of beautiful marine life and coral.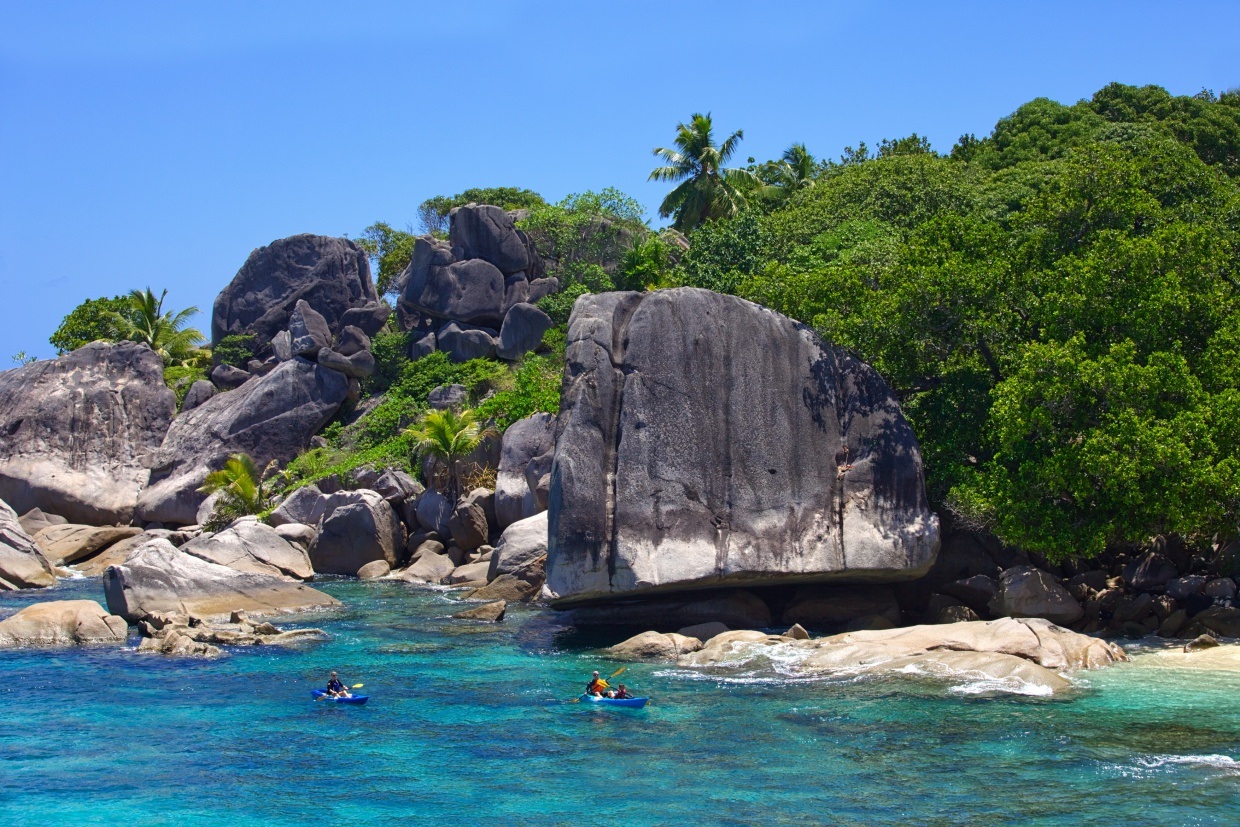 9. Pristine white sand beaches & giant granite boulders
Being one of the inner group of islands, Felicite benefits from a forested, hilly interior together with stunning white sand beaches punctuated by giant granite boulders for which Seychelles is renowned. Snorkel from the beach, kayak or learn to paddle board, or simply laze in a beachside hammock with the sound of the ocean waves as your therapeutic melody.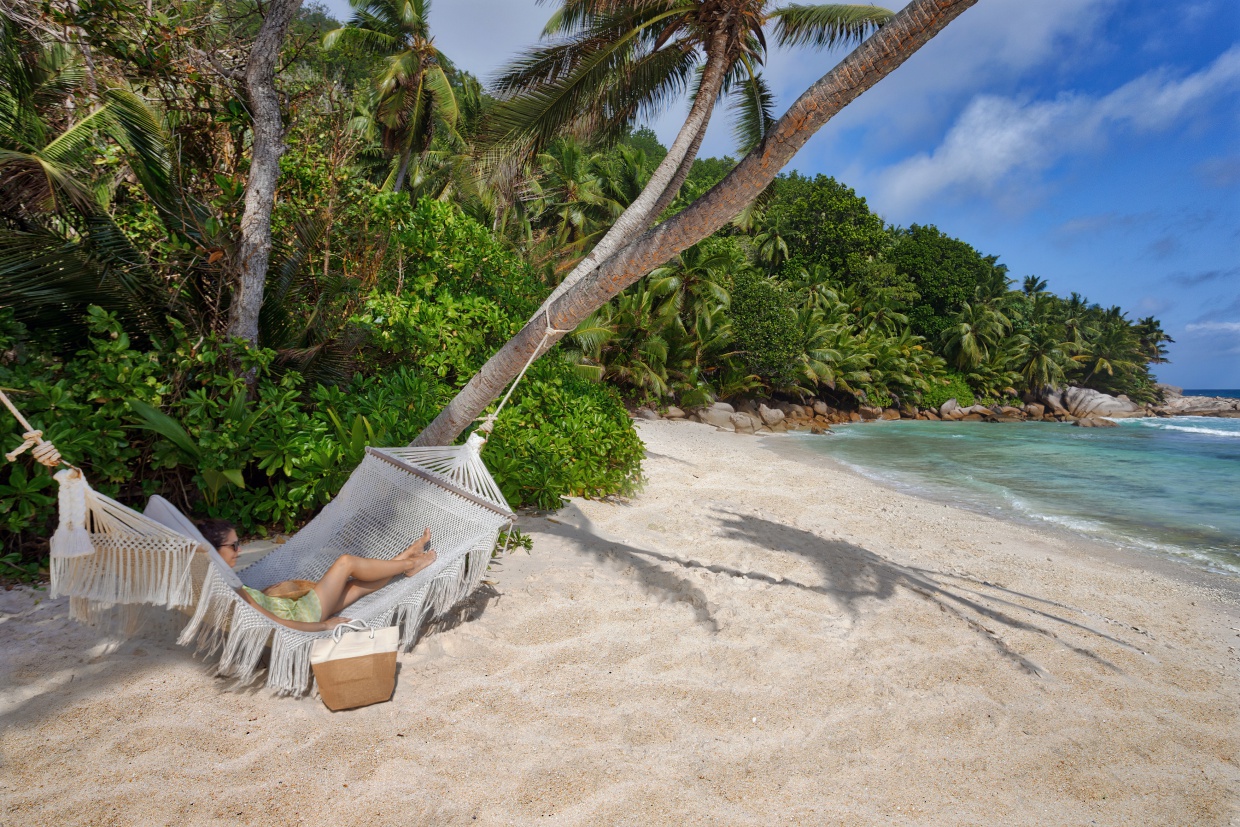 10. Suitable for couples and families alike
Whether its a Seychelles family holiday, honeymoon or celebrating a special anniversary, Six Senses Zil Pasyon ticks all the boxes. There's a great deal of seclusion and a wonderful tropical island feel – perfect for a romantic sojourn. Villas are to die for, while the superb choice of activities are there to tempt the more active. For families, the island offers a real natural holiday experience and the Trouloulou (Kids) Club aims to create memories for younger guests that will live long after their visit through a tailored programme of engaging and educational activities – perfect for nurturing inquisitive, creative minds.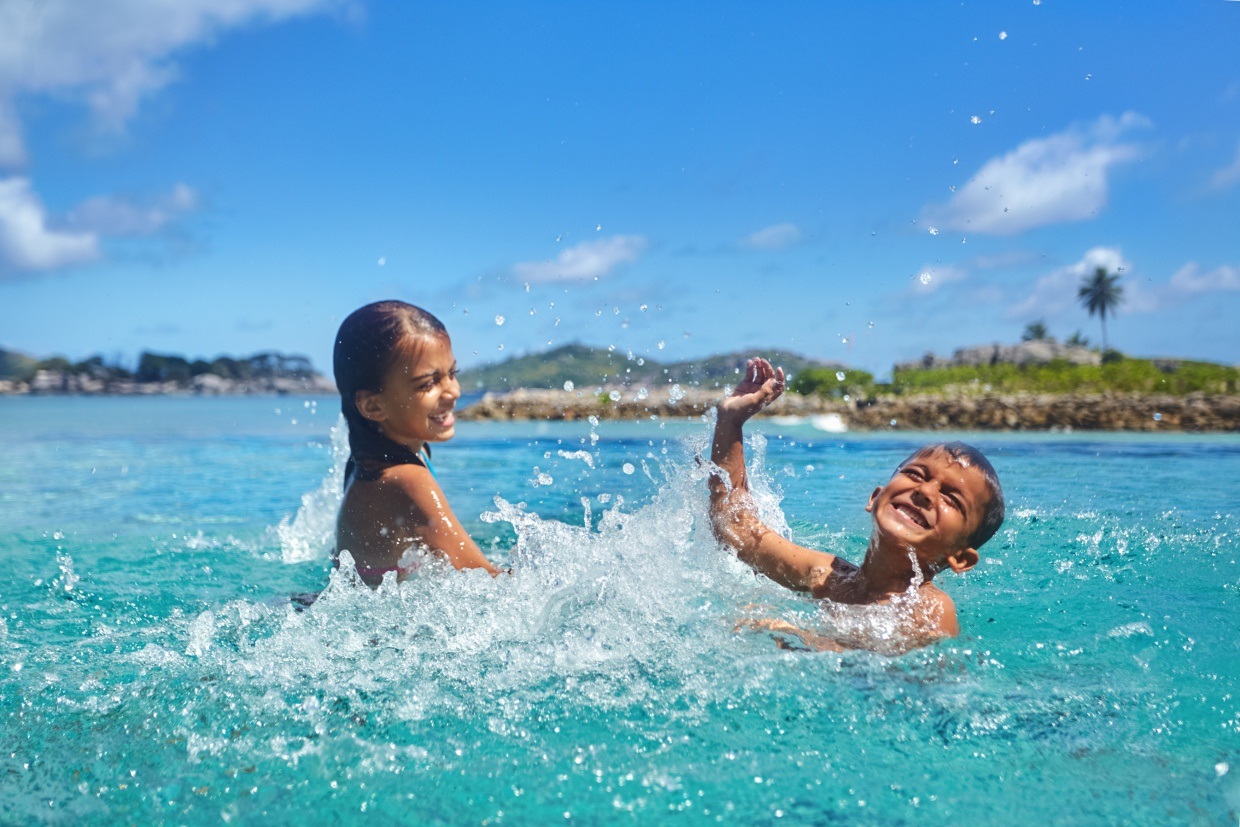 Six Senses Zil Pasyon has a wonderfully relaxed feel. This is an island paradise where you'll feel that time has slowed down… or even stopped altogether! The perfect place to relax and recharge ones batteries, whilst also discovering the fascinating nature and wildlife that is so unique to Seychelles. Whatever time of year you choose to holiday, whether as a Seychelles single-centre, or perhaps as part of a twin-centre Africa safari & beach combo itinerary, let the specialist Mahlatini team plan your perfect island adventure; were sure you wont be disappointed.
Book now, for stays until 31 October 2019, and save 20% as well as complimentary Full Board; in some cases, there's even free All Inclusive! What's more, stay 10 nights or more and receive complimentary return helicopter transfers from/to the main island of Mahe. What's not to like about that!