If you have a travel bucket-list, chances are Victoria Falls has a spot on the list! If not, and you want to know the reasons Victoria Falls is worth visiting, take a look at our 6 reasons below to inspire the adventure of a lifetime...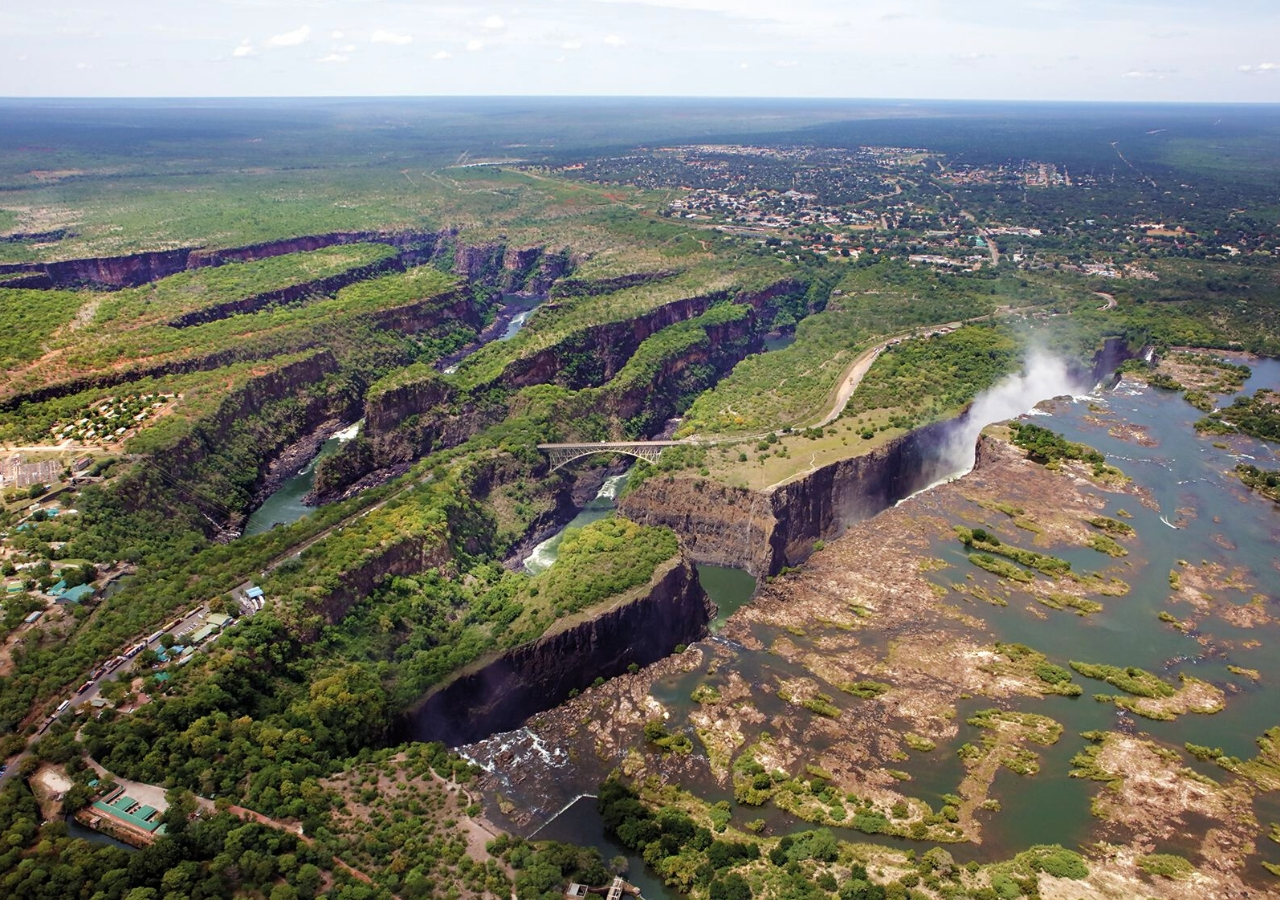 1. It's a Wonder Of The World
When a sight claims the title of one of the 'seven natural wonders of the world', then you know you're about to witness something you'll never forget! Known by locals as 'Mosi-oa-Tunya', or 'the smoke that thunders', Victoria Falls is a formidable mile-wide gorge where the Zambezi river roars over a ledge and drops 400 feet to the valley floor below. You can visit the falls in either 'full-flow' when the roar and mist created overwhelms the senses, or during a dryer season when you can clearly see the full scale and flow.
2. Safari
Spending time at Victoria Falls and not going on safari would be nothing short of a shame! With game viewing possible from a classic 4x4, boat or on foot, the diversity of safari experiences in the Victoria Falls' reserves are truly thrilling. When it comes to wildlife, both the Zimbabwe and Zambia side of the Falls deliver as they are home to rare packs of African wild dog, elusive leopards, herds of elephant, lions, and more!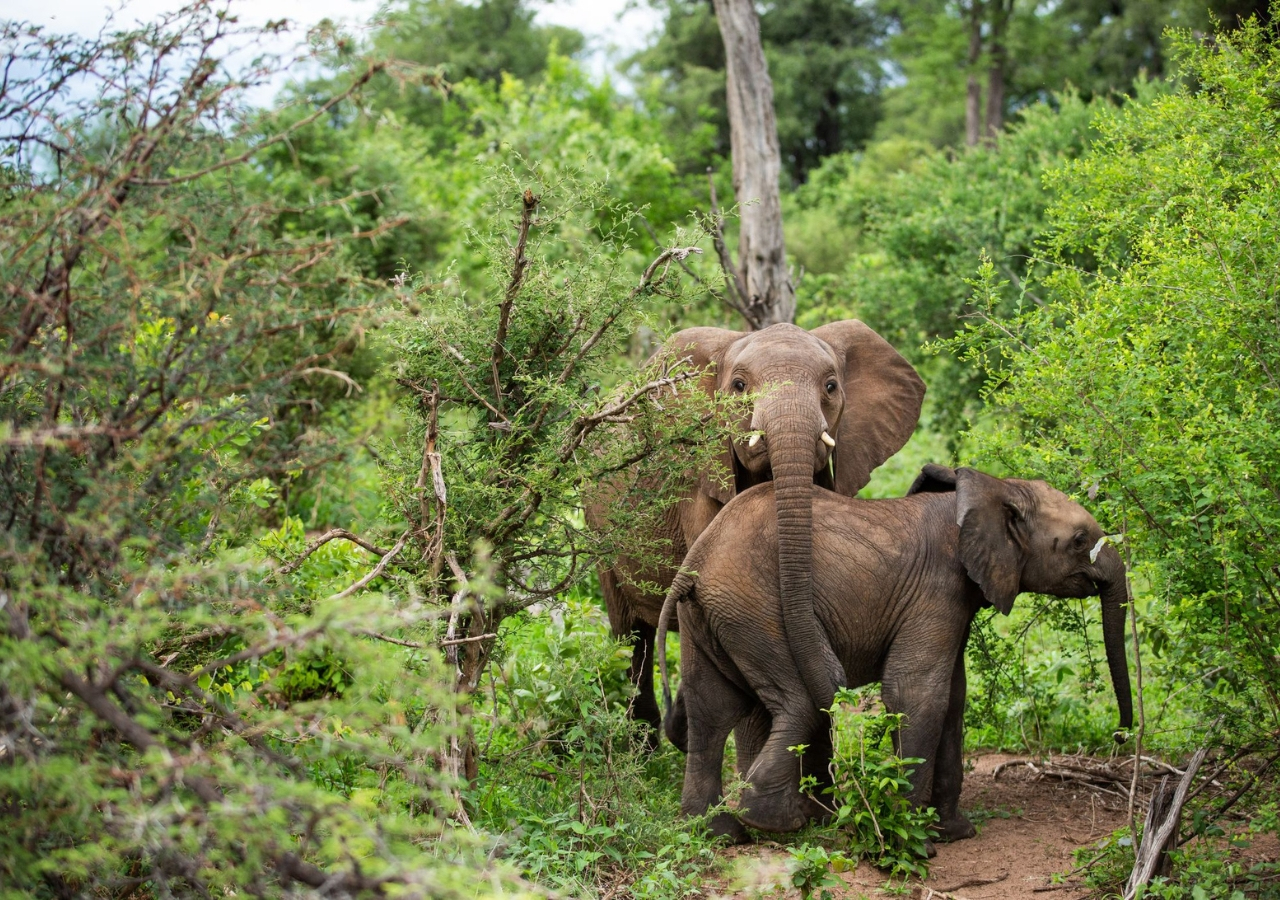 3. Adrenaline Activities
Victoria Falls is a haven for adventurous travellers seeking adrenaline-junkie-worthy thrills. From white water rafting to bungee jumping, helicopter flights to gorge swinging, thrill seekers will be spoilt for choice. For those wanting to enjoy more leisurely activities you can enjoy angling, canoeing, and more. If you want to enjoy any extra excursions or activities during your time at Victoria Falls remember to speak with your travel expert ahead of time. This way they can ensure you have time to check everything off your wish list.
4. Swim in Devil's Pool
Welcome to the world's most scenic infinity pool! Not for the faint of heart ( and confident swimmers only) this spectacular natural pool is situated on the Zambia side of Victoria Falls and can be accessed when the water levels drop. Guaranteed to create photo op envy, make sure you plan your Victoria Falls visit between late August and early January when you have the best chance of Devil's Pool being exposed.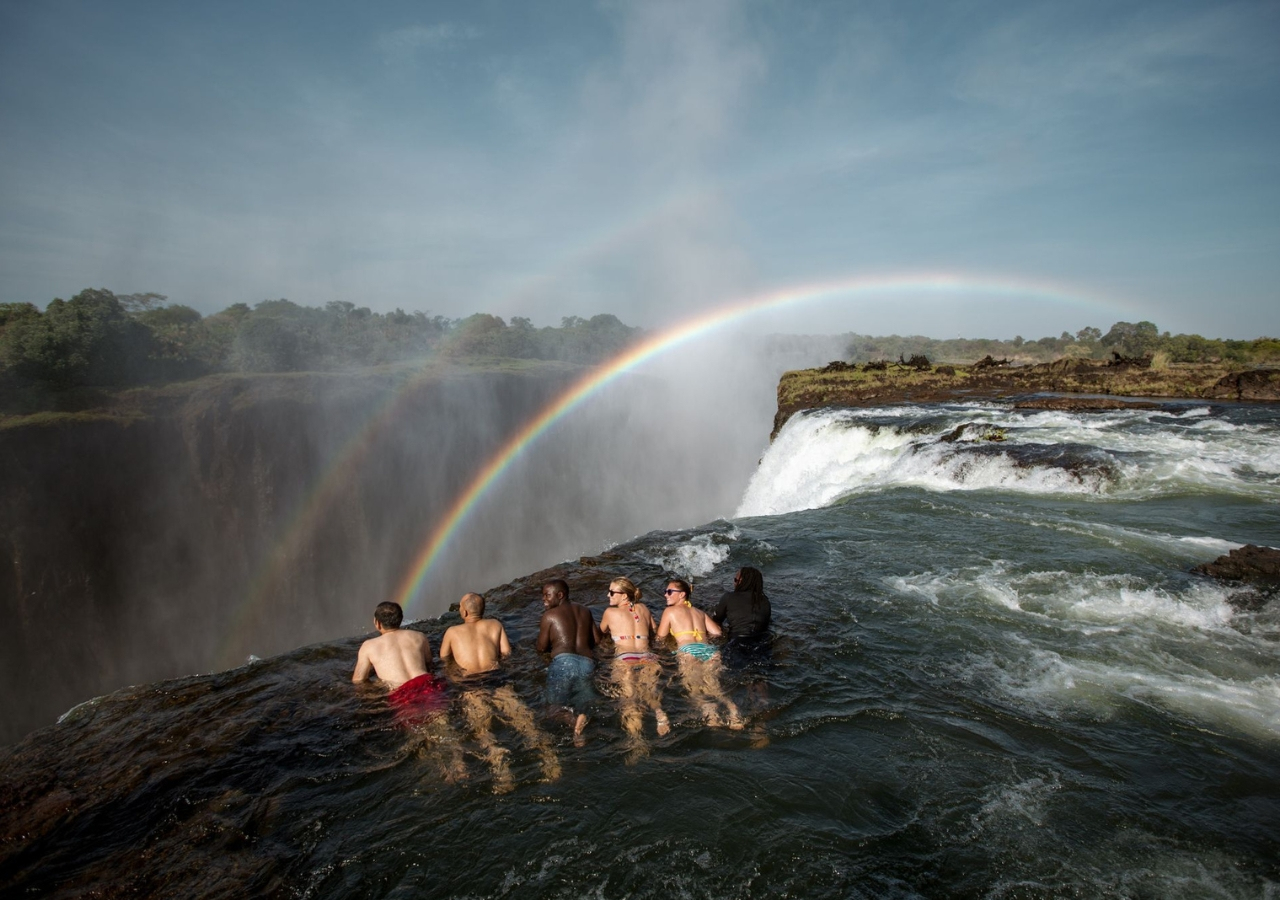 5. Luxury Safari Lodges
From remote lodges nestled along the banks of the Zambezi river, to elaborate hotels positioned in prime view of the mist, there is one thing they have in common… luxury! Our select properties in the Victoria Falls region are hand-picked by our experts and endorsed by our clients. Ensuring an exceptional stay is all about picking a property that suits your personal style and interests. For couples we love Old Drift Lodge with their private decks that host outdoor plunge pools and baths overlooking the Zambezi. For families seeking quality time together, without compromising on luxury, we adore Matetsi Victoria Fall's private villa where you can enjoy an indulgent home-from-home experience with private staff, including a private safari guide! Check out our other blog for the best places to stay in Victoria Falls.
6. Sunset Cruises
According to our Travel Expert Donna, a sunset cruise along the Zambezi river is one of the best ways to take time to absorb the sheer magnificence of your surroundings. The perfect way to end your day. As the African sun falls and the blush-toned sky encases you, sip your chosen sundowner with only the sounds of the river flow and grunts of nearby hippo pods. A Zambezi sunset river cruise is definitely one of those 'only in Africa' moments.