With its turbulent past, developing infrastructure and relatively new tourism offering, Uganda is often looked over as a holiday destination when compared with its more illustrious East African cousins of Kenya and Tanzania.
However, this couldn't be further from the truth as Greg Fox, Mahatini's director, found out on his visit to this beautiful country. Below are just a few of his highlights:
1. Gorilla Tracking in Bwindi Impenetrable Forest National Park
I had wanted to go gorilla trekking for many years and when I finally got my chance and wasn't disappointed. After a mere 45 minute walk up and over a hill, we came to a clearing on the edge of the forest where an entire group of 18 individuals sat peacefully. We spent an enthralling hour with these majestic creatures, captivated by their every move. To be in the presence of these gentle giants was of the most incredible experiences of my life!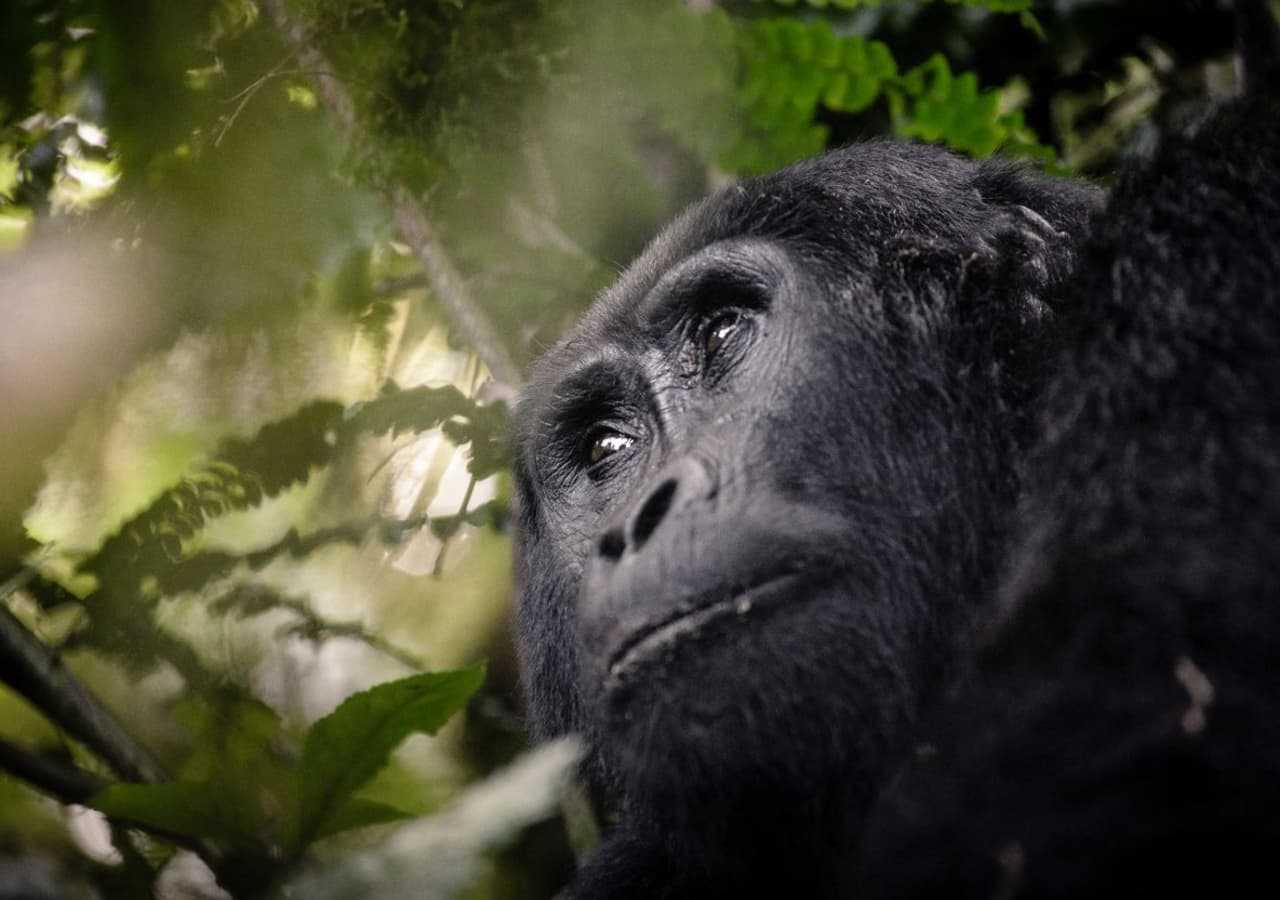 2. Tree climbing lions in the Ishasha District of Queen Elizabeth National Park
Seeing the famous tree climbing lions in the Queen Elizabeth National Park was a highlight of my trip to Uganda. Queen Elizabeth National Park, named after Queen of England, who visited the park in 1954, is an enormous park, home to the only lions that climb trees in the Ishasha. We were fortunate enough to find a pride of 6 lions resting peacefully in a massive sycamore fig tree on our first afternoon and spent a good 2 hours watching this incredible sight.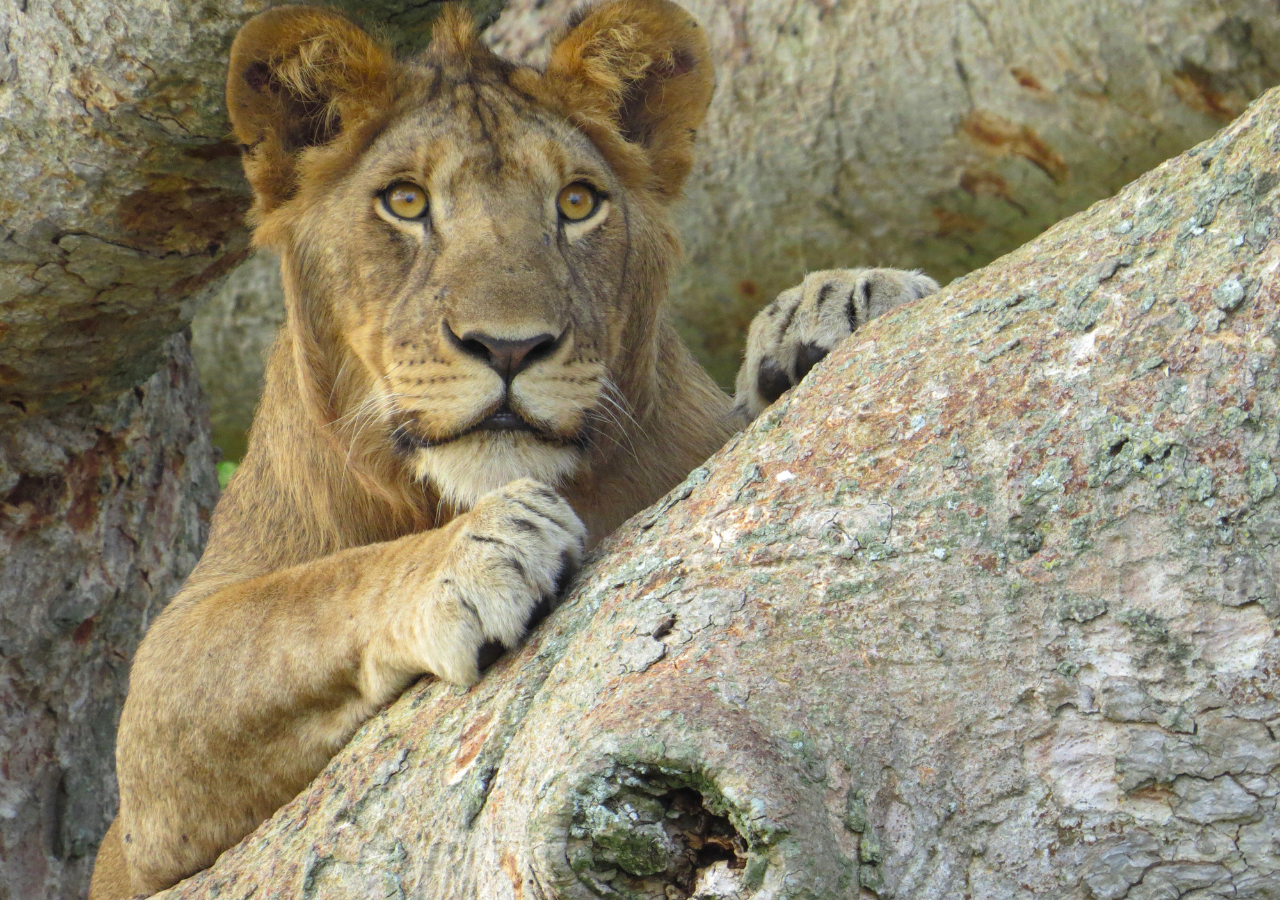 3. Seeing the Murchison Falls
We set off from Paraa Safari Lodge on an early morning boat cruise up the Victoria Nile, also known as the White Nile. The shores of the Victoria Nile are abundant with wildlife of every sort. Hippos and crocs lined the river banks with loads of buffalo, waterbuck, the ever present Ugandan Kob and even the odd elephant coming to drink at regular intervals. The trees were teeming with birdlife, from the majestic African fish eagle, to the energetic pied Kingfisher. After about an hour and a half, we turned a corner to one of the most incredible of Uganda's sights, Murchison Falls - the mighty Victoria Nile squeezed through a gap of only 7 meters before tumbling a further 40 meters down a ravine.
4. Chimpanzee tracking in Kibale Forest National Park
Tracking chimpanzees in Kibale National Park was one of my personal highlights of my trip. After about 15 minutes of walking through fairly dense forest we had not seen or heard a thing, however, our guide was adamant that we were on the right track. All of a sudden, all hell broke loose and there were chimpanzees everywhere screaming, climbing trees, drumming on the fig tree roots and tearing through the undergrowth. The dynamics of a chimpanzee family were utterly fascinating with the dominant male and his lieutenants ruling things with an iron fist. Their interactions played out in front of us like a grand performance and kept us captivated for 3 hours as the forest went from silent to bursting with life and noise in the blink of an eye. Our guide was fantastic and really painted the most wonderful picture about what was happening and how to interpret their behaviour, which just amplified what was already a wonderful, enthralling experience.
5. Boat trip down the Kazinga Channel
The Kazinga Channel is 32km body of water that joins Lake Edward to Lake George. Travelling slowly down the channel by boat is the most wonderful way to see the park and all its wildlife. The shores of the channel are lined with hippo and buffalo, wallowing together in the muddy flats at the waters edge. This was the first place I saw animals gathering at the shore in such abundance. We saw a wealth of plains game, birds and an abundance of elephants. One of the unique things about Queen Elizabeth National Park, is the close proximity in which humans and wildlife from one another. Little fishing villages near the shores of Lake Edward mean that humans and animals all cohabit the same area peacefully. A boat cruise is a must do for anybody who visits the Queen Elizabeth National Park.
6. The Crater Lakes
Uganda is home to more than 50 crater lakes, spanning from Queen Elizabeth National Park to the areas around Fort Portal and Kibale, these areas are home to some of the densest concentrations of crater lakes in the world. The lakes were formed by immense volcanic activity and geological forces, shaping this area of Western Uganda. The landscape here is pot marked with numerous crater lakes which makes for one of the most unique, interesting and beautiful landscapes I have ever seen. The views over the craters from Ndali Lodge and Kynaninga Lodge are absolutely breathtaking.
7. The Batwa Pygmy experience in Bwindi
I have done many cultural experiences throughout Africa but nothing compares to The Batwa Pygmy experience. The afternoon was spent with the tribal elders and we were privy to the fascinating culture and workings of their society and way of life in the forest. Our visit with coupled with a certain element of sadness, as the Batwa Pygmy people have had to resort to tourism in order to preserve their way of life. It was a privilege to spend an afternoon with these wonderful, kind and generous people, catching a glimpse into their lives.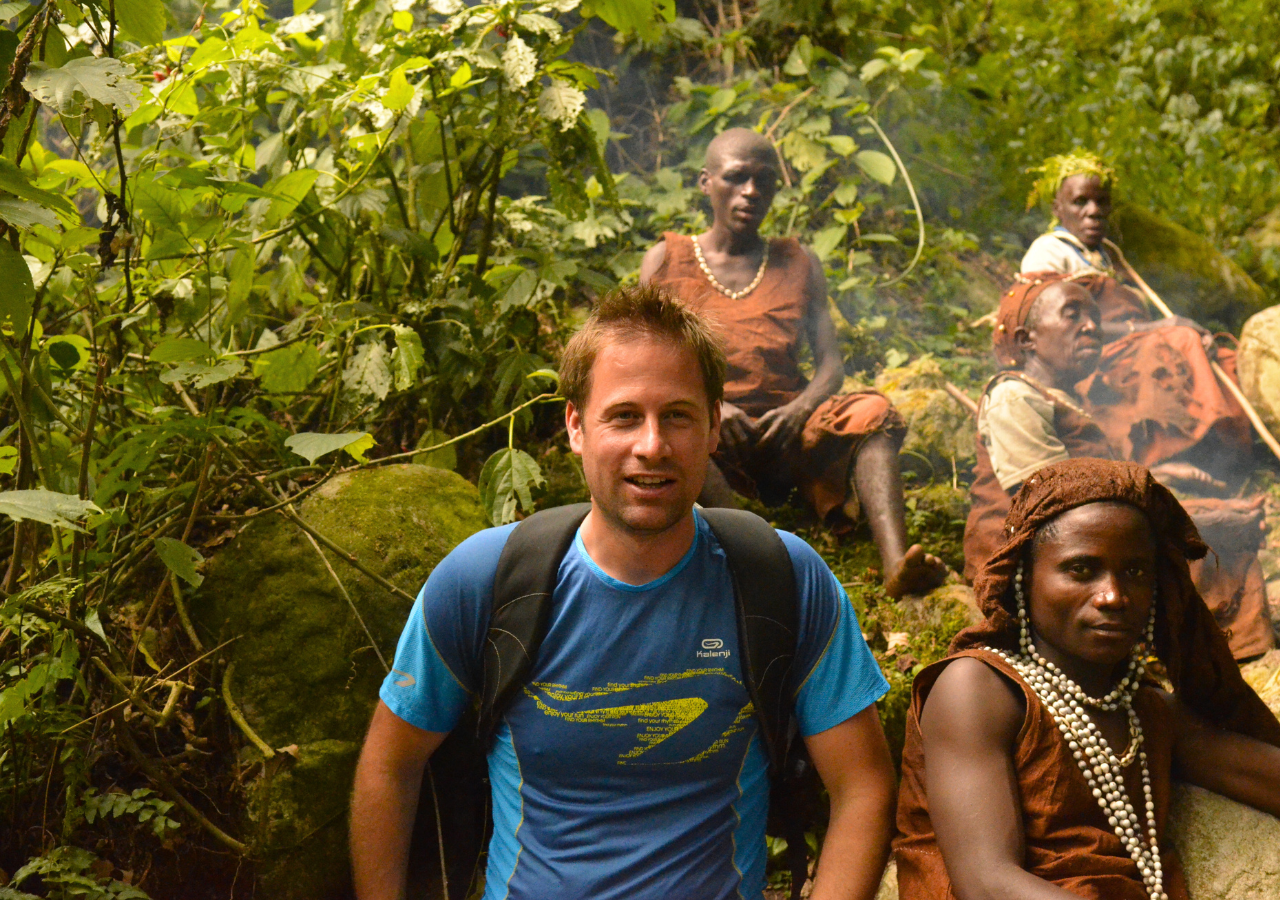 8. The Ziwa Rhino Sanctuary
Tragically, the last wild rhinos in Uganda were wiped out during Edi Amins reign of terror in the late 70's. Thankfully, there is now an ambitious project to reintroduce rhinos back into the wilds of Uganda to restore the parks back to their former glory. The park now boasts 12 white rhinos, which are kept under 24-hour surveillance in an effort to protect them against potential poachers. During our visit to Ziwa Rhino Sanctuary, we went on a wonderful tracking experience where we tracked the rhino deep into the bush. We eventually located a family of 4 rhino, a mother, her 2 calves and a young sub adult. We spent a unforgettable 45 minutes with them while our guide educated us on the rhino, their habits and the conservation efforts that were underway.
9. Ankole- Watusi Cows
Uganda is famous for its Ankole-Watusi cows. These cows have the most incredible horns which can reach up to 2.4m from tip to tip!
10. Uganda's People
Uganda's wildlife and scenery are not the only draw cards to visit. The people themselves were certainly one of the highlights of my trip. Having travelled extensively around the globe, I can honestly say I have been to very few places where the people have been as friendly and welcoming as I experienced in Uganda. No trip to Uganda would be complete without taking the time to experience the wonderful people that live there through the various cultural interactions such the Batwa Pygmy experience or visiting the markets and restaurants in towns and villages.