There is no denying more and more of us are choosing to follow plant-based diets and its becoming easier to find luxury vegetarian friendly safaris in Africa. While vegan options havent caught up just yet, many of Mahlatini's luxury destinations are continually taking great measures to cater for those who follow strict plant-based diets.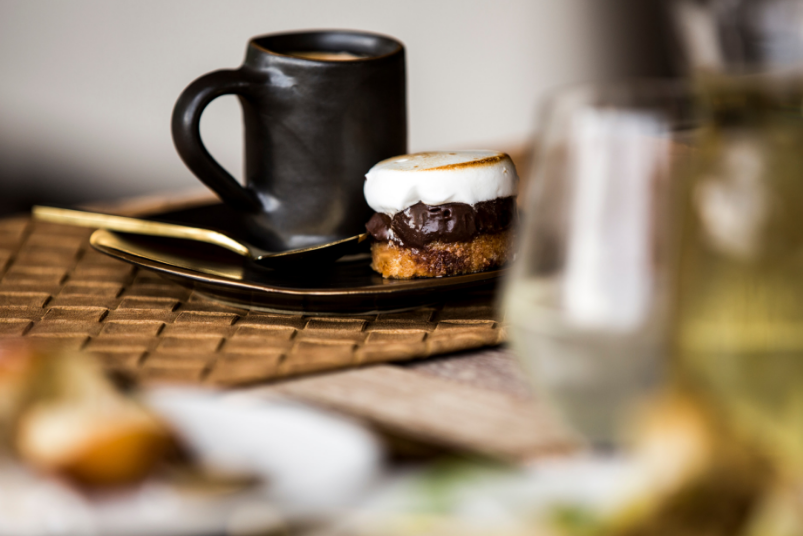 How to plan a Vegan / Vegetarian Friendly Safari
The most important thing you can do is communicate your dietary status with your Mahlatini Travel Expert. It is crucial that you are totally open with your Travel Expert about what you cannot eat because many vegan friendly substitutes may not be readily available where you are staying. Our luxury safari destinations are remote and many have to fly-in the produce they use. So, the more information you give in advance of your journey, the better we can prepare your property for your requirements. Our Travel Experts will also be able to recommend lodges and camps that offer the best vegan and vegetarian friendly safari experiences.
Some important things to remember;
If you follow a strict vegan diet, more developed safari destinations may be able to accommodate you better ie. South Africa. With more 'bricks and mortar' style lodges (with larger kitchens), South Africa based lodges tend to be able to service vegan meals better than remote tented camps.
If you have a strict daily diet, it is likely being on safari will cause this to alter. If you are taking part in physical safari activities such as gorilla trekking or walking safaris it may be worth taking supplements in the run up to and during your safari to keep your immune system and energy levels up.
Stay in luxurious and upmarket properties as they will better be able to cater for your needs also. Luckily, Mahlatini specialise in luxury African travel and our experts have great, long-standing relationships with many of the top safari lodges across Southern and Eastern Africa.
Remember, luxury safaris are all about authentic experiences, including kills. Witnessing a hunt or kill while on a game drive is considered exciting safari viewing, so if you are likely to be upset by the sights of predators hunting other game be aware this might occur.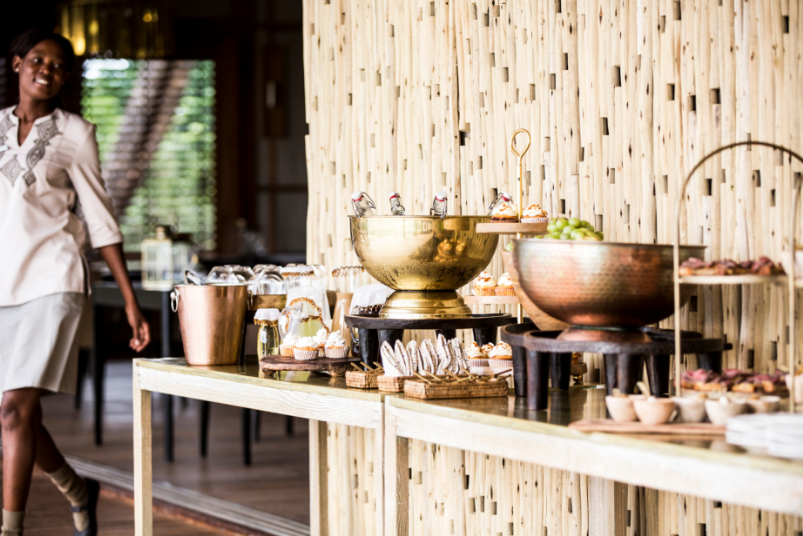 Some of our favourite Vegetarian Friendly Safari Lodges and Camps
This is a short list of some of our favourite vegetarian friendly safari lodges from experience, however many others are happy to accommodate vegan and vegetarian needs (and do it very well!). If you have a certain destination or property in mind, do not hesitate to ask our Travel Experts for their recommendation;
Tengile River Lodge, South Africa
Situated in the private Sabi Sands Game Reserve, with an unfenced border to the world-renowned Kruger National Park, andBeyond Tengile River Lodge sits on a river bank with magnificent views from all angles. Newly opened in 2018, Tengile River Lodge has quickly established itself as one of the top luxury lodges in South Africa.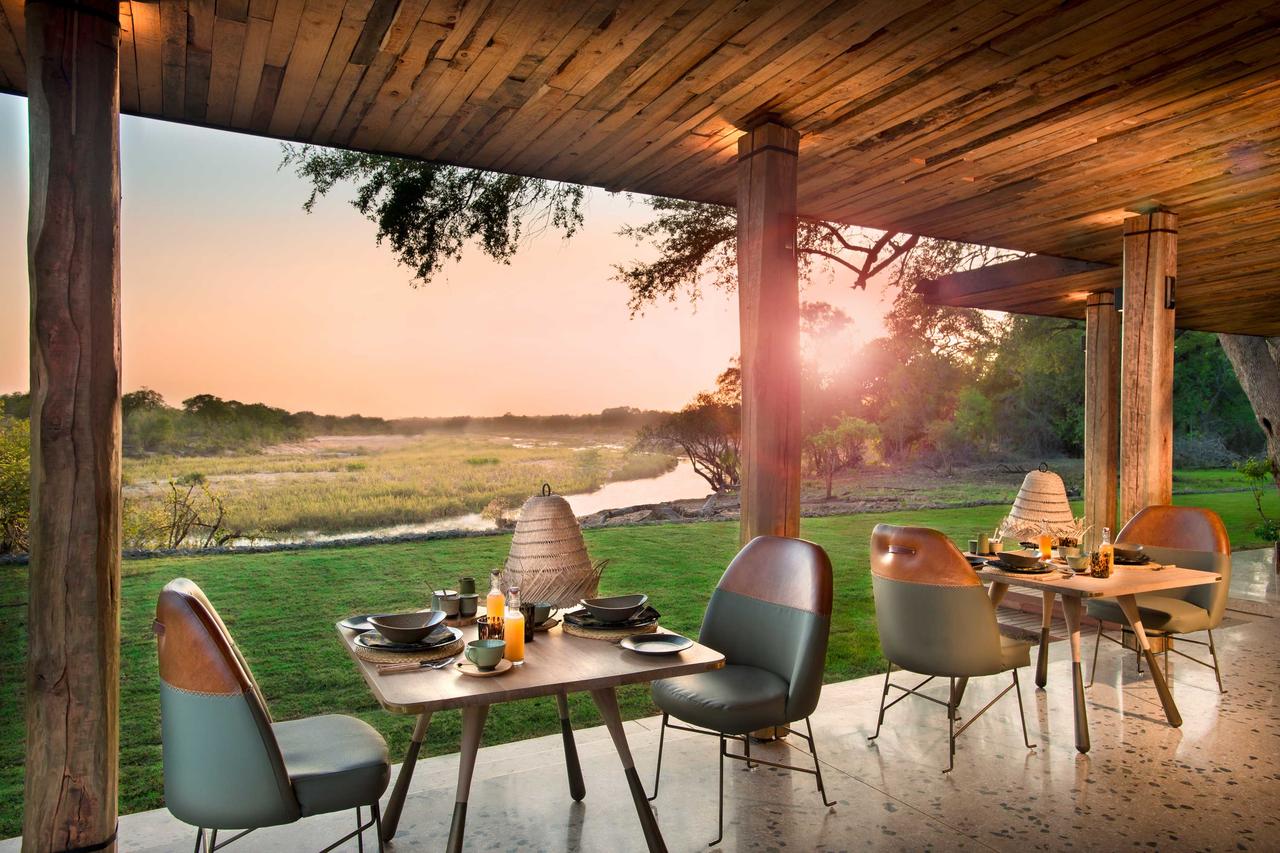 Saruni Samburu, Kenya
Perched on a spectacular viewpoint with an all-round view of Northern Kenya, Saruni Samburu is a 'design' lodge surrounded by 240,000 acres of private wildlife conservancy. Saruni is renowned for delicious cuisine and each villa has its own dining area, offering self-contained privacy and magnificent views.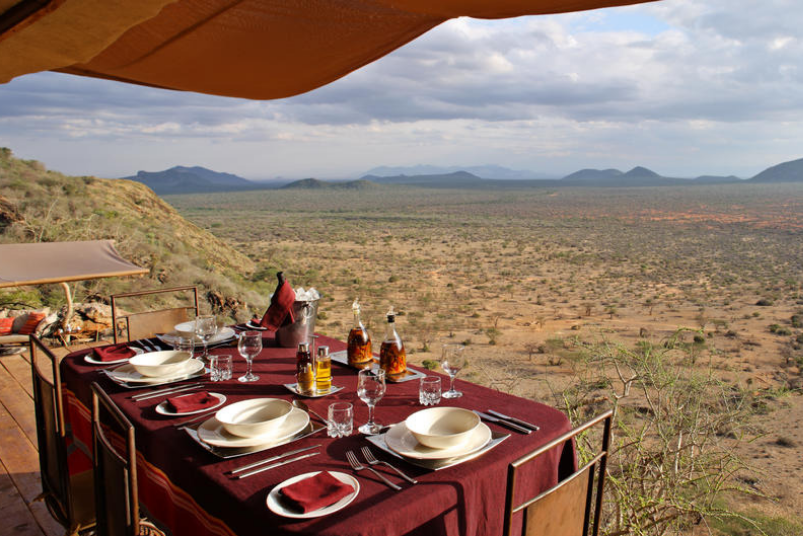 Mara Nyika, Kenya
As part of the iconic Great Plains family, Mara Nyika Camp is run with conservation at heart and even the camp's famous co-founders Dereck and Beverly Joubert have adopted plant-based diets themselves. The kitchen team at Mara Nyika have had extensive training with the renowned Antonia Stogdale, and not only do they love to accommodate for vegetarian and vegan diets, they place a massive emphasis on healthy and responsibly sourced cuisine.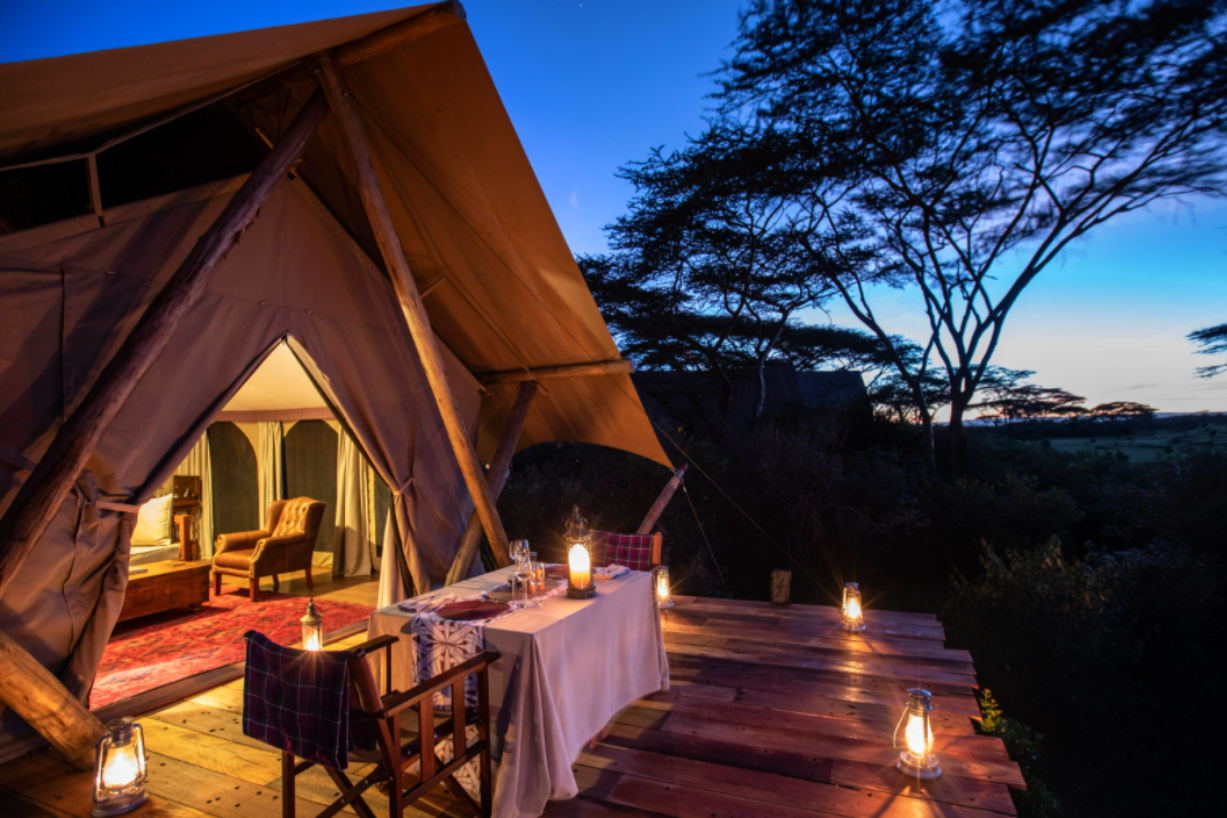 Mombo Camp, Botswana
Providing arguably the best big game viewing in Africa, Mombo Camp is situated on the northern tip of Chief's Island within the Moremi Game Reserve in the Okavango Delta. Often regarded as the best safari lodge in Africa, Mombo offers impeccable, world-class service.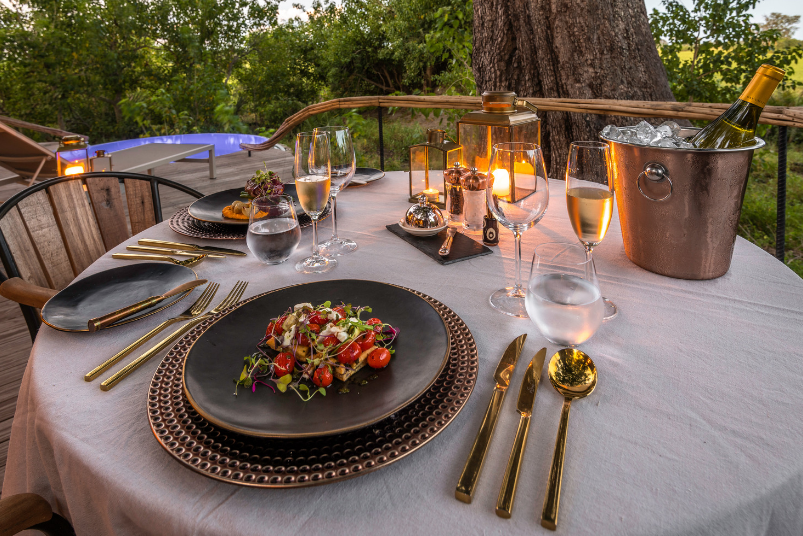 Bisate Lodge, Rwanda
Situated in Afro-alpine forests near to Rwanda's Volcanoes National Park, Bisate Lodge offers ultra-luxury accommodation and service as well as spectacular views of the volcanic peaks. The lodge provides easy access to the park for gorilla trekking with a strong conservation and community focus with outstanding service.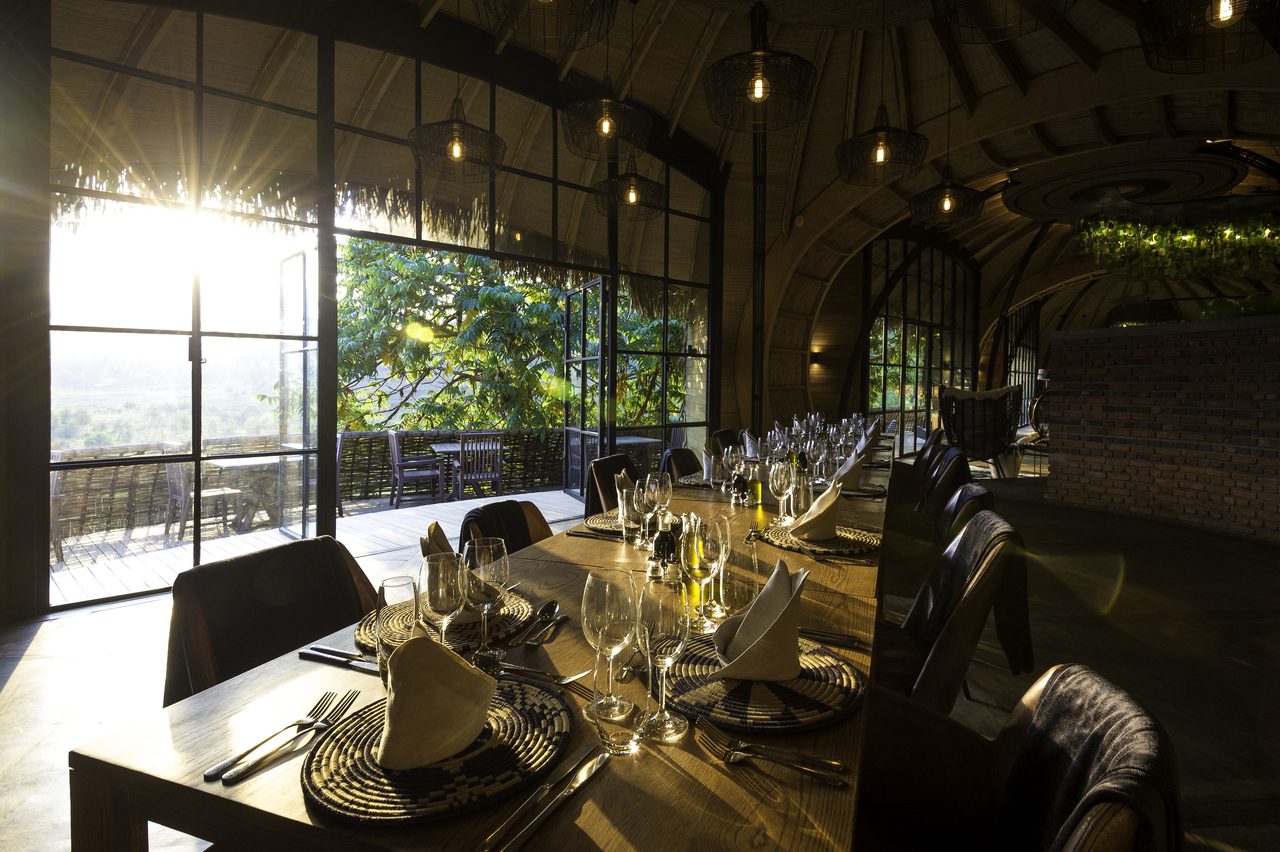 Kigelia Ruaha,Tanzania
Offering an authentic wilderness experience, with simple tented accommodation and an excellent standard of game viewing. Kigelia Ruaha does not feature running water and lighting is provided by solar power but their experienced team provide guests with 'off-the-grid' luxury and breath-taking game viewing experiences.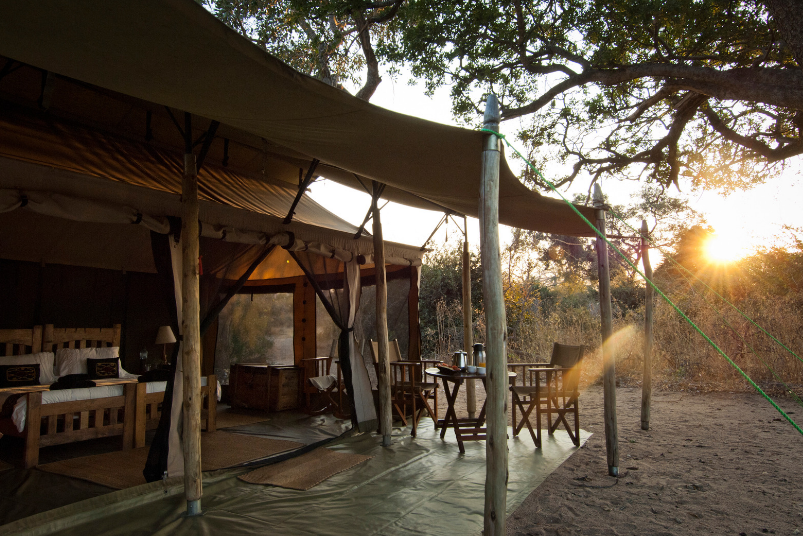 Ready to embark on a vegan / vegetarian friendly safari? Let our multi-award winning travel experts tailormake your perfect safari adventure.