We understand more than most how much your African adventures mean to you. Its why we ensure our travel experts experience a destination or activity before recommending it. We send our team out on extensive familiarisation trips every year. As pioneers of African travel, we are always seeking out new properties while also revisiting Mahlatini favourites. It's a tough job, but someone's got to do it...
Caroline & Donna's Off-The-Grid African Safari - Madikwe, South Africa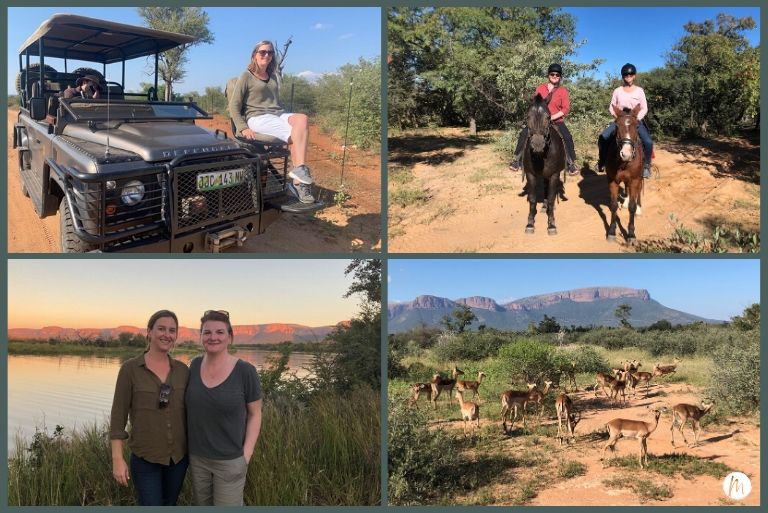 Our Travel Experts Caroline and Donna ventured to the Madikwe region of South Africa. This area is perfect for a more 'off-the-grid' South African safari experience. Donna and Caroline stayed at Ants Nest, Marataba Safari Lodge, Jaci's Safari Lodge, Lush Private Lodge and Madikwe Hills.
"Ive always been intrigued by Marataba and Madikwe, and was curious to know what they had to offer that was unique and how they compare to safari in KZN, Kruger and Eastern Cape. I wasn't disappointed! The beauty of Marataba Game reserve is incomparable with anything I've seen in South Africa and Madikwe is like an otherworldly red planet and didn't fail to deliver on the wild dog front." - Donna.
"My top tip in this region for honeymooners or couples who seek adventure would be a stay at Marataba Mountain Lodge. Surrounded by mountain streams and boasting 180 degree views into Waterfall Valley, it is super romantic." - Caroline.

Claire's Gorilla Trekking Experience - Uganda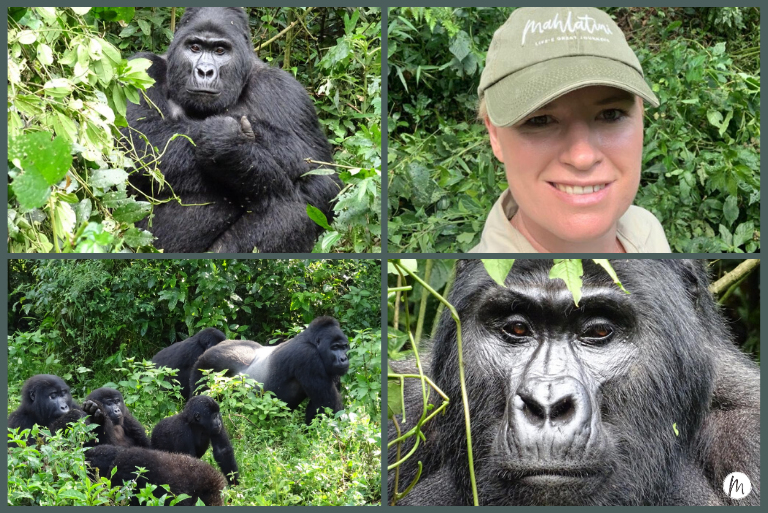 Our Travel Expert Claire fulfilled a lifelong dream of visiting Uganda to trek the gorilla and visit the famous Big 5 game areas. She stayed at the Boma Guesthouse, Serena Lake Victoria Hotel, Nile Safari Lodge, Kyaninga Lodge, Kyambura Gorge Lodge and Sanctuary Gorilla Forest Camp.
"I had huge expectations for Uganda having built it up as my number one destination in Africa to visit for so long. However, Uganda delivered more than I could have ever dreamed possible. From the ungraceful tree climbing lions, to close encounters with chimpanzees and hanging out with a mighty silverback gorilla, my imagination simply couldn't have done Uganda justice. There is a reason it's called the Pearl of Africa and its still my number one place in Africa to visit as I only scratched the surface."

Steve & Stuart's Elephants & Big Cats Safari - Amboseli & Maasai Mara, Kenya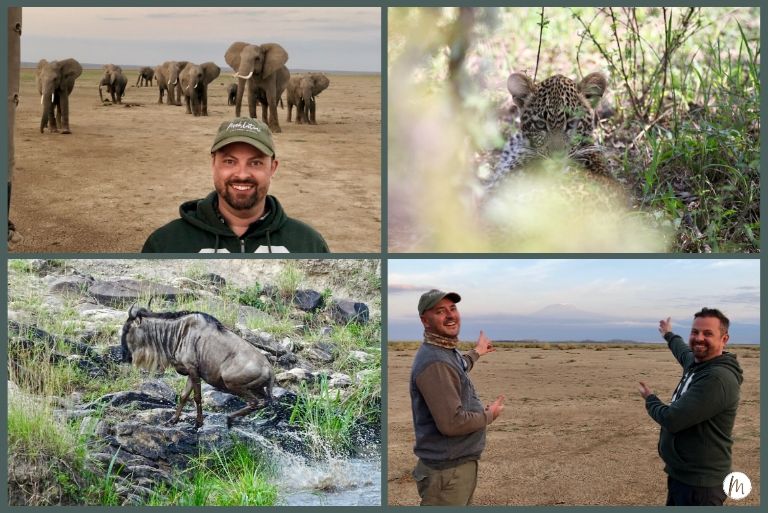 Our Travel Experts Steve and Stuart journeyed to Amboseli and Maasai Mara in Kenya. Amboseli is famous for its huge elephant herds and unrivalled views of Africa's highest mountain, Mount Kilimanjaro. The Maasai Mara is known for its fabulous big cat sightings and the annual Great Wildebeest Migration. Combing both locations makes for the ultimate Kenyan safari. Stuart and Steve stayed at Ol Donyo, Campi Ya Kanzi, Tortilis Camp, Kichwa Tembo, Saruni Mara, Ol Seki, Mahali Mzuri and Sand River Camp.
"For my first visit to Kenya and East Africa in general I was blown away by the wildlife, the landscape and the panoramic views from many of the camps, but especially the breath-taking views from Angama Mara. Luxury accommodation perched high on the edge of an escarpment with the whole Maasai Mara in front, it was jaw-droppingly beautiful. Watching a family of Cheetah hunt successfully was certainly one of my highlights, as was my first sighting of a lion sleeping 30 ft off the ground, in a tree!" - Stuart
"When at Saruni Mara - keep a look out for all their pets, big and small. It's a wonderful lodge for honeymooners. Saruni Wild has superb game viewing, specifically lions - it's intimate, quiet and secluded. When staying at Tortils Camp I loved the way the host got everybody together before dinner for a drink and catch up on the days events. Lots of little surprises around every corner. The dirt devils in the Amboseli are fascinating! With Killi in the background as a backdrop you cant go wrong. And did I mention the wide-open pans? Watch huge tuskers approach from the distance – stunning. Fun, laughter and good times." - Steve

Greg & Sarah's Malaria-Free Family Safari - Eastern Cape, South Africa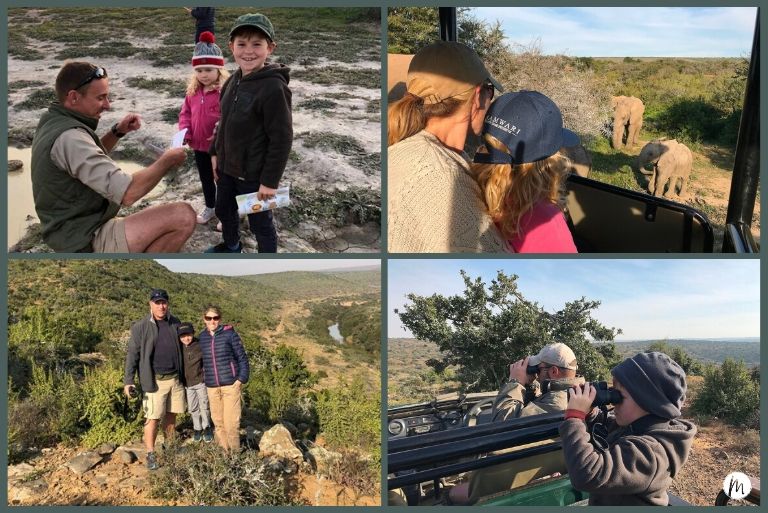 Mahlatini Co-Founder and Director, Greg and Product Advisor, Sarah enjoyed a family safari holiday to the Eastern Cape in South Africa. This is the perfect safari extension to a Cape Town and Garden Route self-drive holiday. Its a safe, flexible and fun-filled adventure that the whole family can enjoy. They stayed at two malaria-free game reserves, Shamwari Riverdene Lodge and Kwandwe Ecca Lodge.
"No screens, no homework, no work emails, we just totally unplugged and reconnected as a family. Bear Grylls-style, we tracked animals, we made our own rope, and we even we ate the leaves of the Spekboom tree (an elephants favourite food). Safari really is the ultimate family adventure." - Sarah.

Caroline's First-time Safari Experience - Kenya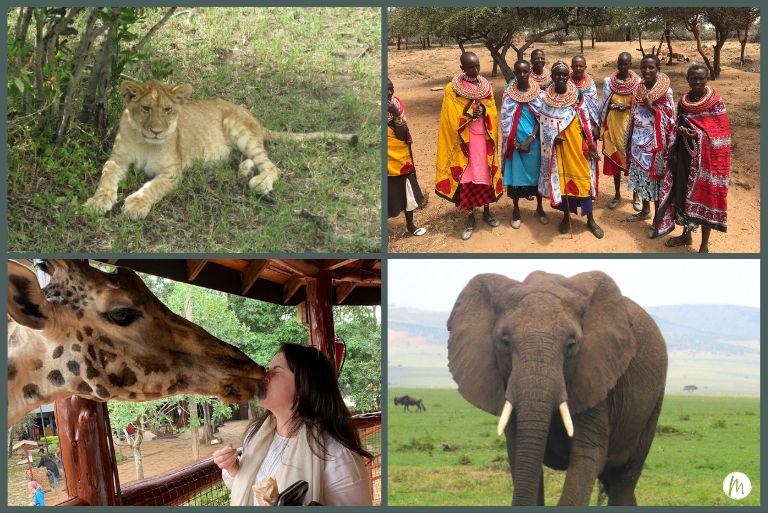 Mahlatini's Marketing Manager, Caroline, experienced her first safari in Kenya. Caroline stayed at two Mahlatini favourites - the ultra-luxe The Sanctuary at Ol Lentille and the iconic Cottar's 1920's Safari Camp.
"Pure indulgence. From the camps, to the service, to the quality of wildlife sightings - I was absolutely spoilt rotten from the moment I landed in Kenya. From local Maasai and Samburu village visits in Laikipia, to ticking off most of the Big 5 in the Maasai Mara. My first time in Kenya was the perfect mix of excitement, culture, relaxation, luxury and conservation. Working for Mahlatini, I felt like I was prepared for what being on safari would be like, but it's difficult to put into words how emotional it was. It is hard not to feel totally in awe of the wildlife and landscapes. Elephants are my all time favourite but watching two week old lion cubs feed from their exhausted mum in their rocky hideout was a highlight. I'll admit, tears were shed..."
Kati's Off-Grid South Africa Adventure - Northern Cape, South Africa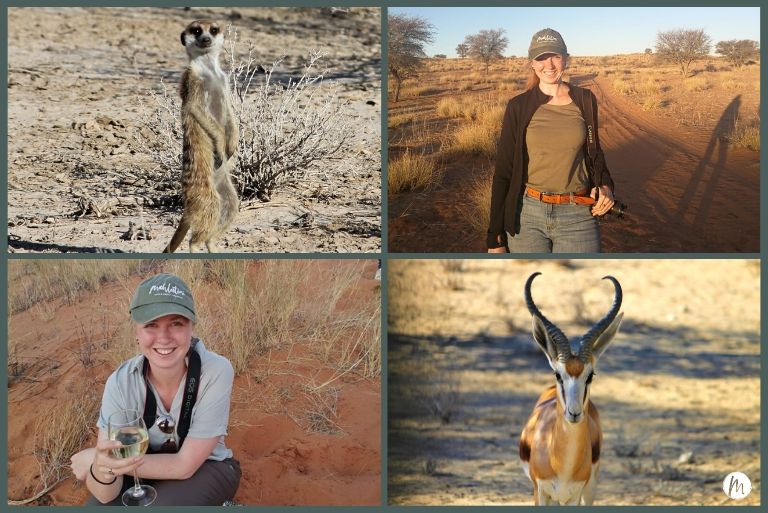 Mahlatini Operations Executive Kati had a fantastic experience exploring Northern Cape. This is a lesser travelled, off-the-grid area of South Africa and wonderfully authentic.
"It was amazing to me, how the barrenness of the Kgalagadi landscape turned into a lush, wine-lovers paradise after only a short drive. One of the favourite parts of my trip was canoeing on the river. It was definitely difficult for a first-timer but immensely satisfying! I will never forget the game viewing on this trip. Its an oasis for the experienced safari-goer, with all the smaller creatures on display. Of course, the larger creatures make an appearance, but it was such an unexpected surprise to be able to see the elusive aardvark on our night drive and a honey badger- some animals that not even our seasoned Travel Experts have managed to see yet!"

Take a look at our favourite African adventures from 2019 in our #MahlatiniMoments2019 video.