Our travels began from our home in Johannesburg in South Africa, a foursome of 60-somethings setting off on an exciting road trip through Southern Africa. After much planning the day had finally arrived and we packed up our two cars and armed ourselves with the all-important GPS and walkie talkies. We departed very early to ensure that we reached the Beitbridge Border Post (border between South Africa and Zimbabwe) on time to avoid any long waits. The one good thing about being over 60 is that you go to the front of the queue at the border…yay, through in a tick. That's the SA side…not so easy on the Zimbabwe side. But finally, with all the paperwork and payment done, we made our way to the nearby 'Lion and Elephant Motel to spend our first night; it was still the same after many years absence and always welcoming.
After a leisurely breakfast the following morning we were off to the Eastern Highlands, a mountain range found in the Eastern part of Zimbabwe on the border with Mozambique. The countryside in this part of the world is very dry and in desperate need of rain. We stayed at the 'Inn' on the Rupurara high in the Bvumba Mountains. It has a magnificent setting, with rooms built in the rocks with amazing views. We went for a fantastic bird walk through the mountains which held some awesome scenery. A great highlight was seeing two magnificent male sables which was a real treat! All in all it was a very special place to re-charge our batteries.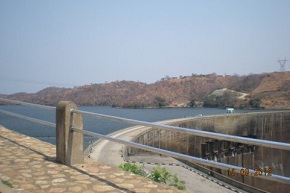 Then it was off to the spectacular Lake Kariba, Africa's largest man made dam. Situated along the border between Zambia and Zimbabwe the lake is an undiscovered Riviera offering amazing views, great fishing, boating opportunities and water sports. Situated in the middle of the lake and overlooked by the Matusadona Mountains was our next overnight stop, Spurwing Island Lodge. We thoroughly enjoyed our stay here embarking on boat trips and game drives in the Matusadona National Park where the elephants are so relaxed that we were able to get up close and personal with them. We are all avid birders and were very excited to see 2 wood owls tucked under a tree overhanging the river.
It was then time to say goodbye to Zimbabwe and cross the border into Zambia going over the dam wall to the Kariba Border Post. This proved to be a very easy crossing apart from the fact that we had to go from pillar to post, getting various taxes paid and documents signed. Apparently even Interpol request police clearance on your vehicle!
Our first stop in Zambia was the Lower Zambezi National Park and Kanyemba Lodge. En route it was a lovely drive through different countryside and was once again extremely dry. We crossed the Kafue River on a pontoon, which was great fun; apart from the fact we had to pay treble what the local cars pay! What an amazing setting awaited us at Kanyemba Lodge though, with lovely well-appointed huts right on the waters edge. The river drives were spectacular with elephants so relaxed and coming really close – almost at touching distance. The colourful birds and other animals were just as wonderful too. The first evening we were the only ones in camp and the staff treated us to dinner on a deck over the river. Eating under the stars, alongside this spectacular river was something none of us will ever forget.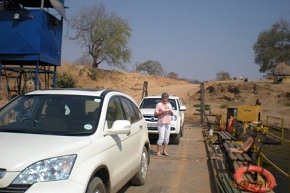 An early start greeted us the following morning and saw us going down river for 2 hours to the national park. Our first game encounter was a pride of lions resting in the shade and we stopped to watch them. When we decided to investigate some more lion deeper in the bush the vehicle would not start! It was then up to the men, David and Anton, as well as one of the parks guides to push- start us, much to the disgust of the lions who hissed at us. They proved no help at all and loped off leaving us to fend for ourselves! Thankfully we get going again and stopped for a very welcome breakfast in a dry river bed, teeming with game all around including elephant, baboon, buffalo, buck and many birds.
After a stop in the capital of Zambia, Lusaka we set off for our 7 nights in the Kafue National Park – a truly magical park and the highlight of the whole trip. Our first stay was at Kaingu Lodge which is on the banks of the Kafue River. What an amazing setting – beautifully appointed en suite tents right at the waters edge – so quiet and peaceful. Kaingu to us was more a boating (and fishing) camp than a game viewing one. Again we were so lucky to be the only ones in camp and had such fun pottering up and down this wonderful river – desperately trying to find the pels fishing owl – to no avail – but we saw so many other special birds, due mostly to our travel companion Sues incredible bird knowledge and her ability to spot many birds which we may have otherwise missed.
Unlike the other areas we had visited on our travels the elephant here are much more skittish and really frightened of people. Unfortunately the area has been subject to bad poaching and there is still some controlled hunting in areas of the park. A huge effort is underway to educate the local people and it is really seems to be paying off as far as poaching is concerned.
After 3 awesome nights it was time to depart and go into the Kafue proper and up to Busanga Bush Camp. This is where our Garmin (GPS) and a Garmin App. called ' Tracks 4 Africa ' were amazingly useful. On entering the park gate there was the odd sign and thereafter nothing but tracks through the grass. Thankfully Jemima (our nickname for our GPS voiceover) kept us on the straight and narrow. Even when we thought we knew better and tried to stay on more "main" tracks she would tell us to do a U-turn and lead us onto a bumpier and less used track. We were very dubious until suddenly, "You have reached your destination" - in the middle of nowhere!
Thankfully the address of Busanga Bush Camp is in fact 'middle of nowhere and we had arrived! What a special camp – right in the middle of the Busanga Plains with miles and miles of grasslands and puku and lechwe calmly grazing - so therapeutic. The spacious tents were a proper treat and ours was situated right at the end of the row. Obviously this was a good spot because we had had a kill right outside our tent! Unfortunately we had missed all of the action but the evidence was clear to see.
That evening we went for a brilliant game drive with very knowledgeable and friendly guides who rose to the occasion when they realised Sues passion for birding. That evenings dinner and in fact every other meal we had at that camp was outstanding! The following mornings game drive doesn't hold such fond memories unfortunately. In the morning we went for a super drive but ended up in tsetse fly country. They were everywhere! We grabbed the insect repellent and the dry elephant dung in the burner at the back of the vehicle – supposedly to put them off – but to no avail. Poor Sue and David were bitten and reacted rather badly to the bites. Needless to say it was not a pleasant experience!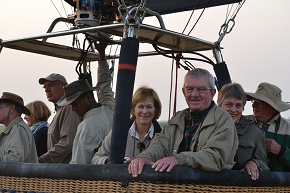 The following morning was an early start as we were going ballooning! It was so exciting to watch the balloon being filled in the darkness of the morning. It was a particularly windy day and we chuckled at one guide having to hang onto a rope for dear life trying to keep the balloon steady. Our pilot wasn't prepared to take the chance in the wind that day and unfortunately our adventure was called off. With the balloon ride not on the agenda anymore we set off on a drive and soon spotted two magnificent lions feasting (sadly) on a baby hippo. It was likely purposefully killed by an adult male hippo to bring the female back into heat. The morning drive was concluded with a truly memorable breakfast in the bush.
Our next stop in the Kafue was another Wilderness Safaris camp called Shumba Bush Camp. The luxury of the accommodation blew us away! En route to our room we were told that very recently a lioness had set up camp under our tent (on stilts and joined by a boardwalk) and proceed to have her litter there! Needless to say management had to close that section of the camp (3 tents) until she went back to the pride.
The next morning was an early start as were going to attempt the balloon ride again – and thankfully this time we had lift off! What an extraordinary experience seeing this incredible park from the air just as the sun was rising. We looked down on a jackal trotting off and a herd of letchwe calmly grazing. It was a truly magical experience for us and a highlight of our trip. After a smooth landing we were treated to a champagne breakfast – our pilot taking the cork off with a panga, very professional! On the drive back to the camp we saw 4 beautiful cheetah brothers having a rest under the shade of a tree; majestic cranes; wildebeests and their nurseries of young; many warthog also with their little piglets and beautiful, majestic sables.
That afternoon there was talk in camp of a leopard and cubs having been spotted. We set off toward the tsetse fly area unfortunately - this time we were seriously covered up – and found the little family lying on a branch. The mother was out for the count. She has obviously just killed and was full to bursting point. Her cubs were quite relaxed and taking it easy with nice fat tummies showing. The only thing worrying them was the tsetse flies. What a remarkable sighting.
In hindsight we realised that we perhaps didn't give ourselves enough time in each camp. One really needs at least three nights in each camp allowing for two full days to enjoy every nuance of the lodge and surrounding areas.
Sadly we said goodbye to all the wonderful people at Shumba Camp and set off for the last part of our trip, the famous Victoria Falls. On arrival in Livingstone we checked into our hotel, the Zambezi Sun and set off immediately to see the falls. As we were exiting the hotel gate a very polite British voice behind us asking to be let through and who should it be but Princess Anne and her entourage! Apparently they were on a short visit and were on their way to lay a wreath at a monument.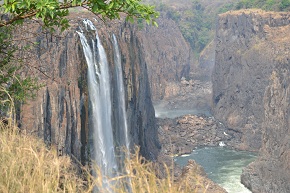 The falls were a bit disappointing as they were only at 25% capacity but were still awesome (we travelled in September at the end of the dry season). We then decided to throw caution to the wind and take a ride on a microlight which was a wonderful way to see the whole picture. Whilst initially terrified at the thought we were made to feel so safe and it truly was a magical experience. Seeing the whole river, the falls and the bridge from the air was certainly worth every penny. We saw frolicking in the water and blowing as they come to the surface and a huge herd of elephant herd about a 100 strong coming towards the microlights landing strip! My own microlight managed to land in time but David and his pilot had to overshoot the runway to check where the elephants were before making a safe landing. What a memorable experience!
The next day we took a ferry to Livingstone Island where we were due to have lunch but we had our swimming costumes at hand for the experience of swimming in the infamous Devils Pool, a natural pool at the very edge of the Falls. And what an experience that was! You have to swim carefully (because the current and rocks are against you) from the island to the rocks where devils pool is situated. Then carefully climb across and down to where you take a jump into the pool which is not big and sits right on the edge of the falls. At this point you take a deep breath and jump hoping that you will make it! You then swim to the guide who is there to help you, and proceed to sit on Devils Chair on the edge of the one of the most magnificent waterfalls on the planet. We all managed this exhilarating and awesome feat – it really is something that takes your breath away and it is a massive adrenaline rush. After all of this heart pumping excitement we had a most delicious and welcome lunch under a canvas awning overlooking the breath taking views of the Mosi-oa Tunyi, the Smokes that Thunders and one of the seven wonders of the world. The experience was amazing and really worthwhile which one none of us would have missed for the world.
Then sadly it was time to return to Johannesburg and on advice from Jemima the Garmin, we went back via the Plumtree border post. I think each border post could take a leaf from this one. It was spotless with friendly, efficient and helpful officials - what a change and a pleasure to go through that border. The drive through Botswana was a pleasure with good roads and no tolls or police blocks. After a pleasant nights stay we went through to the Martins Drift border post (again quick and efficient) and we were back in South Africa after a most remarkable and unforgettable trip.