It comes as no surprise to us that Prince Harry chose Botswana as the perfect destination to woo his future bride, Meghan Markle, in the first weeks of their relationship. In their recent engagement interview, Harry tells the world how he managed to persuade Meghan to join him on safari, where they camped out under the stars; describing the romantic getaway as "absolutely fantastic". Botswana will clearly always hold a special place in the couples hearts and its significance is reflected in Meghans engagement ring which Harry designed, with the central diamond sourced from the African country.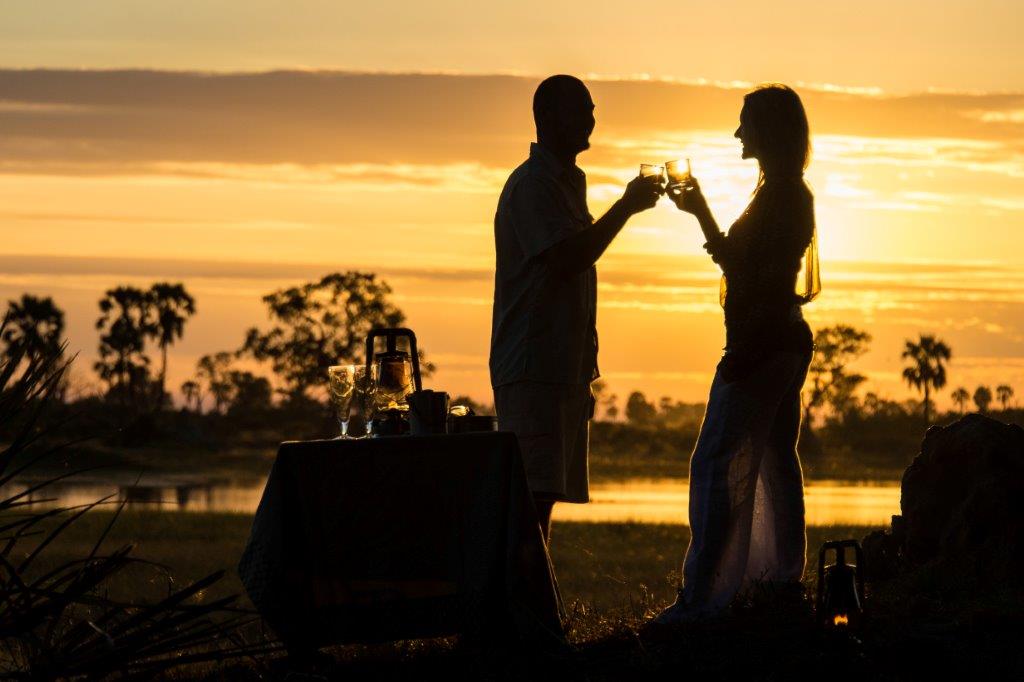 Harry has often called Botswana his second home and, like his brother William who proposed to Kate in Kenya, he clearly has a strong affinity with Africa and particularly with its wild open spaces and wildlife.If you want to follow in the royal couples footsteps for your own romantic getaway – a honeymoon, wedding anniversary or maybe youre seeking the ultimate place to propose, here are some top tips to keep you on track.
Where to go
Offering a privacy which is rare in today's world, Botswana is the perfect safari destination for that extra special experience. Here honeymooners will get a truly authentic safari experience with some of the highest concentrations of wildlife in Africa and lowest visitor numbers. With just 3.5 people per square kilometre, Botswana is one of the worlds least-crowded countries and offers the perfect antidote to the stresses of urban living.
The most popular regions to visit:
Okavango Delta - A stunning maze of waterways and lagoons, considered one of Africa's premier wilderness sanctuaries. The Delta's permanent water source guarantees phenomenal game viewing all year round with lion, cheetah, hippo, leopard, wild dog and huge herds of elephant and buffalo commonplace.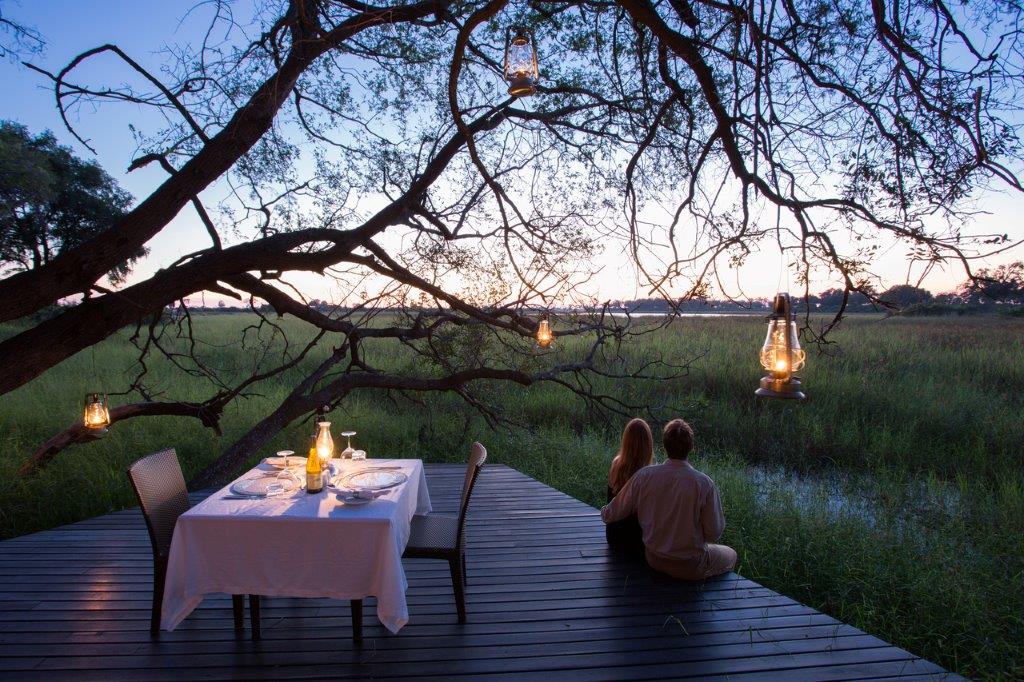 Linyanti/ Choberegion - often described as one of the best wildlife-viewing areas in Africa today, it is home to the largest concentration of elephants in Southern Africa, as well as exceptionally high numbers of predators.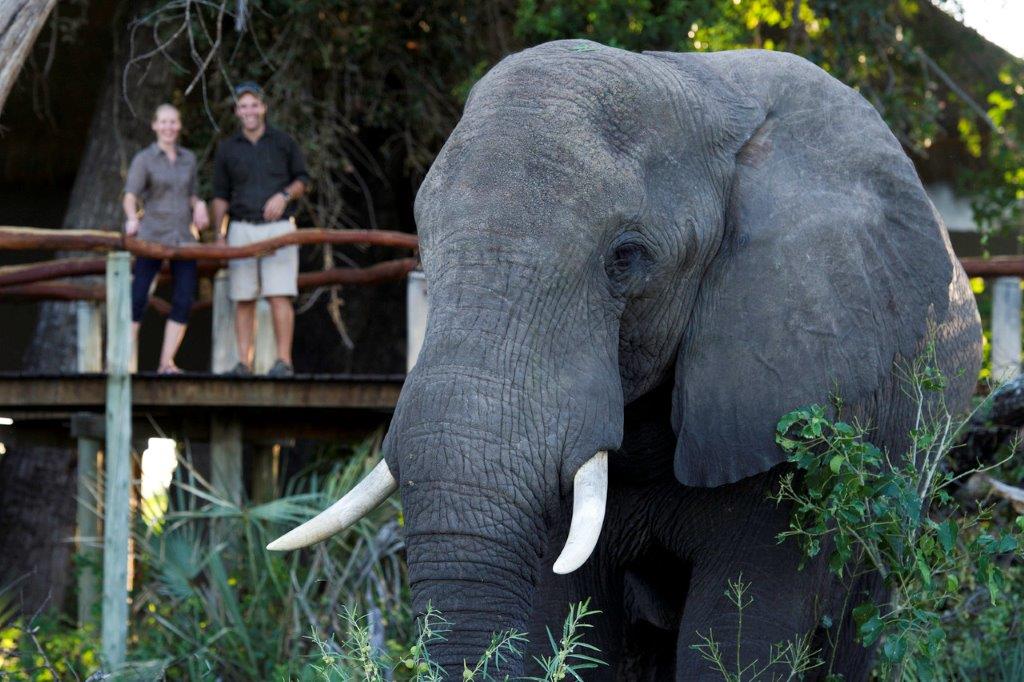 The Kalahari and the Makgadikgadi Pans - a unique wilderness of dry grassland, acacia forests and fascinating salt pans. Home to specially adapted desert-wildlife as well as the San Bushmen who will share their hunter-gather skills with you.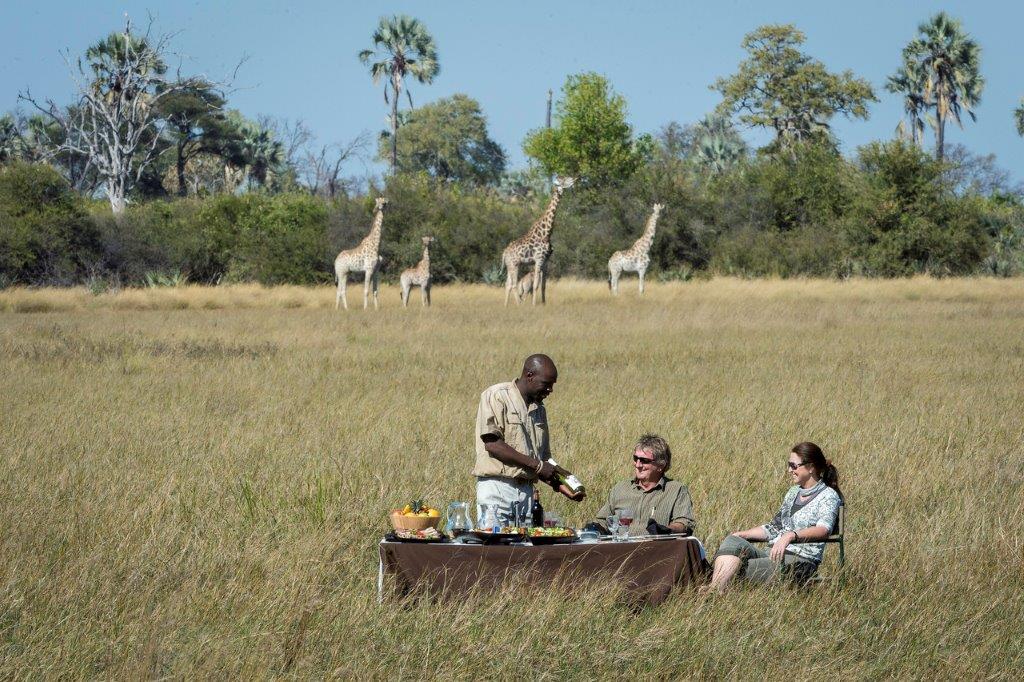 What to do
A honeymoon in Botswana is all about enjoying the solitude of its vast wilderness. It quite simply redefines the luxury of losing oneself in nature. Its not all peace and quiet though, as there is the chance to experience amazing action-packed adventures by taking part in boat trips, game drives, bush walks and mokoros (dug-out canoes).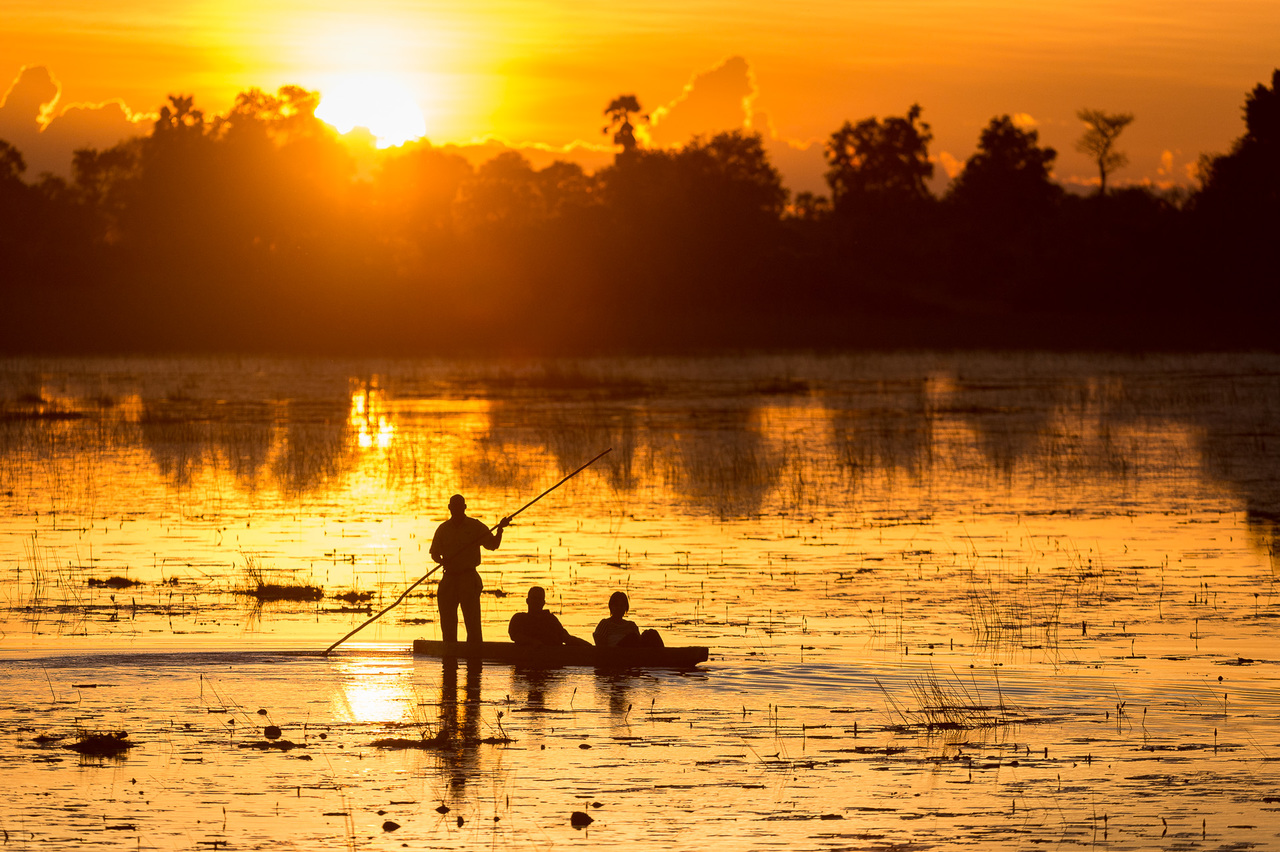 Between your daily activities, you can spend afternoons lounging by the pool or having delicious bush picnics. Round off your day by basking in the warmth of an open bush fire, sipping gin and tonics and watching the flickering flames. For your evening meal sit out under a ceiling of stars and delight in the taste of a sumptuous candle-lit dinner before retiring to your warm and comfy bed, where you can fall asleep to the sounds of the hippos grunting and the crickets soothing lullaby.
Where to stay
Many of the camps found in Botswana are not just luxurious but maintain a level of intimacy and exclusivity guaranteed to provide an unforgettable experience for guests. These small and friendly camps are run by passionate staff who have only your stay in mind. They will go out of their way to make sure you have a fantastic time and organise many special treats for honeymooners, such as private dinners under the stars and candlelit bubble baths.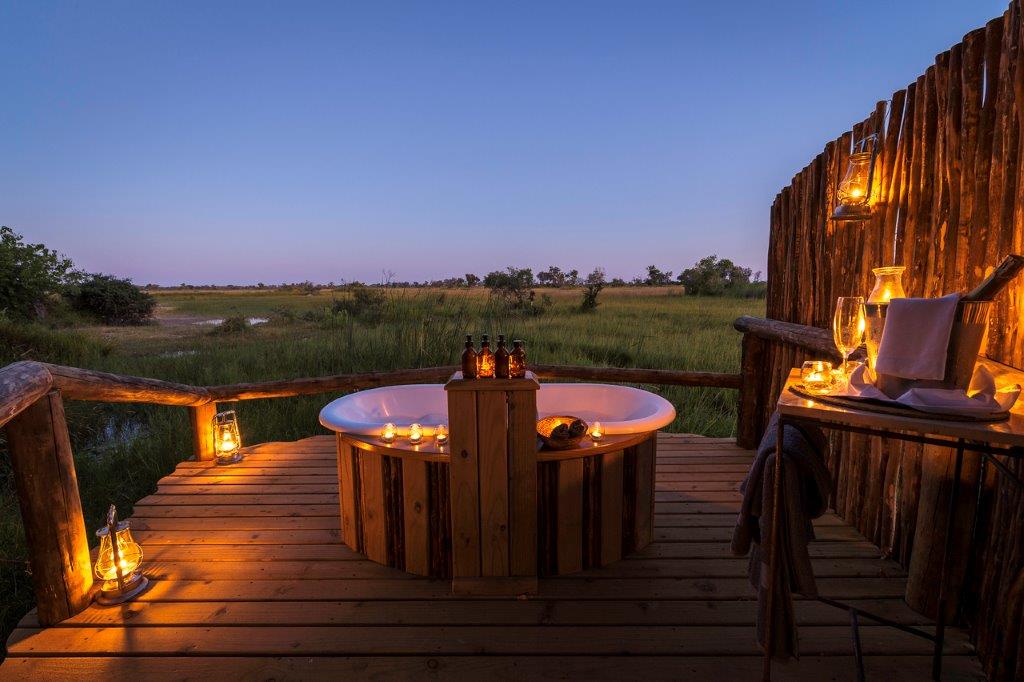 At one with nature you will become attuned to every sound and often enjoy unbelievable wildlife sightings from the comfort of your own room!
Harry and Meghan fell in love whilst staying at the bush camp site, Meno a Kwena, between Botswanas extraordinary Okavango Delta and the spectacular Central Kalahari Game Reserve. Mahlatinis Botswana honeymoons offer genuine exclusivity, and special care will be taken to select an intimate and romantic camp for your very own 'royal romance.
When to go
Botswana is a year-round destination for travel. Where you wish to visit and what you wish to experience often determines what time of year our experts will recommend.
The dry winter months of May to October are Botswanas high season because game viewing is at its peak during this time, particularly in the Okavango Delta, Chobe National Park and Linyanti / Savute.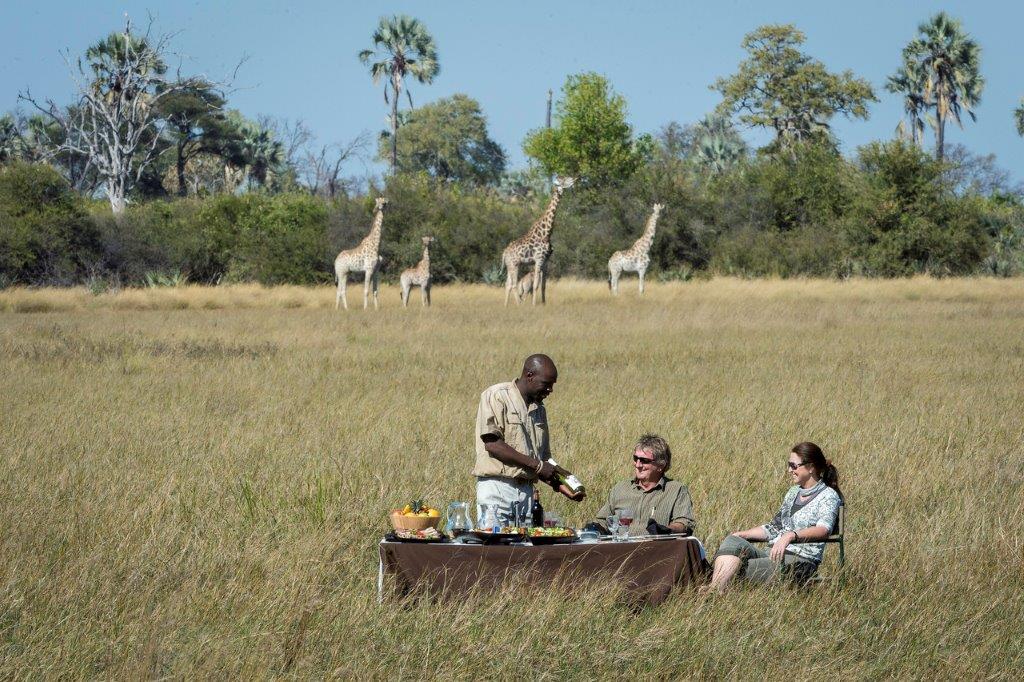 Travel from June to August will offer cooler temperatures (highs of 68 Fahrenheit and 25 Celsius), virtually no rain and excellent game viewing. September and October are very hot and dry (around 104 Fahrenheit and 40 Celsius) and the wildlife will reach peak concentrations. The July – October season is the most expensive time of year, as well as being the busiest, its not mass tourism but space will be at a premium in the very small and remote camps that Botswana offers.
The Green Season (or wet, summer season) does however have its own advantages not least of which is the 30%-50% reduction in the rates, making it a more affordable period to experience Botswana. The wildlife tends to disperse during the rainy January to April summer months, however, that said, several destinations such as the Savute region and the Kalahari come into their own in the summer. This is largely because they lie in the path of migrating animals, particularly zebra.
In summer, Botswana becomes a productive paradise. Theres an explosion of new life as many species give birth to their young. Predator sightings are frequent in these summer months as they take full advantage of the abundance of inexperienced younger prey and summer is the best season for bird watchers and bird photographers.
How to get there
There are daily flights into Maun or Kasane Airports from where you will catch light aircraft flights into the remote camps.
Extend your stay
Botswana alone will ensure a truly amazing honeymoon experience, but if your schedule is a little more forgiving than Harry and Meghans we recommend combining it with other destinations. Victoria Falls, Cape Town in South Africa or a beach destination such as the Seychelles, Mauritius or Mozambique are all perfect options for you and your loved one to extend your magical, memory-making trip.
This fabulous Victoria Falls, Botswana and Seychelles itinerary would be one of our recommendations for the upcoming royal honeymoon. We'd be delighted to help with the planning process Harry and await your call!
For more information on a honeymoon to Botswana click here.