Many people are often inspired to travel to places they've seen on Instagram and usually want to recreate those amazing images for their own feed. There are so many incredible instagrammable experiences in Africa that will most definitely inspire you and have you adding one more thing to your bucket-list! Here are our top 10 Instagrammable experiences in Africa:
1. A hot air balloon over the Maasai Mara, Kenya
A hot air balloon ride over the open plains of the Maasai Mara is definitely an Instagram-worthy experience. Beginning at sunrise, the balloon rises giving you breathtaking views of the plains, forests and the Mara River. This amazing wildlife viewing experience provides you with a totally different perspective. Our Travel Experts recommend hot air balloon safari experiences at Governor's Camp, located in the Maasai Mara.
2. Gorilla trekking, Uganda
Gorilla trekking is perhaps one of the most unique Instagrammable experiences in Africa. A photo of the endangered mountain gorillas would be a heartwarming Instagram post. One lodge we love is the Sanctuary Gorilla Forest Camp in Uganda. The eight-tent camp is one of the most remote and atmospheric in Africa and it's not unusual for the gorilla families to walk through the camp itself!
3. A Big 5 safari
No trip to Africa would be complete without an up-close encounter with wildlife on a safari game drive. A Big 5 safari includes sightings of the 5 most desired animals for safari visitors: lion, leopard, rhino, elephant and buffalo. Wildlife shots on a Big 5 Safari are going to seriously up your Instagram game.
4. Giraffe Manor, Kenya
The famous Giraffe Manor in Nairobi, Kenya, is definitely an Instagram favorite. A famous Instagram shot is having breakfast with the giraffes who poke their long necks into the windows in the hope of a treat. What's more, this property is an excellent place to stay before or after your safari experience.
5. A dip in the infinity pool at Jabali Ridge, Tanzania
A photograph in Jabali Ridge's infinity pool is truly Instagram goals. This infinity pool drops off into the wide park expanse, the perfect place to relax after a long day of game drives and excitement. Overlooking the spiky palms and bulbous baobabs provides you with the most stunning backdrop for some seriously amazing Instagram shots!
6. Victoria Falls, Zimbabwe
As one of the natural wonders of the world, Victoria Falls is the perfect place to capture one of Mother Nature's most valued accomplishments. Only a 10 minute walk from the Falls, we recommend staying at the Victoria Falls Hotel. The hotel even possesses a private walkway that guests have exclusive use of. Guests can also enjoy lunch in the grounds of the hotel with the smoke from the Falls visibly rising in the background - another Instagram opportunity.
7. An African sunset over the Serengeti, Tanzania
Easily one of Africa's most famous national parks, the Serengeti holds the highest concentration of mammals on earth. The stunning park, with its endless savannah grasslands, acacia woodlands and rocky kopjes sets the scene for an iconic and beautiful African sunset. This African experience is definitely one for the 'gram!
8. An evening stroll with an elephant at Abu Camp, Botswana
Abu Camp offers a unique wildlife experience in the Okavango Delta, home to Africa's largest elephant population and incredibly beautiful scenery. While staying at Abu Camp, guests are able to interact with elephants through their conservation work, offering an amazing insight into these giant mammal's lives and affording guests a true once in a lifetime experience that needs to be captured.
9. The penguins at Boulders Beach, South Africa
Cape Town is known for having stunning beaches which are extremely photogenic but Boulders Beach is an extra special spot and one of the world's most visited as it is home to one of the largest colonies of the African penguin. With dramatic boulders, white sand, crystal blue water and thousands of adorable penguins this is a truly unique African experience to capture on your Instagram.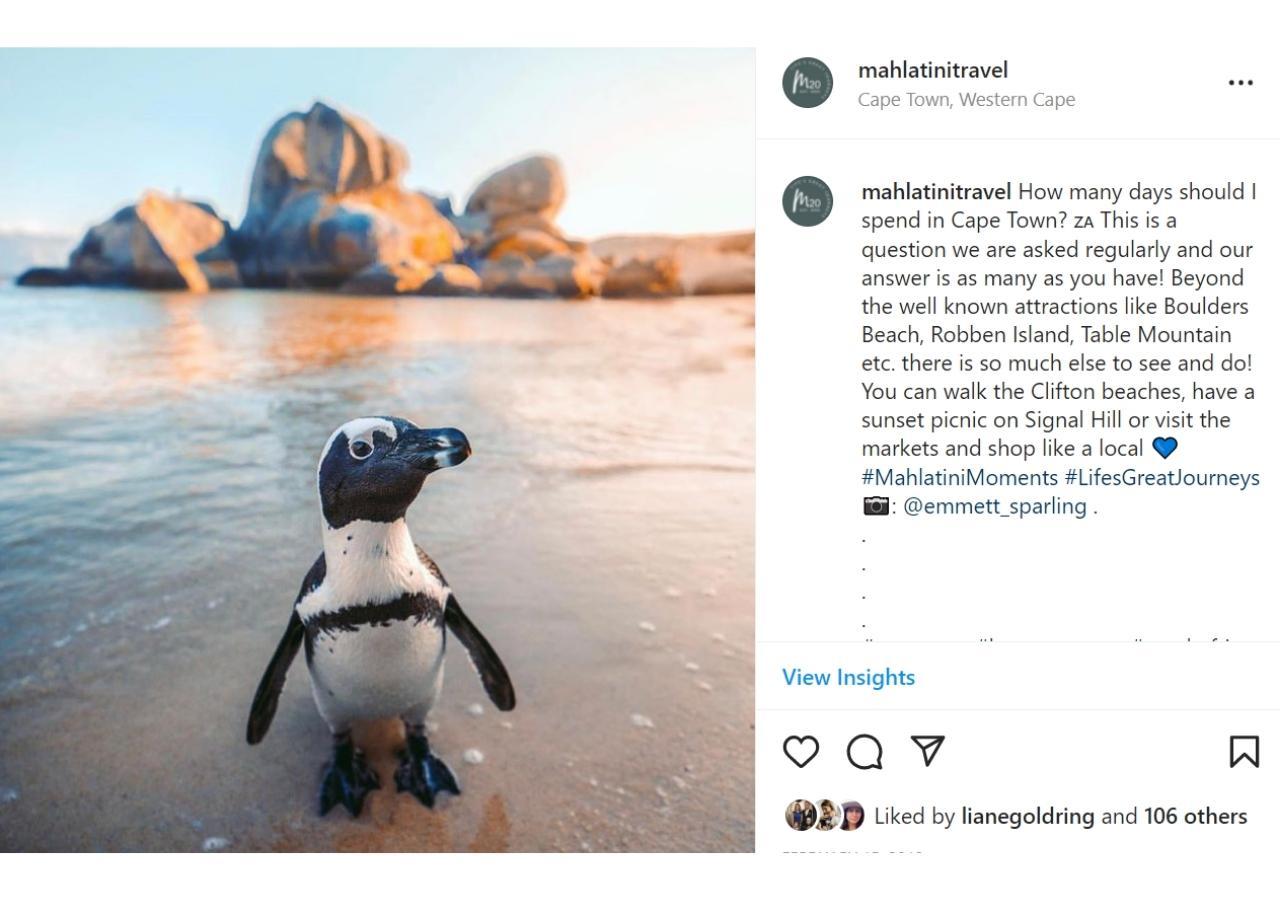 10. Fish River Canyon, Namibia
A hike of the world's second largest canyon, Fish River Canyon, is a unique and Instagrammable African experience. Fish River Canyon cuts through a stony semi-desert with drops 500m deep and is home to the seasonal Fish River that flows only if rain falls in its catchment. If you aren't up for the challenge of walking the canyon's rough terrain, then the option to perch in the elegant comfort of a lodge at the top of the canyon might be more you. Our Travel Experts recommend Fish River Lodge, the only lodge perched directly on the rim of the Fish River Canyon, offering guests views from sunrise to sunset.