An African safari is a unique adventure, leaving many of us wondering "what happens on a typical safari day" before we go. Unlike any other holiday, an African safari ( especially the exclusive, luxury kind) have a distinct routine. Although each luxury Mahlatini African safari lodge and camp offer their own unique experiences, there is a typical safari day which most of you will experience when you go on your own African safari.
What does a typical day on safari look like?
It is important to remember that every Mahlatini adventure is tailor-made, so if you need more flexibilty for kids; dream of a walking safari or all-day game drives - let our travel experts know and we will leverage our long-standing relationships with our suppliers to make your dreams a reality.
Wake-Up Call
If you've never seen the dawn, it is likely you will on safari. Just as the birds begin to sing, you will hear the gentle call of your butler or safari guide at your tent door to wake you for your morning game drive. Don't worry, they will arrive with coffee if you ask! You will have a few minutes to get ready and gather your things before a light morning 'bite'. The mess tent or boma area will be waiting for you, despite the early hour, with hot drinks and typically something light like fruit, rusks (traditional biscuits), or muffins.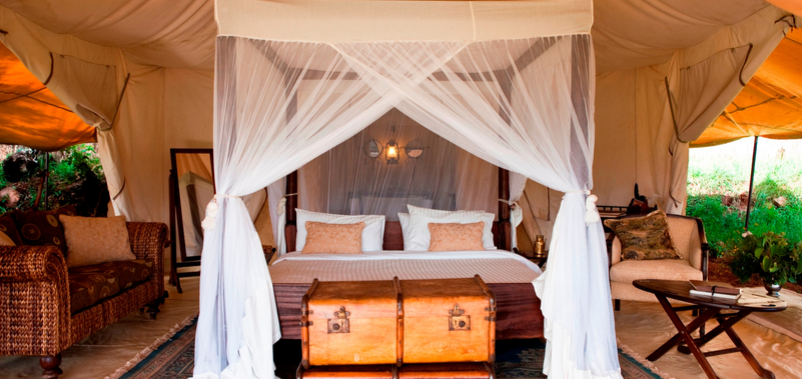 Early Morning Game Drive
An early morning game drive is a quintessential safari experience. Animals take advantage of the cooler temperatures before the sun has fully risen. This is when you're more likely to see activity and animals out in the open. Predators are returning from their night-hunt and diurnal animals continue to drink at watering holes and forage for food. During your game drive you will usually stop in a scenic location for a hot drink and a light snack before continuing on with your wildlife sightings.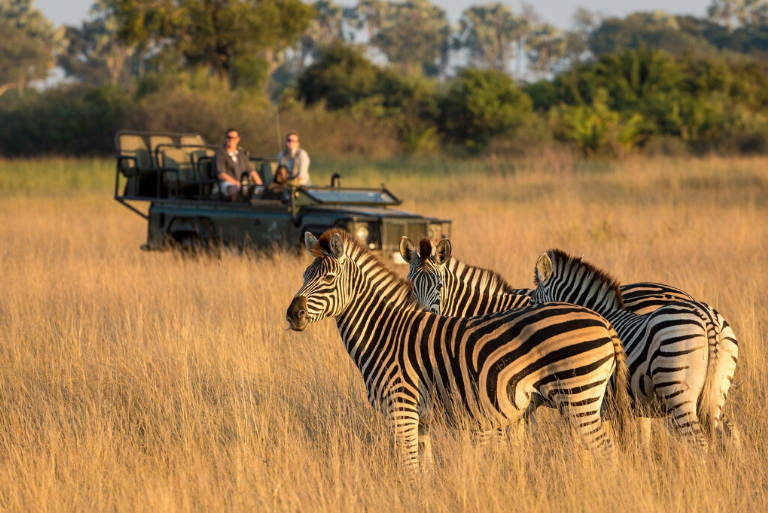 Brunch
Late morning brings brunch. This will either be back at the lodge or (weather permitting) you may be surprised with a bush-breakfast. Your safari brunch will usually be your first cooked meal of the day, usually offering you a range of cold and hot brunch foods.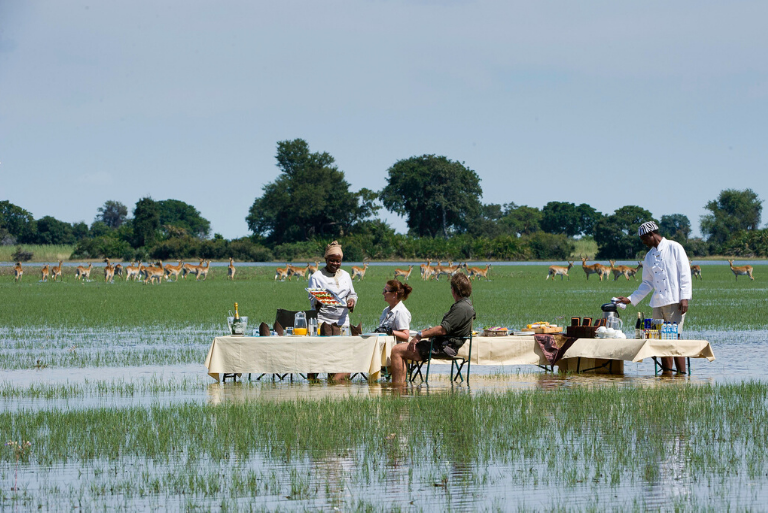 Relaxation and Lunch
Spending time at your luxury safari lodge/ camp is all part of the African safari experience. Take a dip in your private plunge pool, nap, have a spa treatment, talk to your guide about the mornings sightings, watch animals from your deck chair, delve into the library; what you choose to do with your down-time on safari is totally up to you. Time can also be set aside for light lunch.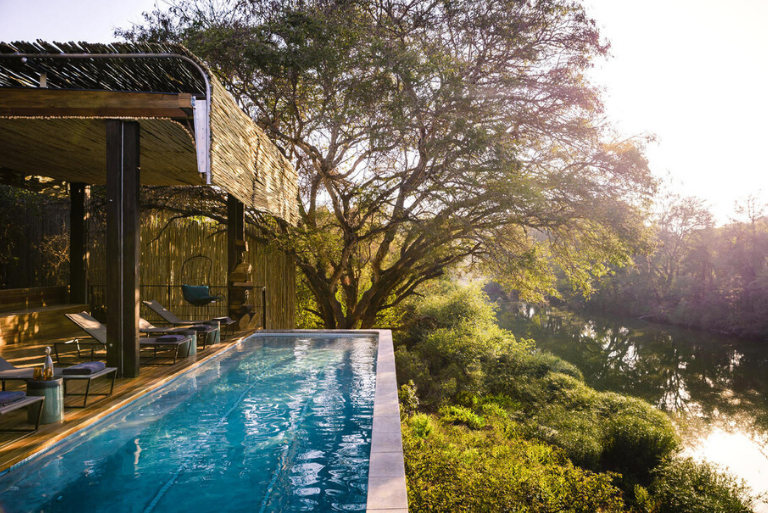 High-Tea
Yes, yet more food. As you'll discover, food is a big part of your safari experience, and a typical day on safari usually involves tea. Each lodge and safari camp have their own unique way of serving tea, with signature sweet and savoury treats to suit all palates. Tea is a safari tradition, dating back to the hay-day of safari in the 1920's when tea-time was a quintessential afternoon activity. Now, tea on safari is one of our experts favourite things about their day. A sugar boost is just what's needed to give you a surge of energy before hopping back into the game vehicle for your evening game drive.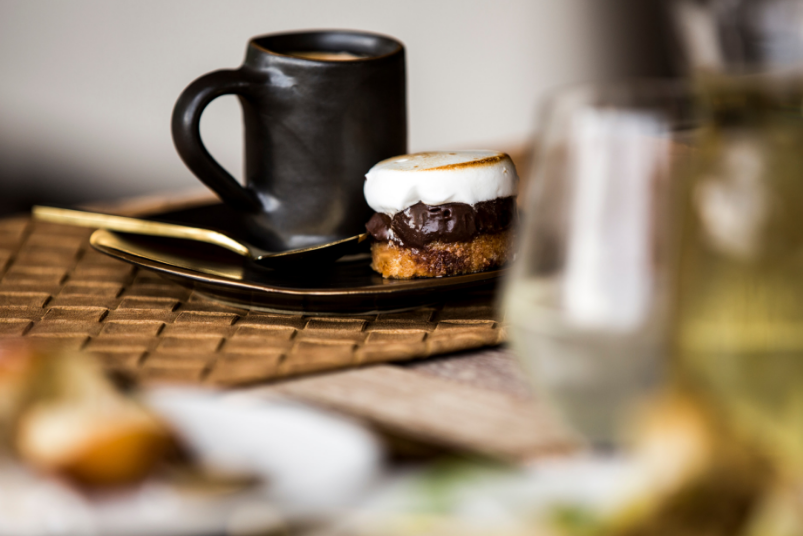 Late Afternoon Game Drive and Sundowners
As the sun moves lower in the sky, it's wildlife time again! Set out in the game vehicle as the temperature drops and animals become more active again. With the African sunset as your backdrop, your surroundings take on a dramatic atmosphere. Your ranger will pick the perfect spot for your evening sundowner, which usually means your drink of choice. Beer, wine or a G&T ... the choice is yours. Watching the sunset while sipping on your refreshing beverage and enjoying 'bitings' like pinwheels, biltong and nuts is a real safari tradition.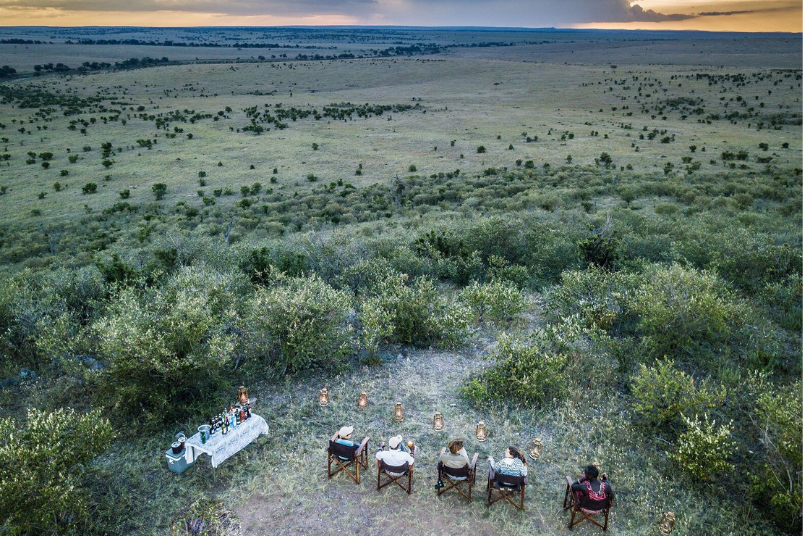 Dinner
Once darkness falls, it is a wonderful chance to spot nocturnal animals like leopard and sunset hunting lions. For this reason, dinner is usually determined by your safari activities and game viewing - if the game viewing is particularly spectacular, dinner will just have to wait! Once back at the lodge you will have time to freshen up if you wish, and then where in camp you have dinner will usually be weather dependent. Fear not, your lodge manager has the perfect location for every occasion.
After dinner, camp fire drinks, African songs and tales have been known to continue into the late hours. It is your safari, and when you choose to retire to your cosy bed is up to you. Retiring to your bed at night is an experience on safari. After spending the evening in the open air, your room/ tent will be warm from the heaters and many camps put a hot water bottle in your bed, so climbing into the sheets after a thrilling day is paradise. Your eyes will quickly close as you soak in the memories of your day.