Located in the warm waters of the Indian Ocean, East of Africa, Seychelles is renowned the world over for its uber-luxury resorts, brilliant white sand beaches and superb diving and fishing. However, there's much more to this idyllic Indian Ocean slice of heaven. Venture beyond its shores for unique nature and wildlife, wonderful treks, as well as a delightful island vibe. There's a huge choice of Seychelles experiences and activities – from Creole cookery in a local family home to island sailing cruises. Whether for a honeymoon, anniversary, family holiday, or as part of an African Safari and Beach combo, Seychelles makes a truly inspirational vacation.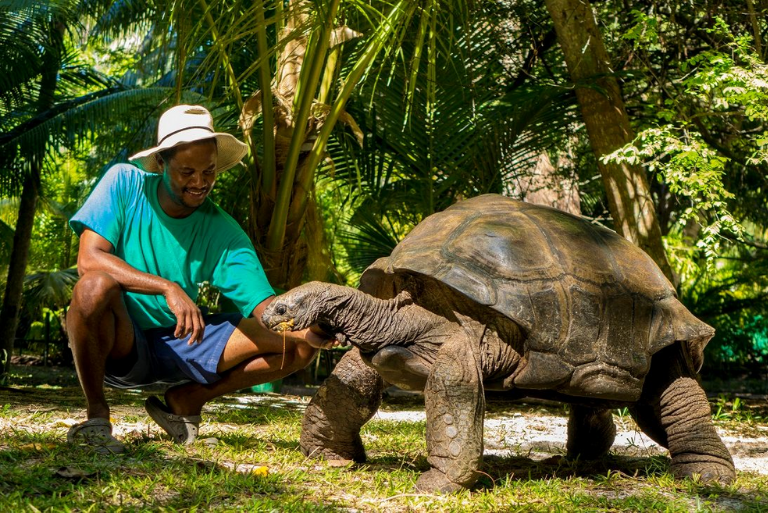 Weather in Seychelles
Situated just south of the equator, Seychelles has a delightful tropical climate with temperatures averaging 28°C year-round. Sunny days are assured almost all year, although there tends to be a little more rain between December and February, but even then you're still likely to have 4 or 5 hours of daily sun.
Why choose Seychelles for a honeymoon?
Frequently near the top of many a honeymoon wish list, Seychelles has the perfect balance between relaxation and laid-back tropical island discovery! Try the Four Seasons Seychelles with its famous spa or STORY Seychelles with its choice of dining options – both on the main island of Mahe. On Praslin, the luxurious Raffles Seychelles is a delightful hideaway with sumptuous pool villas. For the quintessential island paradise, where time drifts by slowly, consider the amazing Denis Private Island or the chic Six Senses Zil Pasyon.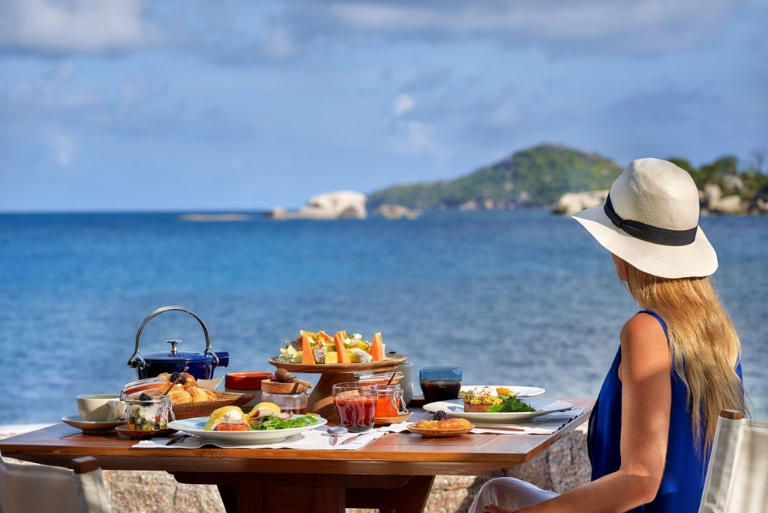 Celebrating in the Seychelles
Whether it's a landmark anniversary or a significant birthday, Seychelles delivers a flawless setting. For a magnificent rustic castaway-style island, head to Four Seasons Desroches, while Maia Resort on Mahe Island provides a luxuriously private all-inclusive retreat. Our experts can also create truly memorable island-hopping holidays combining two or three islands.
For an incomparable island celebration with your closest family and friends, you can even rent an entire island! JA Enchanted Island, a short speedboat ride from Mahe, has just 10 pool villas and is the perfect retreat for an exclusive occasion.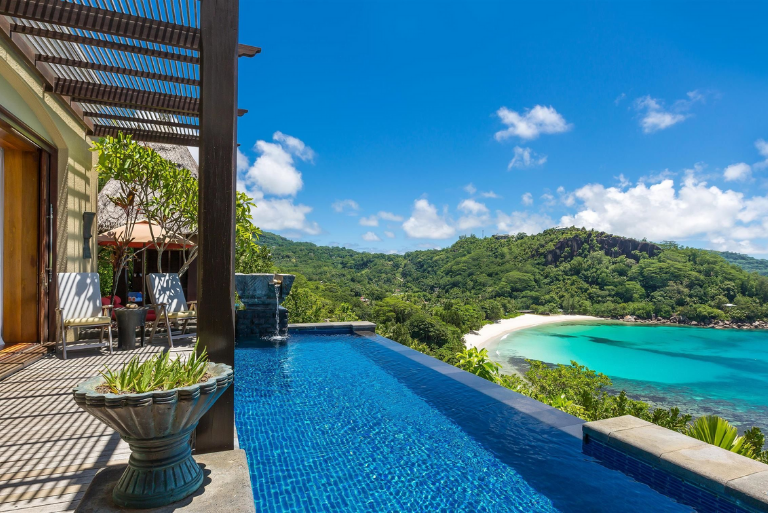 Best for sustainable travel
Our Seychelles properties all practice eco-sensitivity, but when it comes to guest experiences we simply love Constance Lemuria. The team at Constance Lemuria pride themselves on being sustainable and environmentally friendly. Upon arrival, guests are provided with an Eco Passport, which includes a list of local plants and wildlife that you can tick off as you encounter them. For marine-life enthusiasts, you've the opportunity to get involved in the Turtle Conservation Programme.
Best resorts for a family holiday
From giant tortoises to turtles, younger family members, in particular, will be enthralled by the nature and wildlife of Seychelles, making it the perfect family holiday destination. Sticking to the main island of Mahe helps to keep costs down and the expansive Constance Ephelia Resort, with its mix of suites and villas, has a vast array of activities for younger children and teenagers, including a zip wire, water sports and kids club. Kempinski Seychelles is a good family resort, while on Praslin, the 5* Constance Lemuria has excellent facilities including water sports, tennis courts, golf course, plus 3 lovely beaches.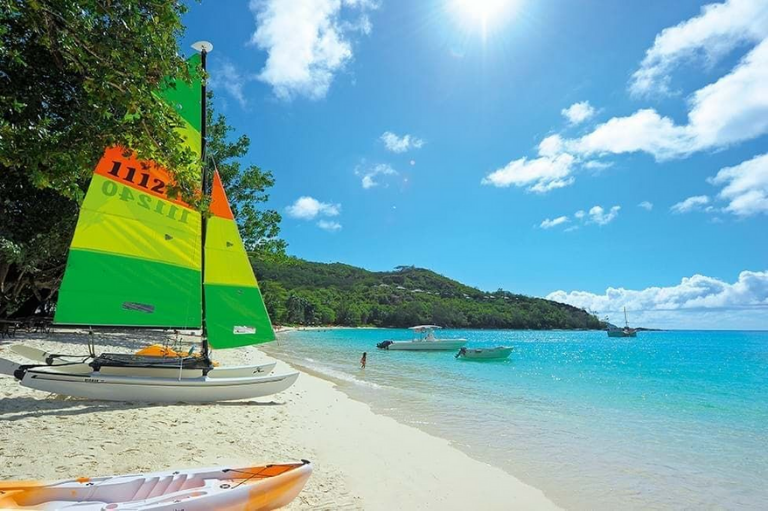 Best for exclusive island escapes
For many, this is what Seychelles is all about – tranquil island paradises free from our 24/7 lifestyles. Denis Private Island is a firm Mahlatini favorite; barefoot luxury with just 25 cottages where you'll be captivated by the island's sustainability and conservation initiatives. Four Seasons Desroches and Six Senses Zil Pasyon are also inspired choices. For the ultimate Seychelles island escape with unparalleled activities, head for the hidden gem of Alphonse Island.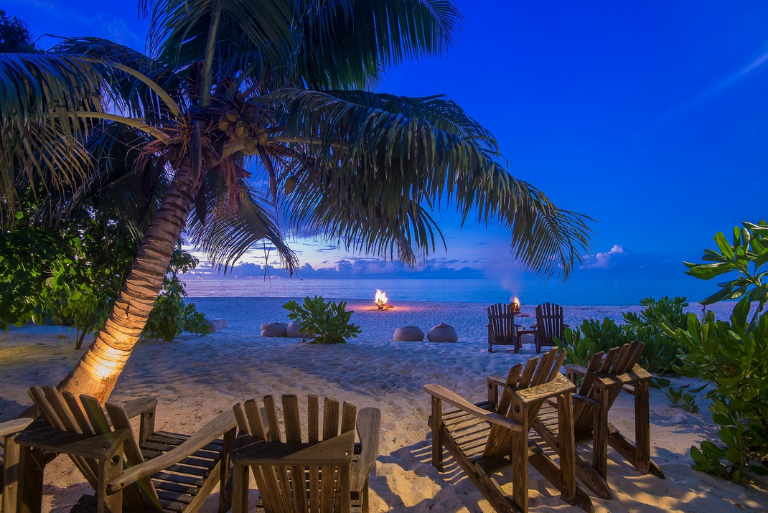 Best boutique hotels
Seychelles has many smaller hotels. Our personal favorites are Carana Beach on Mahe Island and Hotel LArchipel on Praslin. Both allow for easy excursions and from the latter, it's easy to get across to sleepy La Digue Island for a day trip.
Best for Spa & Relaxation
If wellness treatments are your priority, Seychelles excels. With one of the finest spa settings in the Indian Ocean, Six Senses Zil Pasyon on Felicite Island delivers on every count and you'll stay in a fabulous villa with a private pool too! Four Seasons Seychelles has a breathtaking hilltop spa, overlooking the idyllic horseshoe bay of Petite Anse.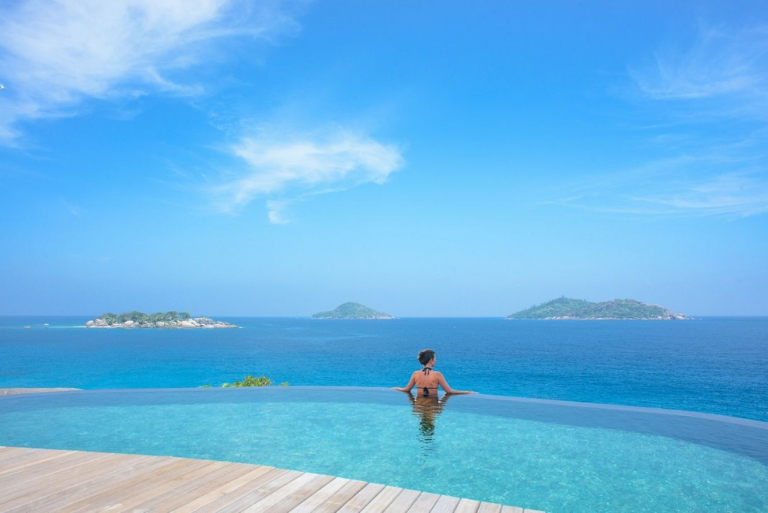 Best for diving, fishing and ocean safari experiences
Dive centers are numerous throughout Seychelles, but the best diving tends to be off the outer islands such as Denis and Desroches. However, for the ultimate ocean safari experiences with amazing diving and some of the finest fly and bone fishing in the world, a stay on Alphonse Island simply cannot be beaten. Here, you are immersed in nature, surrounded by endless experiences from a 'Flats lunch to snorkeling with sailfish!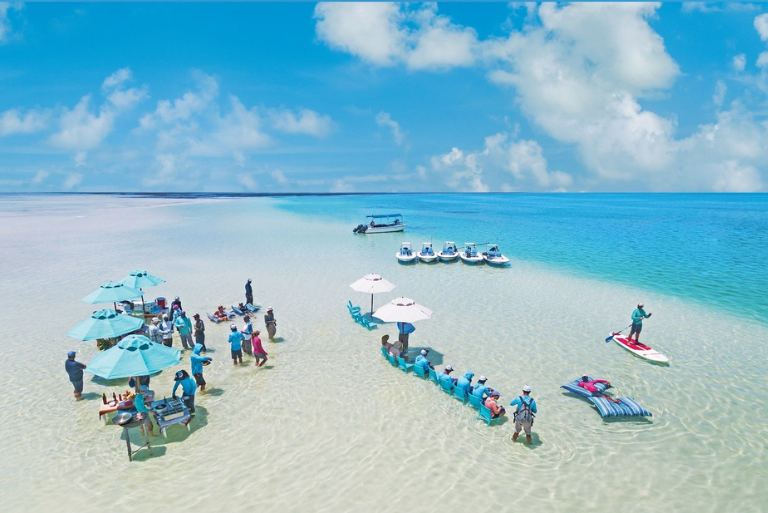 Beyond the beach
Nature and wildlife abound on all islands. Trek the forested hills and mountains on Mahe, while Praslin has the Vallee de Mai UNESCO World Heritage site. On La Digue there's an altogether slower pace and endless nature to admire. It's worth saying that Seychelles has numerous species of rare and endemic birds, including some of which are native to just one island. Check out our other blog for 10 unique things to do in the Seychelles.
Seychelles island-hopping
The best way to see the diversity of Seychelles is to plan a twin-island combo. Mahlatini can tailor-make any itinerary, but a few of our favorites include Carana Beach & Denis Island, Raffles & Six Senses honeymoon, Four Seasons Seychelles combo and a Seychelles barefoot island & Dubai stopover. Our islands and nature itinerary makes a truly special holiday. Of course, you can also combine an African safari with a gorgeous Seychelles beach too!
The ultimate Seychelles island experience!
If money is no object, head for the privacy of North Island. With just 11 Villas, this is the haunt of royalty and film stars, the rich and famous. Here, on your All Inclusive experience, you'll want for nothing.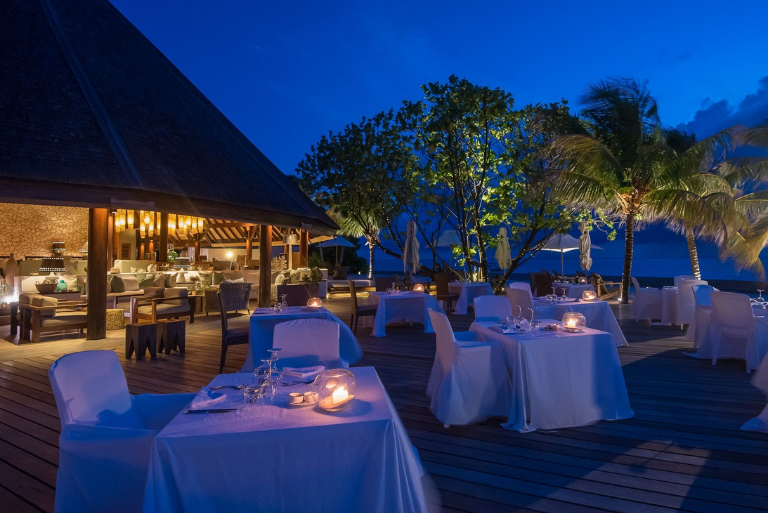 Choose your perfect Seychelles holiday for a kaleidoscope of colorful memories – differing shades of ocean blues; white sand beaches; vibrant reds, yellows and pinks of the tropical flowers…. and last, but not least, intense orange sunsets. Let Mahlatini tailor your perfect Seychelles trip.