Thanks to the perks of the job, I was very lucky to have recently travelled to Namibia. Without a doubt the most iconic image I carried with me before arriving were the dunes at Sossusvlei. These towering sandy masses are one of the most impressive features of the landscape and I couldn't wait to see them, never mind climb them! The thing that struck me most upon entering the Sossusvlei area is how completely changeable the landscape is. One minute you are traveling through an arid sandy river bed the next you are bumping over hard rocky roads and then voila the red dunes start to rise above you, just past the Sossusvlei entry gates.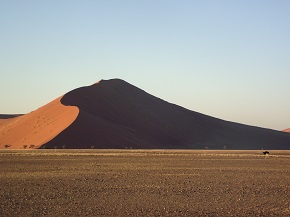 The dunes are numbered from 1 onwards. The 3 most famous dunes are Dune 45, which is easy to climb and offers spectacular views over the opposing dunes, 'Big Daddy, otherwise known as the Crazy Dune and 'Big Mama. Big Daddy can take up to three hours to climb but its well worth the struggle. Big daddy looks down on the famous Dead Vlei below. Dead Vlei means dead marsh and it has a rather eerie feel about it. All the trees here are dead but are cemented in their ghostly forms by the lime in the ground. The trees have been dead for some 900 years now. Whilst quite surreal it is also very beautiful. We climbed Big Daddy to the highest point, stopping along the way to scare the burrowing lizards so that they would dive into the sand for cover and to gulp down our now lukewarm water! Standing at the top of Big Daddy you get an amazing birds-eye view of the Dead Vlei below.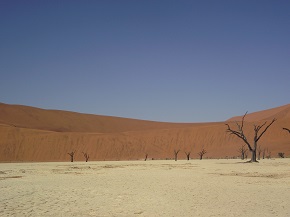 Once you have appreciated the views and taken a few pictures tuck your camera safely away, lock down your water bottle and run as fast as you can down the side of the dune! It's exhilarating and terrifying! We had no control over our speed and we made it down Big Daddy in no time! For me anyway, this is probably the best bit of dune climbing! After the dune walks and visiting the Dead Vlei we stopped at a picnic site and enjoyed a delicious brunch, which had been packed up for us by Little Kulala, where we were staying. After a wonderful day of dune climbing and exploring we made our way back to Little Kulala where we enjoyed a dip in our own private plunge pool! Luxury was ours.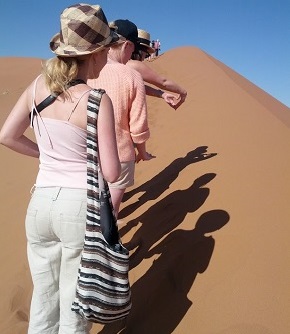 Gathering at the main lodge with the others in my group, we agreed to end the day by quad biking to a sun downer point. What an absolute thrill. We quad biked through sandy river beds and rocky tracks then up a mountain, where we were able to watch the sun go down whilst enjoying cheese and crackers and a few sun downers! It was a very special day that I will always cherish!