It's a deeply primal experience to sit on the African jungle's leafy floor and experience a family of critically endangered mountain gorillas. Less than 1000 mountain gorillas still survive with almost all of them living within three heavily protected national parks: Bwindi Impenetrable Forest and Mgahinga Gorilla National Park in Uganda, and on the slopes of mountains in Rwanda's Volcanoes National Park. If you're thinking of doing a gorilla trek in Uganda or Rwanda, here's everything you need to know.

WHAT IS GORILLA TREKKING?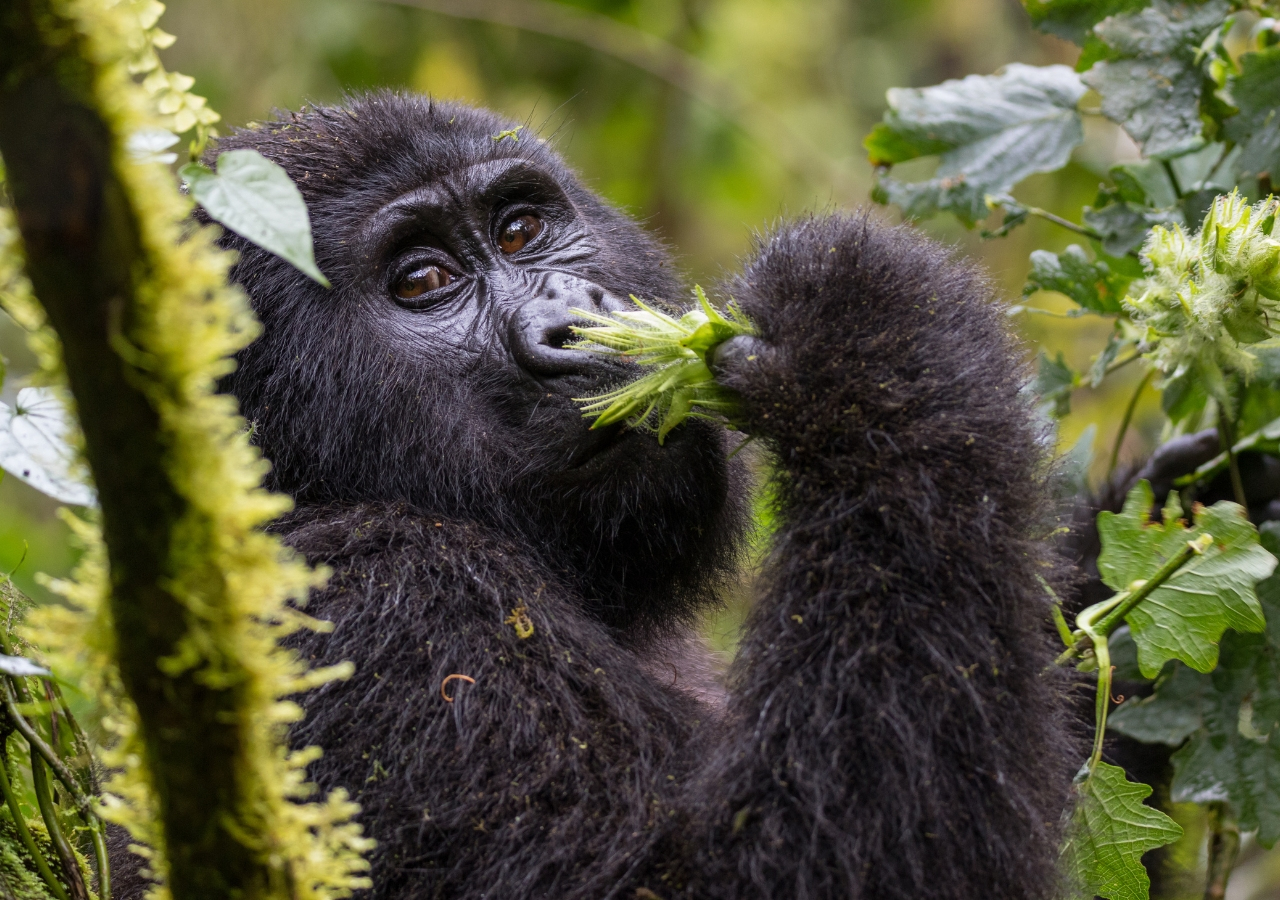 On a gorilla trek, visitors embark on a guided hike through dense forests, following the trail of gorilla groups. Once the gorillas are discovered, trekkers are rewarded with a truly once-in-a-lifetime experience, immersing themselves in the presence of these gentle giants. Beyond the adventure and wonder it offers, gorilla trekking plays a vital role in conservation efforts. A gorilla trek directly contributes to the conservation of gorilla habitats and the upliftment of local communities.

RWANDA VS UGANDA FOR GORILLA TREKKING?
When deciding between Rwanda and Uganda for gorilla trekking, several factors come into play. Rwanda offers a relatively easier trekking experience, coupled with luxurious accommodation options. However, it's worth noting that these comforts come with a higher price tag, particularly in terms of gorilla trekking permits.
On the other hand, Uganda is a more challenging climb, as the gorillas are typically located at higher elevations within the mountains. However, what Uganda may lack in ease, it compensates for with more affordable gorilla trekking permits. If you want to prolong your gorilla trekking experience, consider Uganda as you can trek to the gorilla's twice for the price of one day in Rwanda.
WHEN IS THE BEST TIME TO GO GORILLA TREKKING?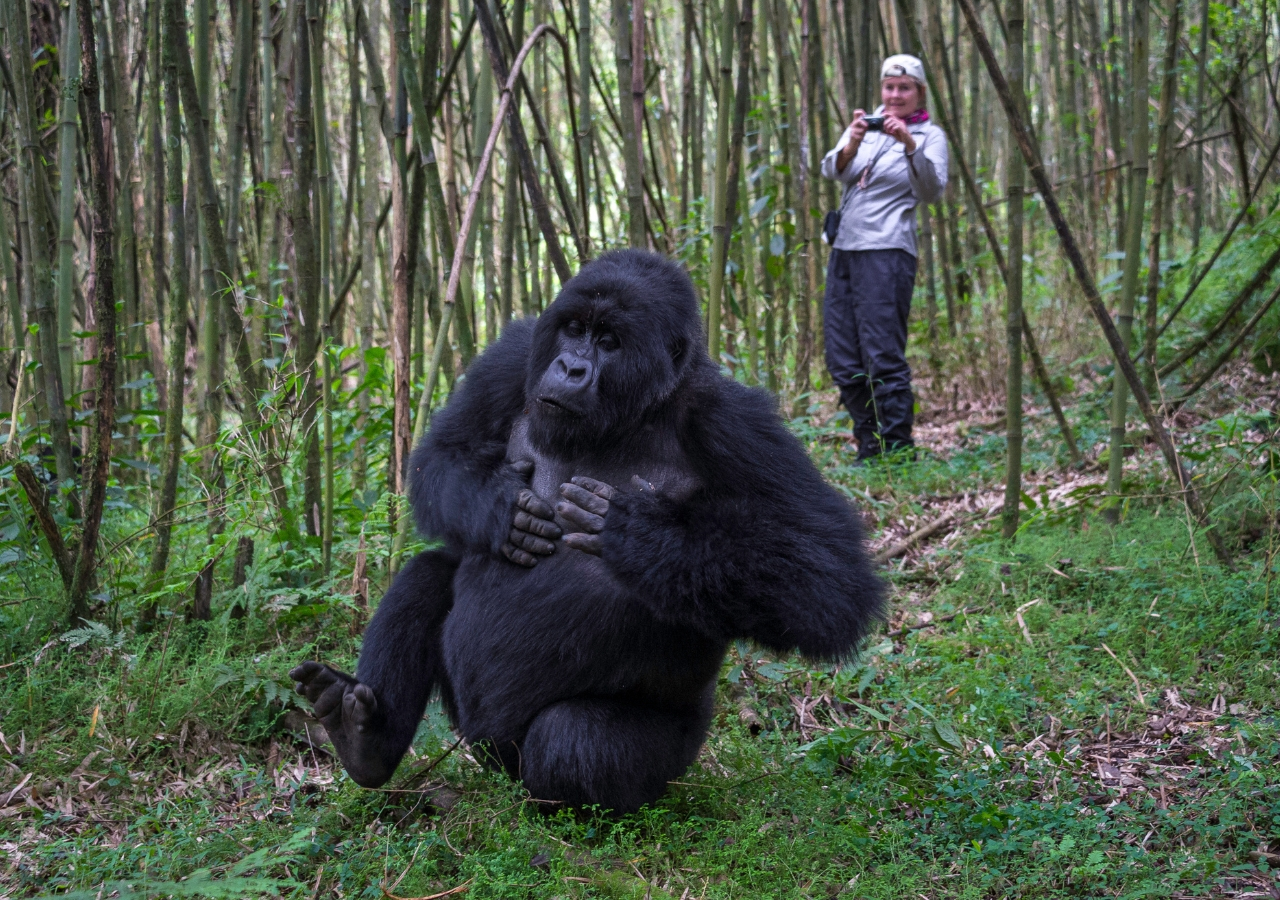 The best time to go gorilla trekking is from December to February and June to September. These months coincide with the dry seasons in Rwanda and Uganda. During these periods, the weather is generally drier, making the trekking trails more accessible and providing clearer views of the stunning landscapes. It is important to remember that temperatures drop in higher altitude areas and that rain is typical even in the dry season since you will be in a rainforest.
Insider tip: "Consider planning your gorilla trekking experience during the short rains from December to February. During this period, gorilla families tend to descend to lower elevations in the mountains, increasing your chances of encountering them up close."

WHAT IS THE PRICE OF GORILLA TREKKING?
Gorilla permits are currently US$1,500 per person in Rwanda and US$700 per person in Uganda (subject to change). It is important to note that gorilla trekking permits are limited in number. A maximum number of tickets are sold per day on a first come first served basis and they sell fast. The funds generated from these permits directly contribute to conservation initiatives and the protection of gorilla habitats.

CAN I TAKE PHOTOS ON A GORILLA TREK?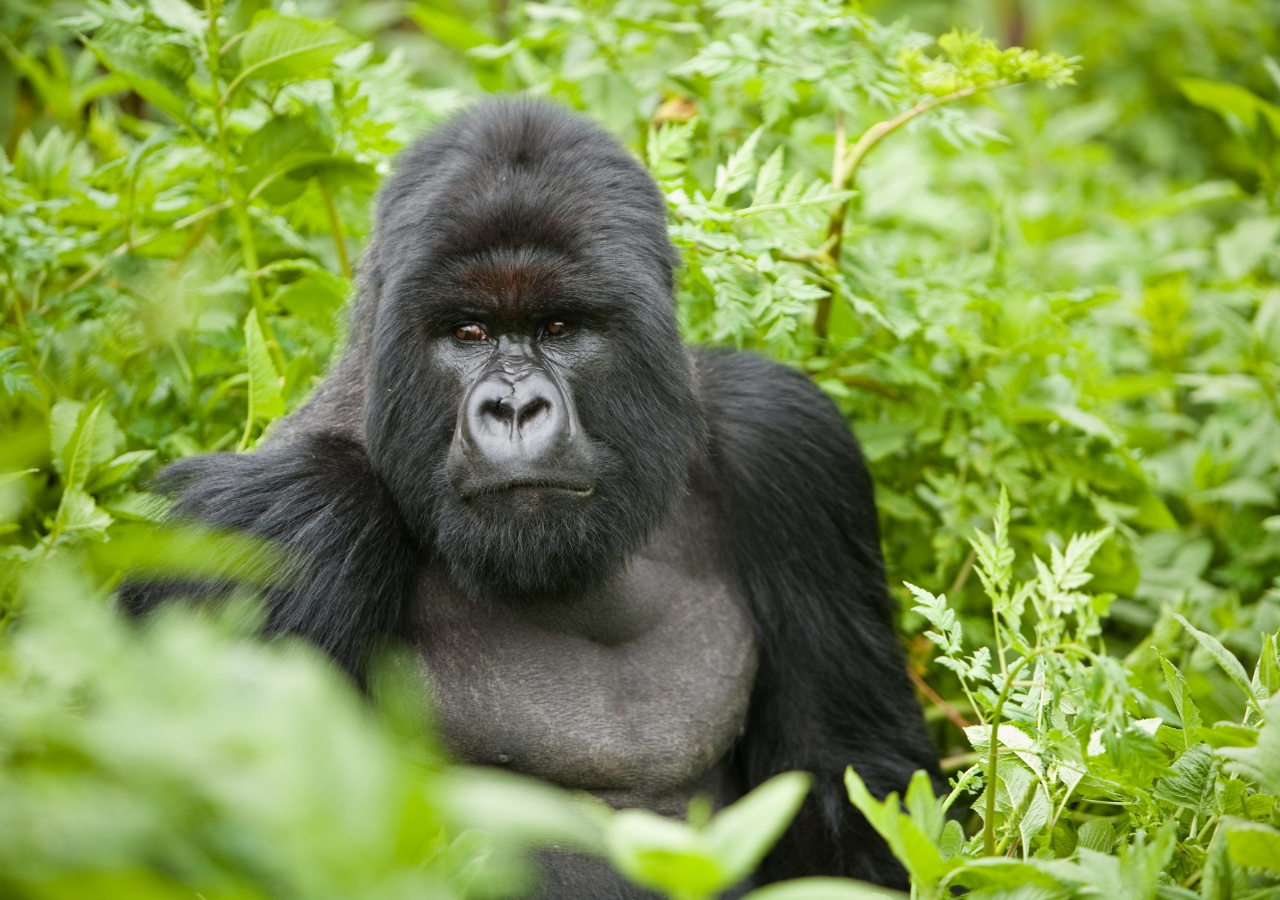 Yes, you can take photos and videos on a gorilla trek. However, it's important to follow the guidelines provided by your guides and respect the well-being of the gorillas. Flash photography is typically not permitted, as it can startle or disturb the gorillas. Additionally, it's essential to maintain a respectful distance and adhere to the instructions given by your guides.
WHAT TO WEAR WHEN GORILLA TREKKING?
It is essential to wear suitable clothing and gear to ensure your comfort and safety in the rainforest environment. Here are some recommendations for what to wear during your gorilla trek:
Footwear: Opt for sturdy, waterproof walking shoes or hiking boots with good traction. The terrain can be uneven, muddy, and slippery, so having reliable footwear is crucial for a secure and comfortable trek.
Rain Gear: Due to the unpredictable nature of rainforests, it is advisable to bring a lightweight raincoat or waterproof jacket. This will protect you from sudden showers and keep you dry during the trek.
Clothing: Wear long, thick trousers and a long-sleeved top to protect your legs and arms from stinging nettles, thorny vegetation, and insects. Choose lightweight, breathable fabrics that allow for ease of movement and quick drying.
Gloves: Thick gloves, such as gardening gloves, can be beneficial for grabbing onto vegetation or branches for stability during the trek. They also offer protection against prickly plants.
Wide-Brimmed Hat: Wearing a wide-brimmed hat helps shield you from the sun, as well as rain or drizzle that may occur.
WHERE TO STAY FOR GORILLA TREKKING IN RWANDA?
Rwanda is a country of contrasts where you will lose yourself in a world of towering mountains, rainforests and unique wildlife. It is also very safe and clean. For gorilla trekking in Rwanda, it's best to stay near Volcanoes National Park.
BISATE LODGE
One of our recommended lodges in Volcanoes National Park to trek from is the iconic Bisate Lodge. Situated in Afro-alpine forests near Rwanda's Volcanoes National Park, Bisate Lodge offers ultra-luxury accommodation and service as well as spectacular views of the volcanic peaks of Bisoke, Karisimbi and Mikeno. The lodge provides easy access to the park for gorilla trekking with a strong conservation and community focus.

SINGITA KWITONDA LODGE

A luxury offering in Rwanda's Volcanoes National Park, Singita Kwitonda has spectacular views of the Gahinga, Sabyinyo and Muhabura volcanoes and is surrounded by high-altitude forests. The lodge was designed in response to this remarkable location where guests can expect exceptional natural beauty, environmentally conscious luxury and transformative, purpose-driven experiences. Singita Kwitonda Lodge is a short drive to the Volcanoes National Park headquarters for the transformative experience of coming face to face with the rare mountain gorilla.

WHERE TO STAY FOR GORILLA TREKKING IN UGANDA?
The scenery in Uganda is jaw-dropping from lush, green forests, to snow-capped mountains, crater lakes and savannah grasslands but the real draw card is the wildlife - the star of the show being the primates. For gorilla trekking in Uganda, staying near Bwindi Impenetrable Forest is best.
SANCTUARY GORILLA FOREST CAMP
One of our recommended lodges in Bwindi to trek from is Sanctuary Gorilla Forest Camp. This camp is found nestled deep within the Bwindi Impenetrable Forest which in itself impresses with a truly theatrical landscape - volcanoes, jagged valleys, waterfalls, lakes and dramatic mountain ranges. With an ideal location close to the starting point for the gorilla trekking experience place, this camp is one of the most remote and atmospheric in Africa - certainly the most luxurious choice on offer in the park. Due to its unique location, it's not unusual for the gorilla families to visit the camp itself!

VOLCANOES BWINDI LODGE
Volcanoes Bwindi Lodge is an eco-lodge which offers first-class food, service and hospitality as well as spectacular views of the primal Bwindi forest. Whether you are in the forest itself or sitting on the terrace relishing the sight of primates playing in the lush canopy you will find it impossible to be anything short of amazed by the forest's overwhelming beauty. It is the perfect place from which to track gorillas, which have been known to sleep at the lodge.

IS GORILLA TREKKING DANGEROUS?
While gorilla trekking involves venturing into the wild, it is generally safe and well-regulated. Professional guides accompany trekkers, and strict rules are in place to ensure the safety and well-being of both humans and gorillas.
HOW DIFFICULT IS GORILLA TREKKING?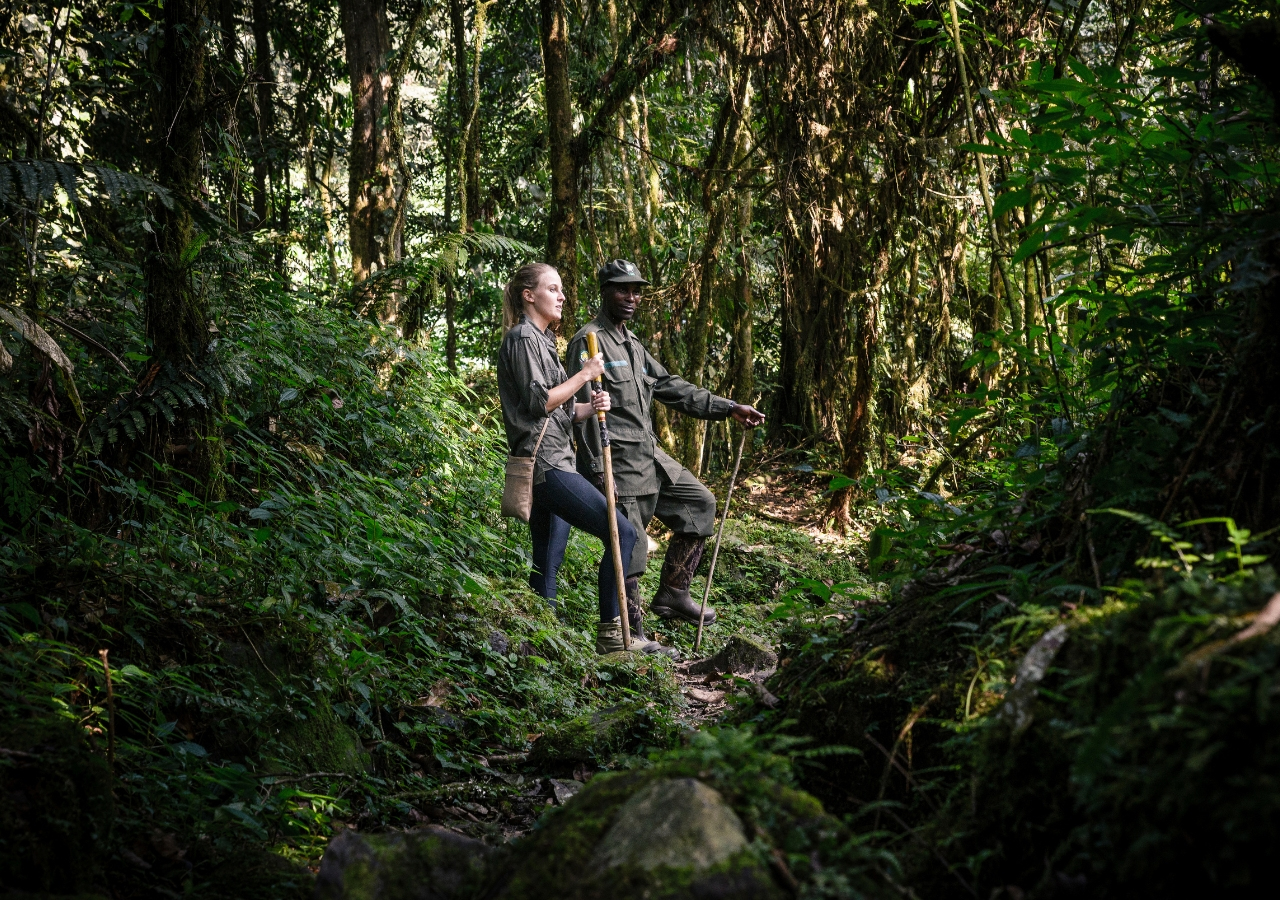 The gorillas live at a high altitude and the actual process of tracking involves walking long distances through thick vegetation, up steep, wet and muddy terrain. This means it could prove difficult for some people, however, if you pace yourself and walk slowly no able-bodied person should really be deterred from making the trip.
Insider tip: "We recommend paying for a porter who will carry your bag and camera equipment while you are gorilla trekking - this can make the trek a lot more manageable."

IS GORILLA TREKKING WORTH IT?
Gorilla trekking is undeniably a worthwhile and life-changing experience. Observing their behavior and social interactions in their natural habitat leaves a lasting impression. The few degrees of genetic separation between us and these magnificent primates is clear and humbling. Moreover, gorilla trekking supports vital conservation efforts, with the revenue generated from permits contributing directly to anti-poaching measures, community development, and education initiatives. Gorilla trekking is definitely worth it!