In a personal tribute to Nelson Mandela, Mahlatinis Sarah Fox takes time to reflect on her life growing up as a white South African, and the influence Mr Mandela's legacy has had on her personally.
I was born in South Africa in 1976 to British and Irish immigrants. 1976 was a highly significant year in South African history as this is when the infamous Soweto student riots took place (now recognised as Youth Day in South Africa). It was a time of intense struggle in the country, and internationally South Africa was on the global black list with sanctions in full force. Nelson Mandela was 12 years into his 27 year prison sentence.
As a privileged South African my childhood was pretty much sheltered from the chaos that gripped the country in the late 1980s. With censorship in full force and attending a 'white only' school, I had little understanding of what apartheid meant for my fellow black South Africans. Yes I noticed the separate beaches, separate toilets and the inferior roles filled by the black people around me but as a child I simply accepted this as a way of life.
When I was 13 I remember hearing the name Nelson Mandela for the first time amongst my school friends. I recall his name being associated with fear and discussions of what would happen to our country if this 'terrorist' was released from prison. We all watched his release on TV with no true understanding of the impact it would have for our country and that we were watching history in the making. One of my most poignant memories was of my school principal announcing over the school intercom that the white electorate had voted a resounding 'YES' to reform of the apartheid system in the referendum called by FW DeKlerk. It was 1989.
In 1994, the year of South Africa's first democratic election and the year Mandela became South Africa's first black president, I was 17 and completing my last year of school. I just missed out on voting in these historic elections but I do recall the excitement surrounding them and the incredible queues of people who turned out. I recently watched the incredible documentary 'Miracle Rising' about the lead up to these elections and the incredible negotiations between Mandela and all of the involved parties. I hadn't taken it in at the time but now in my thirties I am astounded that the election ever actually took place and I really do believe that without Mandela and his immense ability as a negotiator life in South Africa today would not be as we know it.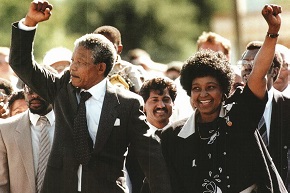 University was the first time in my life that I studied alongside friends from different races and backgrounds. Reading Mandela's autobiography 'A Long Walk to Freedom' at that time really opened my eyes to the harsh brutality that was commonplace in my own country whilst I was oblivious, protected within the white enclave in which I grew up. As a trainee teacher it was so sad for me to realise the disparity between blacks and whites in terms of education. Whilst white South African schools were equipped with everything under the sun to teach and develop the future leaders of the country, the opposite was true for the other races. Even 20 years on the task of levelling the playing fields still presents many challenges. I went on to make many friends of all races at university despite the turmoil of student protests and riots plaguing the early years of the new government and which came right to the very door of my own campus.
For most white South Africans the memory of 1995 Rugby World Cup is etched in their hearts, not only because the Springboks were victorious over the mighty All Blacks, but because of Nelson Mandela standing side by side with the Springbok captain to the resounding cheers of an almost exclusively white rugby audience. As recently depicted in the movie 'Invictus', starring Matt Damon and Morgan Freeman, Mandela had realised that despite the animosity he and others may feel about white South Africans, this was their country too and he needed their support to create his vision of the 'Rainbow Nation'. It was inconceivable to see thousands of supporters throwing out the old apartheid flag and flying with pride the unifying flag of the new South Africa. To witness thousands of white, particularly Afrikaans South Africans, singing the new national anthem (which includes verses in African languages) was simply testament to the impact Mandela has had on people. After the jubilant celebrations of the victory I recall turning to my father and noticing he had been crying. He was obviously more acutely aware of the huge significance of that momentous occasion.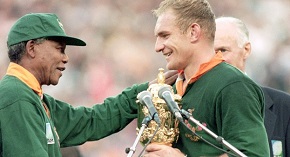 After I completed my degree and did a bit of travelling I took a job teaching literacy programmes to black adults. There were times where I was struck by the cruelty of the apartheid system – I was a 24 year old girl teaching 50 year old men and women how to read! It was incredibly sad at times but also wonderfully rewarding. I also witnessed so many parents making huge personal sacrifices to get their children into school and ensuring that they avail of opportunities that were denied them.
In the last 20 years there have been many changes to South Africa as a result of Mandela's bravery. His legacy has ensured opportunity for many who in the past would have been denied these opportunities. Every time I return to South Africa I am struck by how far it has moved forward. South Africans are industrious, entrepreneurial people who are making ends meet in innovative and exciting ways. That said the birthing pains of a new nation are still very evident. A legacy of apartheid cannot be eradicated in a generation.
Despite its ongoing problems and racism that is still prevalent in our country, the new South Africa has survived the odds and I believe will continue to do so. Many of my white South Africans friends are using their privilege and education for the good of others by making a valuable contribution in starting businesses and creating employment. Many of my peers left to work in the UK, USA, Australia after completing their education and having recently returned to settle and bring up their families in this changed South Africa. Our children are attending school side-by-side with children of all races and religions and simply don't see race as divisive in the way we did.
Mahlatini was born out of an immense love of Africa. We love sending our clients (who are mainly UK and US-based) to South Africa and hear how they were simply blown away by its incredible beauty and the friendliness of its people.
While there were many who risked their lives and sacrificed their families and careers in the anti-apartheid struggle, we cannot fail to single out Nelson Mandela as the 'father of the people', the one we will all remember as the symbol of the struggle and subsequently the man who united a nation.
Thank you Madiba.