KwaZulu Natals Durban is known by South Africans as 'Little India'. All around the city there are sights and sounds that affirm the reasoning behind such a title, with a thriving Indian population second only to India itself.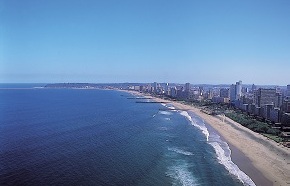 During the 19th century many Indian workers were uprooted from their homes and moved to South Africa, to work on the sugar plantations of Natal, the descendants of these workers became the booming Indian population in Durban. A strong Indian influence can be felt across the city, with certain landmarks relaying to visitors the history behind Durban's Indian presence. Greatly commemorated is Mahatma Gandhi, who spent a total of 21 years in South Africa.
A bust of Gandhi can be found in the Tourist Junction building, honouring Gandhi's actions standing up to white oppression. The site of the Tourist Junction building was originally a railway station and it was here, in 1893, that Ghandi bought a ticket to travel in the first class carriage of the train to Johannesburg. However, during the journey, someone complained a non-white person was travelling in first class and this resulted in Gandhi being thrown off the train.
Gandhi's Phoenix Settlement is a place definitely worth a visit. In this quiet residence he established the Indian Opinion, a newspaper aimed at educating his oppressors as to the subjugation of his people. Also, it was here that Gandhi developed his philosophy of civil disobedience, practiced through non-violent means. A trip to the Phoenix Settlement also allows for a trip a visit to Gandhi's house.
To immerse yourself further in Indian culture it is recommended that you visit Grey Street. With distinctive Indian architecture and booming culture Grey Street stands out as the hub of the Indian community in Durban. Dominating Grey Street is the largest mosque in the southern hemisphere – the Juma Mosque with its two golden minarettes. Built in 1927 it has space for some 4500 worshippers. Hindu Temples and mosques are scattered around the city, the most famous and historical of which is the Temple of Understanding in the area of Chatsworth. Organised visits of these sacred buildings are easily undertaken.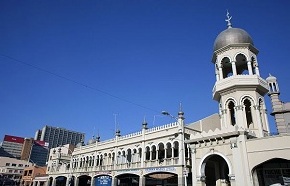 The oriental bazaars of Grey Street present a broad variety for shoppers from clothing to exotic spices. The Victoria Street Market is a two story market hall with plenty of stalls offering a remarkable variety of spices but also clothes, brass and leather goods, jewellery and curios.
No matter how much retail therapy you indulge in though, you cant escape the gorgeous smell of Indian food, with restaurants making a healthy living from selling Durban Curries or the well-known fast food dish Bunny Chow (a hollowed out loaf of bread filled with curry).