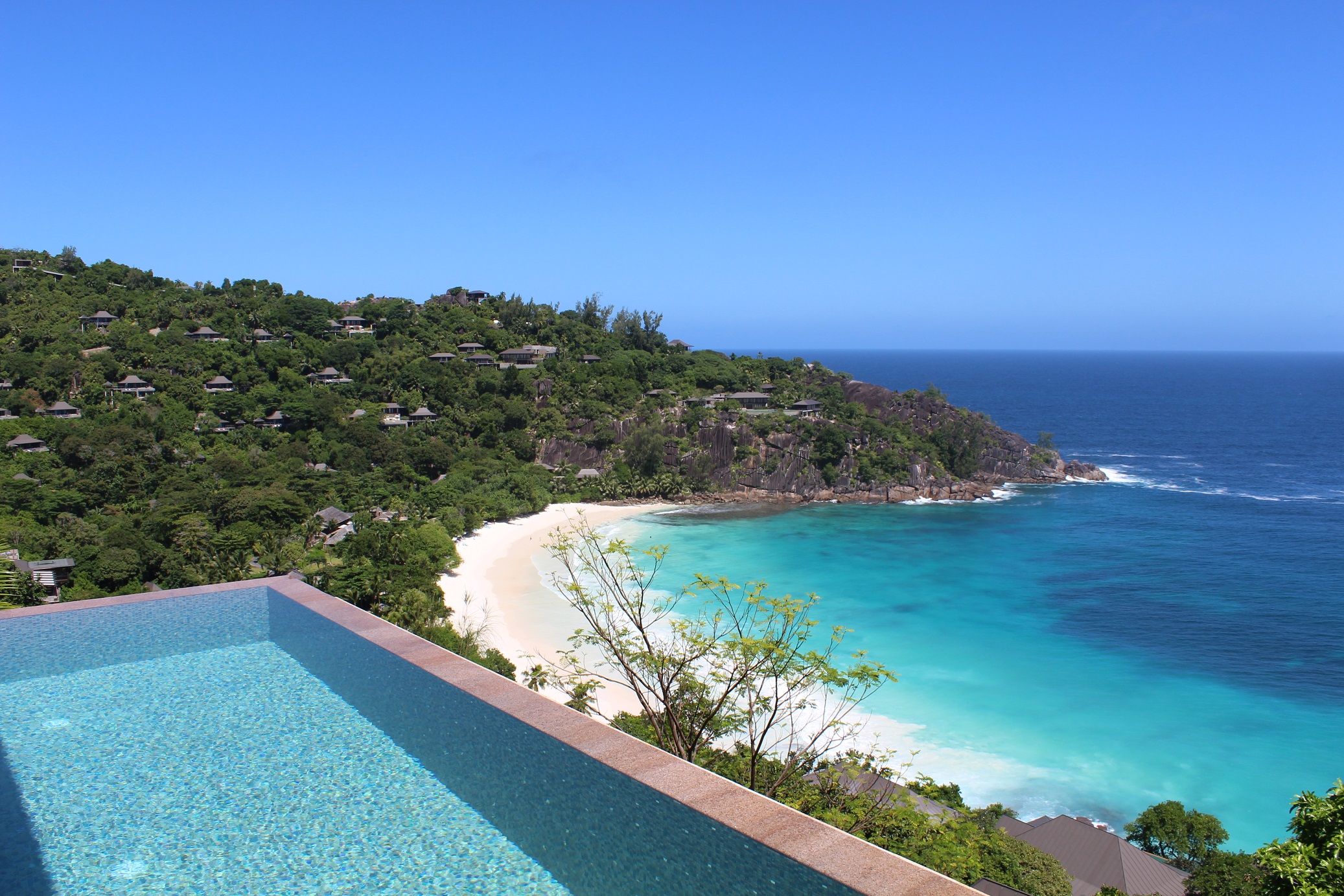 Two Inspiring Islands, One unique Seychelles holiday
If youre looking for a luxurious twin-island Seychelles holiday, whether a honeymoon, anniversary, or family holiday – look no further than Four Seasons two Seychelles properties. Enjoy luxurious villa accommodation at the Four Seasons Seychelles resort on the main island of Mahe, combined with Four Seasons Desroches Islanda coral island paradise in the Amirantes archipelago. Only a short 40-minute flight from Mahe, Desroches Island is perfect for total relaxation and inspiring adventures including some of the best diving and fishing in the Seychelles.
Four Seasons Seychelles on Mahe Island
Just a 30-minute car transfer from the international airport, the luxuriousFour Seasons Seychelles is ideally situated whether youre looking for a tranquil hideaway or planning excursions to discover a little more of Mahe island. Built 10 years ago, it has one of the most picturesque settings in Seychelles. Villas and residences have glorious views over idyllic Petite Anse bay, perfectly sheltered for year-round swimming. Villas have been built into the hillside and around the natural features. Surrounded by lush palms and native takamaka trees, the canopy of rainforest provides a natural feel and one of immense privacy.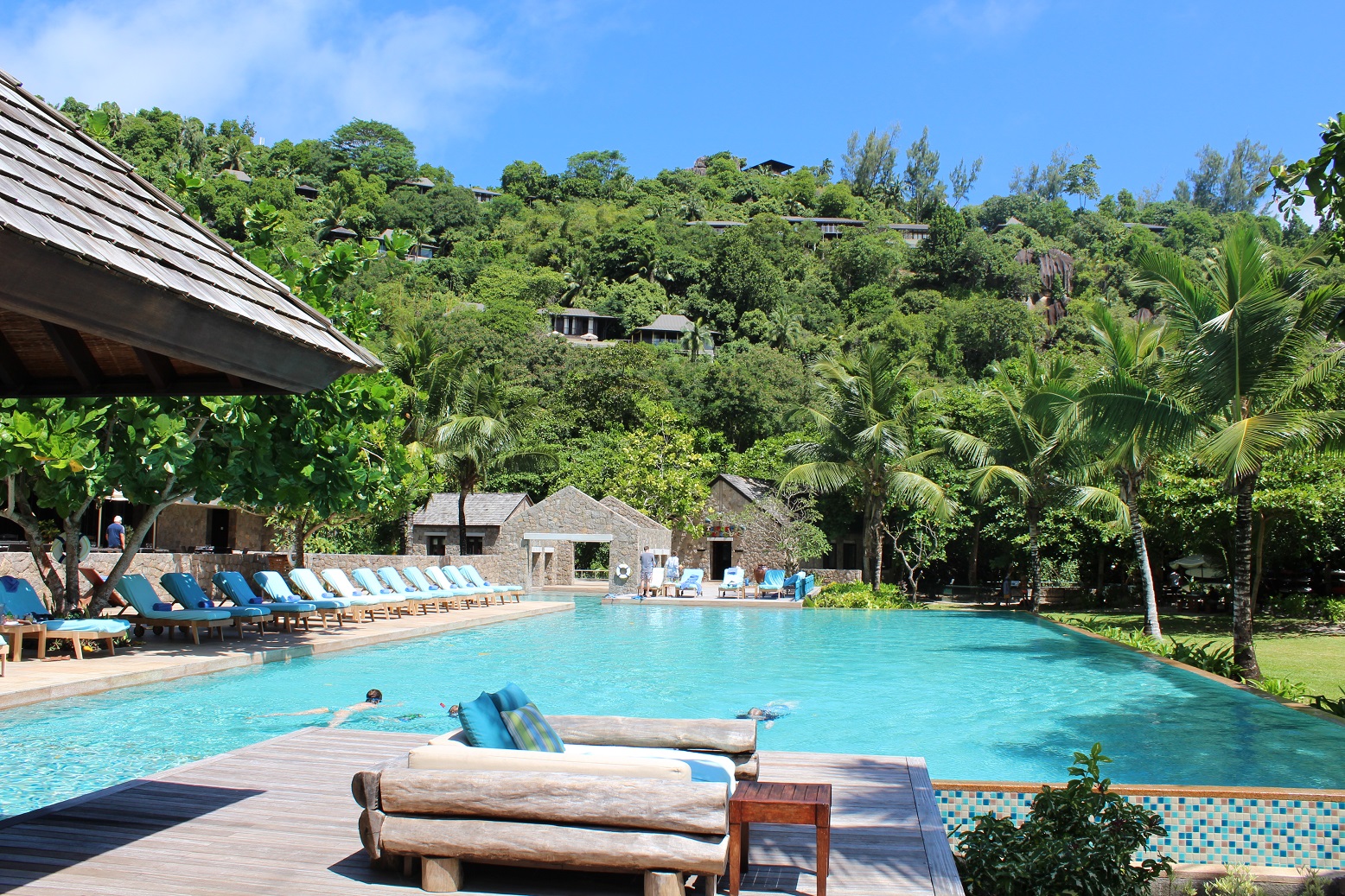 Luxurious with impeccable service
The spacious villas ( all with private pools ) are dotted around the hillside. Basically, the higher up, the more spectacular they are… and the more amazing the view! The resorts unbelievable spa is perched right above the hotel – so as well as offering a vast range of pampering spa treatments, its the perfect place to catch blissful sunsets over the sparkling ocean. For sunset spa treatments, be sure to book early! Talking of the sea, the superb activity centre offers a wealth of activities including kayaking and paddle-boarding. Just behind the beach, the fabulous Kids Club, open daily from 9am-9pm, offers an ever-changing programme of activities to keep the little ones entertained. A Coral Cabana encourages all guests to get involved with nature including a special reef restoration programme.
Beyond the resort, you can discover some of the sights and sounds of Mahe island on a guided tour with one of the hotels knowledgeable drivers, tailored to personal requirements. Other local experiences include Creole cooking classes, a visit to one of the local art galleries or a trip to enjoy a local Takamaka rum distillery.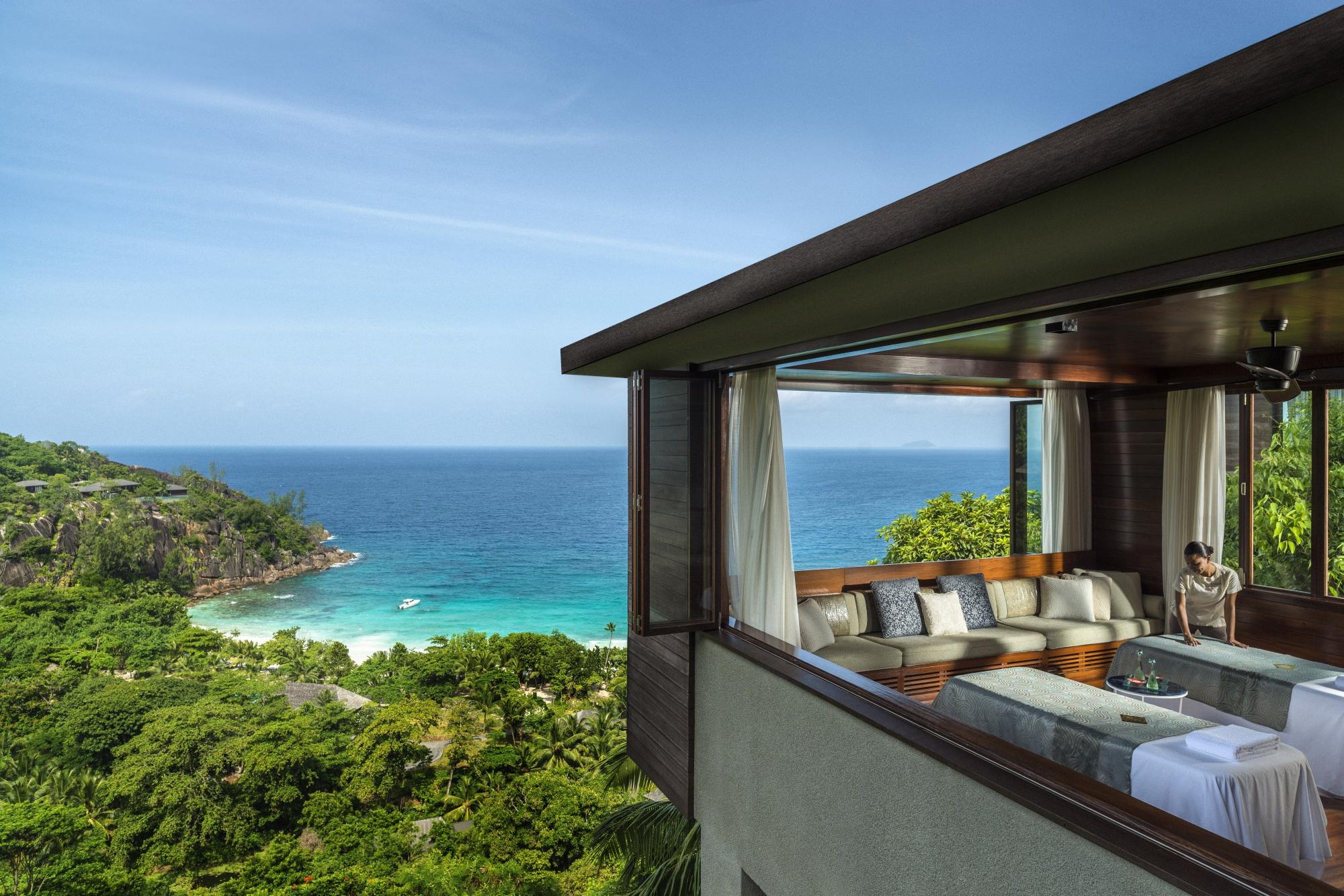 Tropical island seclusion – romantic and bespoke
Part two of your five-star Seychelles island-hopping adventure is something exceptionally romantic and bespoke. At Four Seasons Seychelles at Desroches Island, beside pristine sandy beaches, swaying palms and sparkling turquoise waters, you'll be able to create your own, utterly indulgent, tropical island fantasy. Four Seasons Desroches combines the best of nature with premium Seychelles hospitality.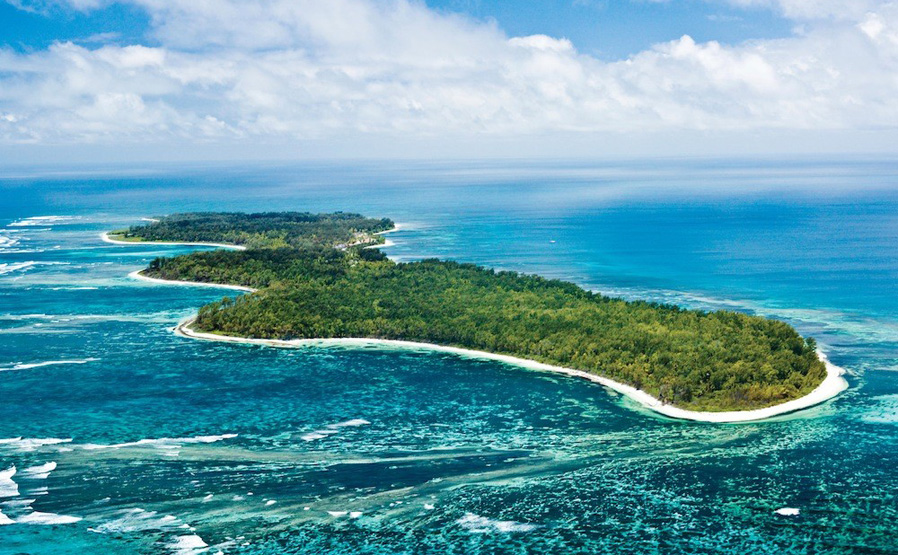 This coral island paradise offers the special combo of being ideal for anyone seeking a little solitude while at the same time offering the chance of some memorable adventures. Perfect for couples, especially if celebrating a honeymoon or special anniversary, as well as families looking for that special nature-enriching holiday… entertainment here is all natural proving that Seychelles really is a classroom! From the moment you step off the plane, you get a feeling of peace – a true sense of escape and perfect for switching off and disconnecting. There are few places where you feel you are somewhere truly different, but this is one.
Desroches island life – barefoot luxury
The island is yours to explore, either by bicycle or strolling along some of its 9 miles of white sand beaches; as you gaze out across the horizon, with your feet in the astonishingly warm water, you cant help but have that 'castaway feeling. Four Seasons, however, ensures that you'll want for little on this barefoot island paradise. Villas and Residences are set on different stretches of beach and are all sumptuously appointed while the dining options provide truly memorable locations. If you're seeking relaxation, indulge the senses at the island spa with its extensive range of therapies and treatments, or for a truly unique experience, why not join a yoga session on the islands runway?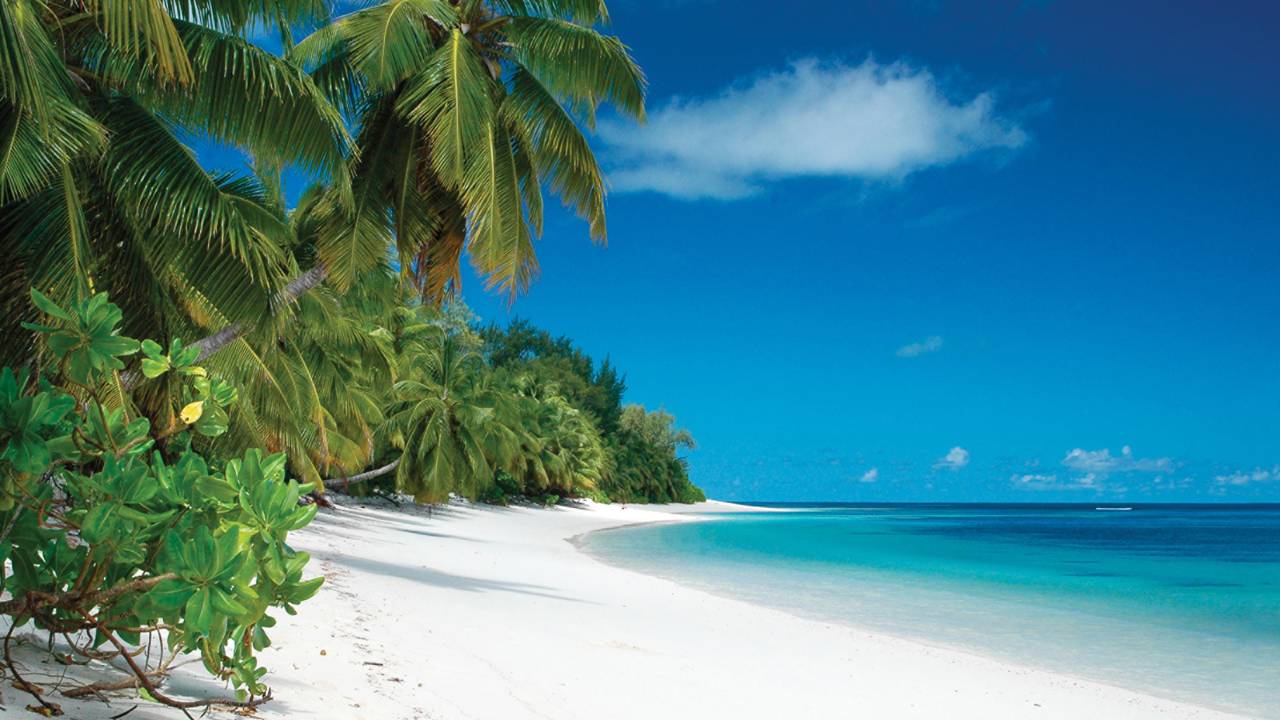 Children will enjoy the island bio
Families will have an unforgettable, fascinating Seychelles holiday experience – something the children will remember for years to come. The island offers nature and paradise in perfect harmony; no need for man-made attractions here! The Children's Club features a host of daily activities that make younger guests feel like island explorers! See giant tortoises roaming freely, perhaps have the chance to swim close to turtles or even see turtle hatchlings at certain times of the year. Four Seasons has also created a special interactive Discovery Centre where children, and adults, can discover more about the islands unique nature and wildlife habitats as well as learning more about the delicate eco-systems and sustainability programmes.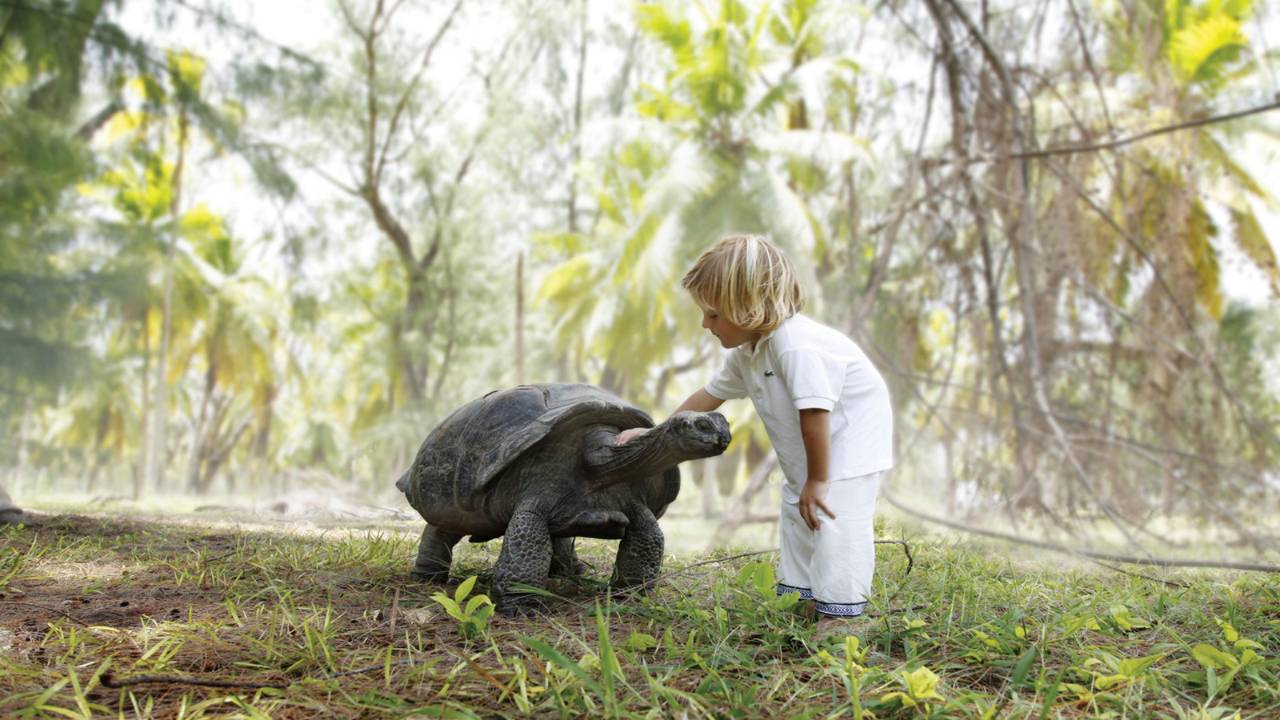 Sensational diving, fishing… and snorkelling
The waters around Desroches are teeming with marine life and with over 15 classified dive sites nearby, its the ideal place to come and dive – whether on a PADI dive course for beginners or for awe-inspiring dives for the more advanced. There is also world-class fishing close by with some of the greatest offshore angling in Seychelles. According to the time of year, there are opportunities for deep sea or fly fishing. Even if you your only wish is to snorkel, you're sure to see a huge variety of fish and rays… and even the odd turtle or two... a magical experience! The islands Castaway Centre has experienced professionals to tailor excursions, as well as advising on other water sports from snorkelling to paddle-boarding and kayaks.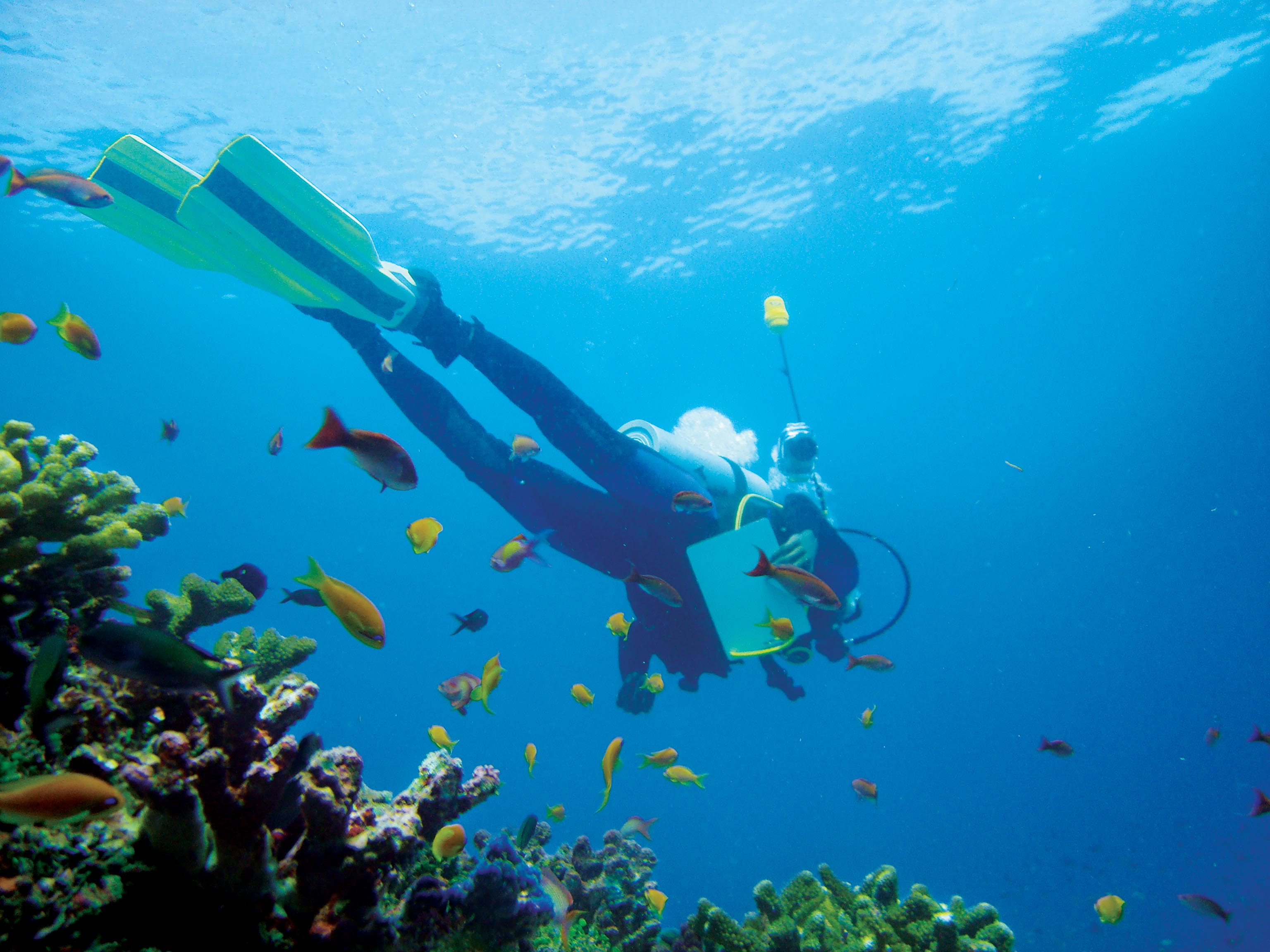 Desroches Island unique experiences
On Desroches, you can do as much or as little as you like. A few of our favourites include: packing a picnic from The Deli and cycling off to a deserted beach; all beach locations have a hut with towels, water and a few items of water sport equipment; sharing a romantic couples spa treatment; trying different water sports from simply snorkelling to learning to paddle board or dive; seeing children discover the unique nature and wildlife; or just ending the day with a cocktail while watching a glorious sunset or perhaps after dinner for a spot of glorious star-gazing. Whatever your personal preferences, the friendly island staff will help you discover them.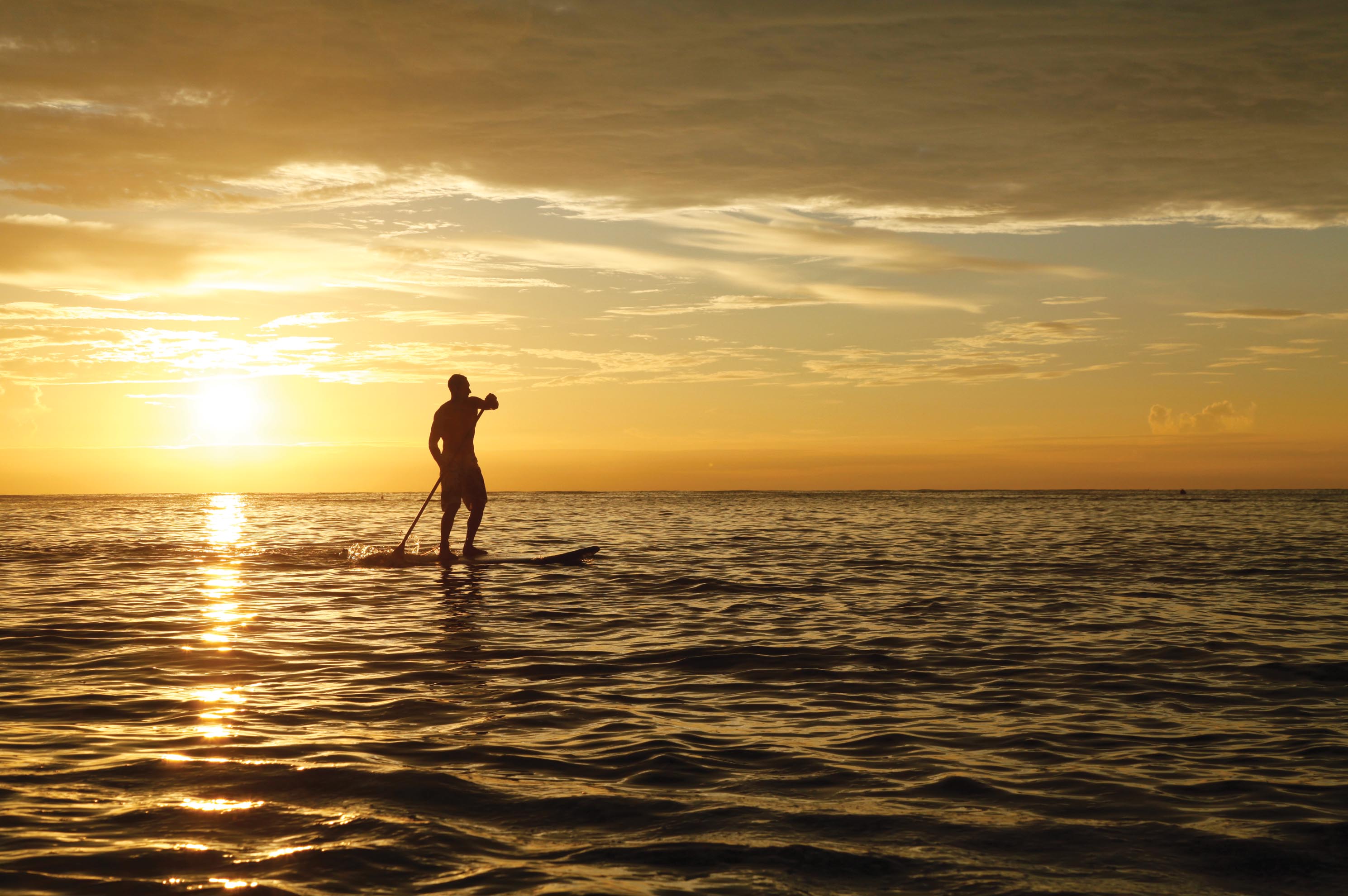 Island-hopping – the best way to discover the unique diversity of Seychelles
With 115 islands spread across some 1000 miles of the Indian ocean, all are somewhat different with masses of unique nature and wildlife. The inner islands, which include the main island of Mahe and Seychelles capital Victoria, are granite and mountainous; the outer islands, such as Desroches, are coral atolls rising only a few metres above sea level and have unique eco-systems. The Seychelles government recognises the strong balance between tourism and protecting its natural environment and is the first country in the world to protect half its land with National Park or nature reserve status. The strong sustainability agenda also helps protect the surrounding sea and natural resources ensuring an authentic ambience and environmentally-friendly feel.
Discover paradise twice – Four Seasons island-hopping offer
Whatever time of year you plan to visit Seychelles, take advantage of an inspirational island-hopping stay at both Four Seasons Mahé and Desroches resorts, with a 30% discount across all villa categories for bookings made at least 60 days before arrival. What's more, honeymoon couples also receive a range of added-value 'treats at both resorts including couples spa treatments and romantic dinners. Please speak to one of the Mahlatini experts for first-hand knowledge about Four Seasons in Seychelles and let us tailor your perfect tropical island-hopping adventure.