For an incredible family holiday there are hundreds of places all around the world that you could visit. However, there are very few as memorable or as exciting for the kids as the wild plains and coastlines of Africa. Disneyland doesn't even come close. South Africa, Tanzania and Kenya are the destinations of choice for families. These countries own a wealth of experience in delivering a fun filled safari adventure for children and parents alike, boasting streamlined service and safety too.
A safari isn't always enough though, as more and more parents are starting to favour twin centre holidays. This means combing one destination with another. The most popular choice is taking on a rip roaring safari before easing into some fun in the sun with a beach break. You could try combing South Africa with Mauritius or hop from the wilds of the Maasai Mara in Kenya or the sweeping Serengeti in Tanzania to a blissful beach break in Mombasa or Zanzibar. The combinations are endless and it's easy to mix and match to get the best out of both destinations and find what suits you best.
With the magic of a safari adventure kids are promised fun and educational experiences that are out of this world. Among the many activities on offer kids can stroke the head of a baby elephant, go on a game drive to witness a lion stalking its prey, learn the secrets of the savannah from a mighty Maasai warrior and discover from them how to create fire from using just wood and stone. It provides kids with an incredible insight into Africa's traditional cultures and its beautiful wildlife.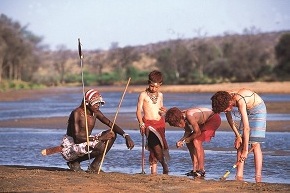 When it comes to accommodation there are oodles of camps that cater especially for families, so there's no need to worry about not having a suitable place to stay.
Beach breaks complement safaris like nothing else can, with more fun packed action on offer. Take to crystal clear waters to try your hand at a range of water sports and enjoy the many child friendly facilities provided. Mauritius is a prime example, providing extremely family friendly service, kids clubs and the usual blend of entertainment. While all of these destinations are great, Africa is a pretty big place and there are other places you can visit aside from those that families would most often frequent.
Take Namibia for example, this is a land of contrasts, a bizarre and beautiful mix of grassland and desert set to awe. Better yet give the kids something to impress their friends with by taking them to visit Victoria Falls in Zambia, the world's largest waterfall and one of the Seven Natural Wonders of the World. This is an adventure perhaps better suited for teenagers as the activities on offer can be a little rough and ready, what with white water rafting and bungee jumping. Also in Zambia, for parents and older teens, take to the South Luangwa National Park on a daring walking safari, get up close to elephants and lions and discover why Africa is known as one of the wildest places on earth.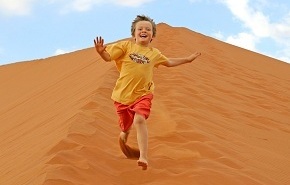 For a safari cemented in the lap of luxury Botswana is at the top of the list. The small and intimate camps found in this isolated but stunning location are perfect for a family getaway and that's not all, whilst practically having the lodge to yourselves you can also take to the waters of the Okavango Delta on boat trips as well as sleuthing around on thrilling night drives. Game viewing in this part of Africa is some of the best on offer, it's a hard destination to pass up. However, if you're a family that enjoys time spent on the water taking the kids to Lake Malawi is a must. There's plenty to get stuck in to, from snorkelling to kayaking to watching over five hundred species of fish whizz through the turquoise waters. It's a destination easily combined with Mozambique where tropical waters and glistening beaches are the norm.
Something once again tailored for older children would be the incredible, mountainous, jungle clad land of Uganda, home to the fascinating mountain gorilla. As tracking these majestic creatures has an age restriction of 15 years and over it might not be a place to visit with younger children. However, the Queen Elizabeth National Park offers safari action and there's a chimp sanctuary to be had at Ngamba Island, so there is still plenty to enjoy.
You'll be happy to know that the destinations mentioned above are only 1 – 3 hours + GMT, meaning little disruption to a child's routine and no jet lag. Africa has everything to offer families from relaxation to adventure to heart pounding excitement; there really is something for everyone.