As owner of a safari specialist tour operator, you would expect that the African bush would be as familiar to my kids as the Disney channel. Their first safari experience was when they were aged only 2 and 4. Whilst we have wonderful memories from that family safari trip, theirs are hazy at best. So, this safari holiday in the Kruger was in many ways a completely new adventure for my now 8 year old son and 6 year old daughter. Experiencing it through their eyes, with their innate sense of curiosity and bright-eyed wonder, was truly special and reinvigorated my personal passion for observing these majestic animals in their natural habitat.
With night flights and no significant time difference, the journey was relatively painless. The kids took the opportunity to max out on screen time on the plane as we warned them that there was a digital ban for the duration of our trip!! On arrival at our first lodge, Ngala, we were warmly welcomed and the kids were offered their first of many hot chocolates that week. Before we had ventured out for our first game drive, we were treated to several wildlife encounters at camp – the cheeky baboons delighting the kids with their circus antics.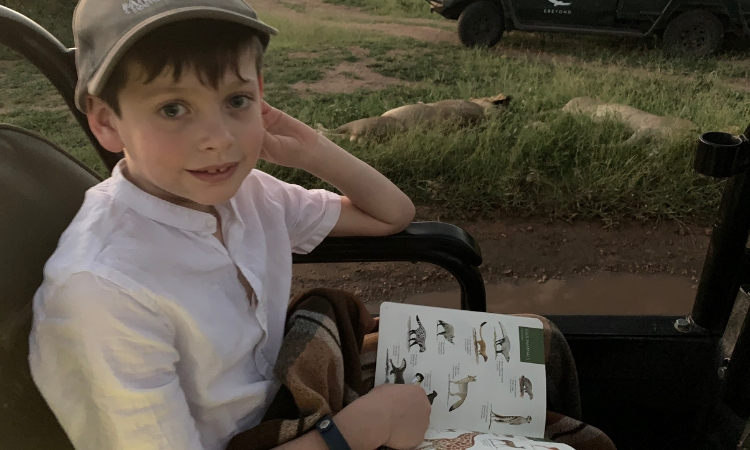 The personal safari guide books were a sure-fire hit with the kids; setting up game drives to be the most exhilarating treasure hunt they could imagine. By the end of the week, they had ticked off almost half of the featured mammals, birds, reptiles and trees in the comprehensive guide! After only our second game drive, we had spotted the Big 5, including the most wonderful leopard sightings, but it was clear that the kids were equally (if not more) enamoured by the little sightings. Thrilled by the industry of the dung beetles; fascinated by the birds swallowing insects for breakfast mid-swoop; in love with the swinging vervet monkeys and delighted by our trackers amazing spot of a chameleon in a tree when it was pitch black.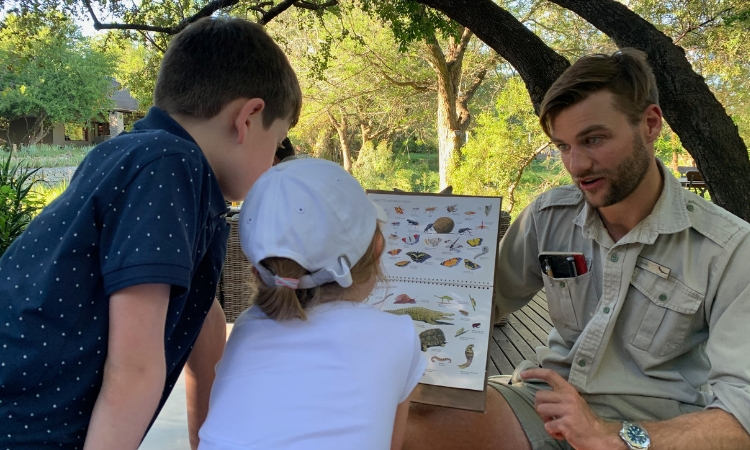 I've been on countless safaris. As each safari experience is totally unique, I've witnessed and learned something new on every single one…but I can honestly say my safari education on this family trip was the most varied to date. This was in no small part due to our fantastic guides who shared their immense knowledge of the areas ecosystem; but also due to the insatiable curiosity of my offspring. Kids see the world differently and ask questions about tiny details that adults simply overlook. I'm now an expert on termite mounds, marula fruit and tuskers!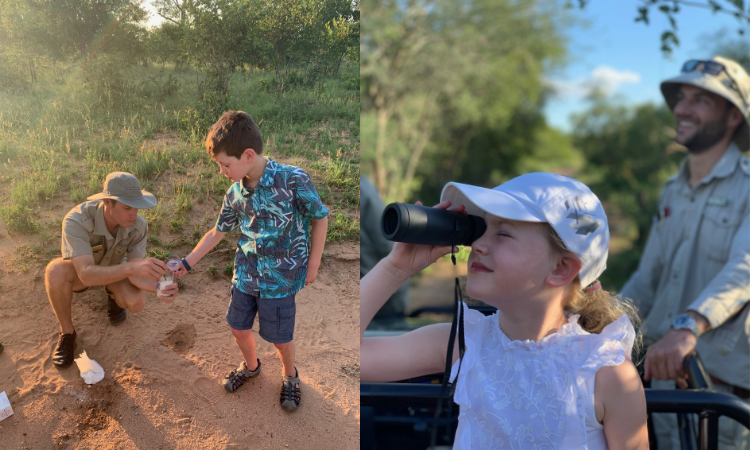 One of my favourite parts of safari is the middle of the day between game drives and bookended by feasting; when I easily reach a level of relaxation I never quite achieve in other environments. Whether that's lazing by the pool, getting a massage with a view or simply watching the animals through my binos from the balcony – the bush has a magical way of ensuring you live completely in the moment. Selfishly, I feared that a family safari would hamper that coveted 'me-time but my worry was short-lived. At both camps, Ngala and Kirkmans, the &Beyond WildChild programme was in operation and our kids had a full schedule to keep them so occupied that it was a struggle to get them to join us for lunch some days.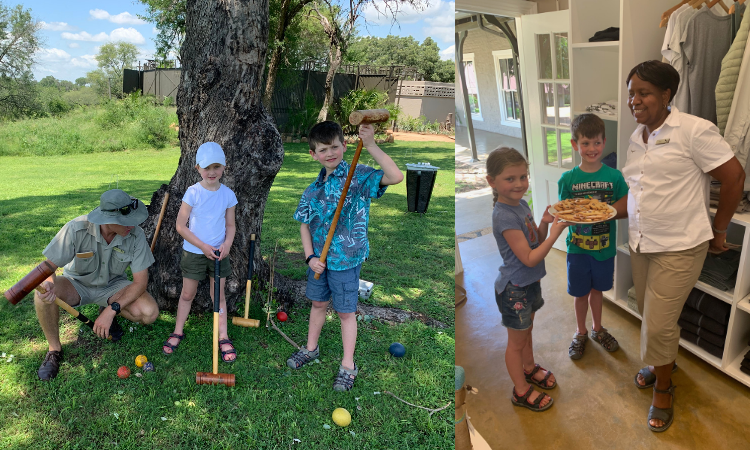 Animal sand art, catapult shooting, animal tracking, playing croquet on the lawns to baking biscuits in the kitchen…their afternoons were reminiscent of a bygone era before Netflix and Playstations stole children's imaginations. A particularly special activity involved them making plaster moulds of paw prints of a leopard we had tracked earlier that day. We've brought them home and had them framed for their bedroom walls – a daily reminder of their African adventure to brighten up the grey days of a UK winter. If they had their way, we would have been leaving our clothes behind and filling our cases with porcupine quills, exotic feathers, baby giraffe bones and a whole host of treasures they discovered in the bush!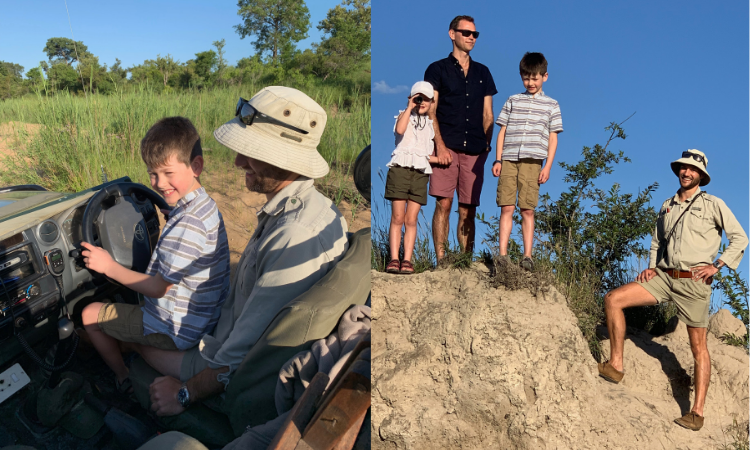 Our guides Daniel and James were real-life superheroes to the kids (do capes come in khaki?). Both provided so many spontaneous and unforgettable experiences that we will all cherish, even if the kids may only appreciate fully when they are older. How many 8 year olds get to drive a safari vehicle through a dry riverbed? How many 6 year old girls get serenaded by a full African gospel choir?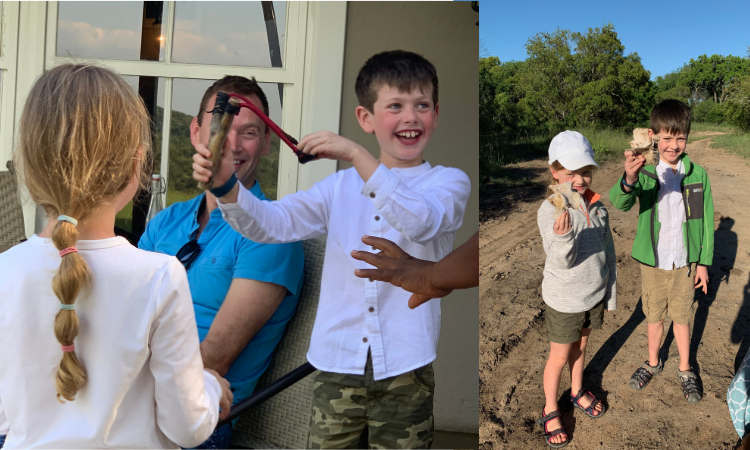 Sharing these unique experiences with them has been a privilege and has created a stronger bond within our family unit. The sibling rivalry and petty squabbles (almost) disappeared as brother and sister united in exploring and enjoying novel activities together.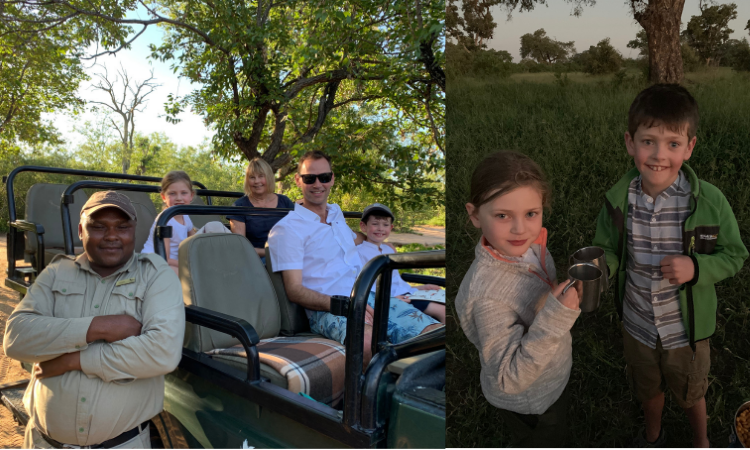 How long will Africa work her magic now we've returned home and adjust back to the normal routines? Hard to say…but for now the request for screen time is to watch our holiday videos and photo reel on repeat, with their safari guide books in hand to jog their memories of their wildlife sightings, both large and small. When the enthusiasm inevitably wanes, I guess its time to start planning our next African adventure. Now, where should we go next….Kenya?